San Antonio Winery Bus Tours with Lunch
602 Northwest Loop 410 San Antonio, TX 78216
1-800-987-9852
Chat Now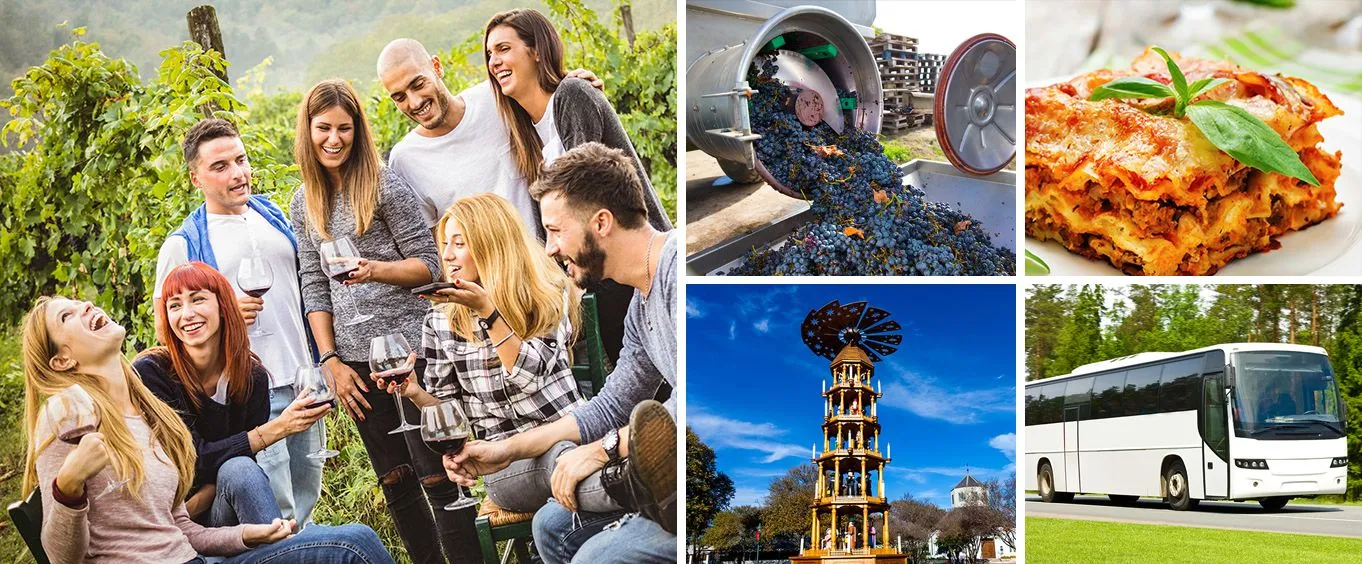 There are many things to see and experience in San Antonio, TX, and this San Antonio TX winery tour is a great one. The San Antonio Wine Tours (with lunch) offered in the area offer up a great chance to taste some of the greatest Central Texas wines on awesome excursions. There are several options available, so you can experience a variety of fun!
These tours are carefully curated to include some of the greatest wines of the area. Whether you embark upon a wine tour to Fredericksburg or a trip to Luckenbach, there are many things to sample. The winery industry in San Antonio, TX is a great one and there isn't quite an experience like one of these adventures. Choose from the following tours to get out and experience the flavors of Texas Hill Country. Each of these tours takes place on a luxury charter bus tour, allowing guests to kick back and relax.
About the San Antonio to Fredericksburg & Luckenbach Wine Tours San Antonio
This amazing adventure is sure to impress! Embark upon this fun 7-hour bus tour where you will be taken to the historic cities of Fredericksburg and Luckenbach. Along the way, you will visit three different wineries. At the first winery, enjoy a mouthwatering meal featuring homemade barbecue. There is plenty of food and samples to enjoy. This casual tour begins at Savoureux Coffee & Bakery at 602 Northwest Loop 410.
About the San Antonio to Fredericksburg Winery Tours San Antonio with Italian Meal
Meet your tour guide at La Madeleine at 722 Northwest Loop 410. Then, head out on this amazing 7-hour adventure to some of the best wineries in the Central Texas area! Along the way, guests will visit three different wineries at which they will be able to sample more than 14 different wines and drinks. The luxury charter bus is comfortable and immaculate and offers up fun transportation. Kick back and relax while enjoying tons of fun and food. The tour also includes an Italian meal featuring Caesar salad, pasta, and a delectable tiramisu dessert.
About Fredericksburg Lunch, Shop & Explore Wine Tour
For those who want to get out and experience the town of Fredericksburg, this tour is the best choice! Meet your luxury charter bus at Palenque Grill La Cantera at 15900 La Cantera Parkway in San Antonio, TX. From there, you will head out to Fredericksburg to experience three different wineries that are famous with the locals. On the bus, you can enjoy open container refreshments at your own leisure. This adventure also gives guests the chance to visit the shops and restaurants that make Fredericksburg popular at their own pace. The entire experience lasts approximately 7 hours and includes lots of wine, food, and fun!
About Fredericksburg and Private Chef Lunch Wine Tour
This exciting luxury charter bus tour takes place over 7 hours. Meet up with your crew at La Madeleine at 722 Northwest Loop 410 where you will be whisked away for an afternoon of fun, food, and tons of wine. This tour includes tours of three different wineries and ends the tour at a private lunch with Chef Bryan, who owns famous local hotspot Bryan's on 290. This tour includes a specialty lunch designed by Chef Bryan himself making this the perfect choice for winery-lovers and foodies alike.
With plenty of awesome options for Texas Hill Country winery experiences, San Antonio Wine Tours with Lunch leave little to be desired! Choose your favorite
things to do
and get out and experience local wineries, food, and tons of fun that you will not find anywhere else when you
vacation to San Antonio, Texas!
Options:
San Antonio to Fredericksburg Wine Tour with Italian Meal
Available 10/8/2022 until 12/31/2022 View Detailed Schedule
Enjoy the city of Fredericksburg, awesome wine, and a delicious Italian-style meal on this 7-hour luxury charter bus adventure.
Frequently Asked Questions for San Antonio Winery Bus Tours with Lunch:
What is included in the admission price?

Includes transportation, wine samples, and lunch on each tour.

What methods of transportation does the San Antonio Wine Tours use?

A luxury charter bus.

Is there any walking involved?

Yes. There is about a mile of walking at each winery.

Approximately how long does the San Antonio Wine Tours with Lunch last?

Each tour lasts approximately 7-8 hours.

For what ages is the tour appropriate?

21+ with ID.

Will there be time allotted for dining on the San Antonio Wine Tours with Lunch?

Yes. Each tour includes a lunch.
Book Now!