San Antonio, TX Museums & Art Galleries
San Antonio is an area that has a rich and unique history and culture, so it's no surprise that there is an abundance of museums and art galleries in the area for you to explore. Be sure to add a few to your San Antonio stay and learn something new!
San Antonio Museums & Art Galleries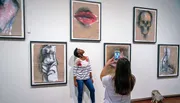 Within this 24-room renovated colonial mansion, over 20,000 works of modern art from the 19th and 20th centuries are exhibited, making the McNay Art Museum a glowing example of fine are museums in America. Set among palatial and breathtaking gardens, this 24-room colonial-revival style mansion houses over 20,000 unique works of art. Art lovers revel in spending time at the McNay Art Museum, and usually spend about an hour to two hours viewing the exhibits. Come see what all the excitement is about! People of all ages will love it and will be talking about the experience for years to come.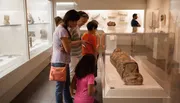 A picture is worth a thousand words, and guests can explore the vast history of San Antonio, TX at the Museum of Art. Here, they can discover exhibits that are brimming with a multitude of artifacts, artwork, and cultural pieces detailing Texas history. This 19th-century brewery building houses more than 30,000 distinct objects and artifacts from more than 5,000 years of human history. The San Antonio Museum of Art is a must-see stop for any art lovers in the city; the entire family will love it. Also, exhibits are always changing, so there is always something new and fresh to see with each visit!