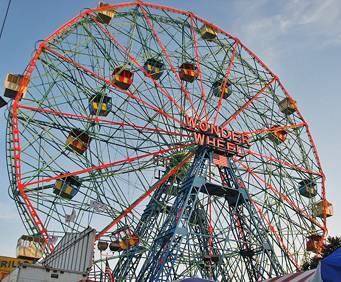 Coney Island in New York City, NY
A pool, miniature golf, a mining town, an arcade, a gift shop, an amusement park and more all make up Coney Island in the Brooklyn area.
The Sunlite Pool is 200 feet wide and 401 feet long, holding over three million gallons of water. It is the largest flat-surface pool in the continent and contains four water slides. Famous Fairways Miniature Golf Course is the only one of its kind in the country, with replicas of famous golf holes in the US. Coney's Mining Town gives visitors the Old West feel, with a hotel, saloon, schoolhouse, and mining activities. Games of Skill arcade area contains classic favorites like the basketball toss, water races, and poster darts. The Coney Connection gift shop provides you with everything you need, including candy, apparel and toys.

The amusement park is the main attraction at Coney Island. With bumper boats, canoe rides, a Ferris wheel, a giant slide, a carousel, paddle boats, roller coasters, and kiddie rides, the amusement park is your one-stop place for fun and adventure.

You can also catch live shows and other forms of entertainment at Coney Island. Before you leave the island, however, you must try one of the famous Coney Island hot dogs. The Coney is a famous hot dog, found at Nathan's Famous.