Sightseeing Tours in Nashville, TN
More info about Nashville Activities:
Average Rating:

5.0

out of

5

stars
, Based on
1
Reviews
See the best of the best in Music City with the many sightseeing adventures offered. Whether you want to take a trolley or a walking tour, the possibilities are endless. Make sure you don't miss out on anything great in Nashville by booking one of these fantastic activities.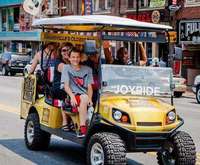 Enjoy all of the wonderful sights and sounds in Music City with one of the many Joyride tours offered in the area.
Oct 20
1:00 PM
1:00 PM
1:00 PM
1:30 PM
2:00 PM
2:00 PM
2:00 PM
2:30 PM
3:00 PM
3:00 PM
4:00 PM
4:00 PM
5:00 PM
5:00 PM
6:00 PM
6:00 PM
6:00 PM
6:00 PM
7:00 PM
7:00 PM
8:00 PM
8:00 PM
9:00 PM
9:00 PM
10:00 PM
11:00 PM
Oct 21
9:00 AM
9:30 AM
10:00 AM
10:00 AM
10:30 AM
11:00 AM
11:00 AM
11:00 AM
12:00 PM
12:00 PM
12:00 PM
12:00 PM
1:00 PM
1:00 PM
1:30 PM
1:30 PM
2:00 PM
2:00 PM
3:00 PM
3:00 PM
3:30 PM
3:45 PM
4:00 PM
4:00 PM
5:00 PM
5:30 PM
6:00 PM
7:00 PM
8:00 PM
9:00 PM
Oct 22
9:00 AM
9:30 AM
10:00 AM
10:00 AM
10:30 AM
11:00 AM
11:00 AM
11:00 AM
12:00 PM
12:00 PM
12:00 PM
1:00 PM
1:00 PM
1:30 PM
1:30 PM
2:00 PM
2:00 PM
2:00 PM
3:00 PM
3:00 PM
3:30 PM
4:00 PM
4:00 PM
5:00 PM
5:30 PM
6:00 PM
7:00 PM
8:00 PM
9:00 PM
Oct 23
9:00 AM
9:00 AM
9:30 AM
10:00 AM
10:00 AM
10:00 AM
11:00 AM
11:00 AM
11:00 AM
12:00 PM
12:00 PM
12:00 PM
1:00 PM
1:00 PM
1:30 PM
2:00 PM
2:00 PM
2:30 PM
3:00 PM
3:00 PM
4:00 PM
4:00 PM
5:00 PM
5:00 PM
6:00 PM
6:00 PM
6:00 PM
7:00 PM
7:00 PM
8:00 PM
8:00 PM
9:00 PM
9:00 PM
10:00 PM
11:00 PM
Oct 24
9:00 AM
9:00 AM
9:30 AM
10:00 AM
10:00 AM
10:00 AM
11:00 AM
11:00 AM
11:00 AM
12:00 PM
12:00 PM
12:00 PM
1:00 PM
1:00 PM
1:30 PM
2:00 PM
2:00 PM
2:30 PM
3:00 PM
3:00 PM
4:00 PM
4:00 PM
5:00 PM
5:00 PM
6:00 PM
6:00 PM
6:00 PM
7:00 PM
7:00 PM
8:00 PM
8:00 PM
9:00 PM
9:00 PM
10:00 PM
11:00 PM
Oct 25
9:00 AM
9:00 AM
9:30 AM
10:00 AM
10:00 AM
10:00 AM
11:00 AM
11:00 AM
11:00 AM
11:00 AM
12:00 PM
12:00 PM
12:00 PM
1:00 PM
1:00 PM
1:00 PM
1:30 PM
2:00 PM
2:00 PM
2:00 PM
2:30 PM
3:00 PM
3:00 PM
4:00 PM
4:00 PM
5:00 PM
5:00 PM
6:00 PM
6:00 PM
6:00 PM
7:00 PM
7:00 PM
8:00 PM
8:00 PM
9:00 PM
9:00 PM
10:00 PM
11:00 PM
Oct 26
9:00 AM
9:00 AM
9:30 AM
10:00 AM
10:00 AM
10:00 AM
11:00 AM
11:00 AM
11:00 AM
11:00 AM
12:00 PM
12:00 PM
12:00 PM
1:00 PM
1:00 PM
1:00 PM
1:30 PM
2:00 PM
2:00 PM
2:00 PM
2:30 PM
3:00 PM
3:00 PM
4:00 PM
4:00 PM
5:00 PM
5:00 PM
6:00 PM
6:00 PM
6:00 PM
6:00 PM
7:00 PM
7:00 PM
8:00 PM
8:00 PM
9:00 PM
9:00 PM
10:00 PM
11:00 PM
Oct 27
9:00 AM
9:00 AM
9:30 AM
10:00 AM
10:00 AM
10:00 AM
11:00 AM
11:00 AM
11:00 AM
11:00 AM
12:00 PM
12:00 PM
12:00 PM
1:00 PM
1:00 PM
1:00 PM
1:30 PM
2:00 PM
2:00 PM
2:00 PM
2:30 PM
3:00 PM
3:00 PM
4:00 PM
4:00 PM
5:00 PM
5:00 PM
6:00 PM
6:00 PM
6:00 PM
6:00 PM
7:00 PM
7:00 PM
8:00 PM
8:00 PM
9:00 PM
9:00 PM
10:00 PM
11:00 PM
>