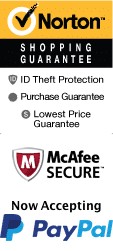 Nashville Old Town Trolley Tour
201 Broadway Nashville, TN 37210
1-800-987-9852
Chat Now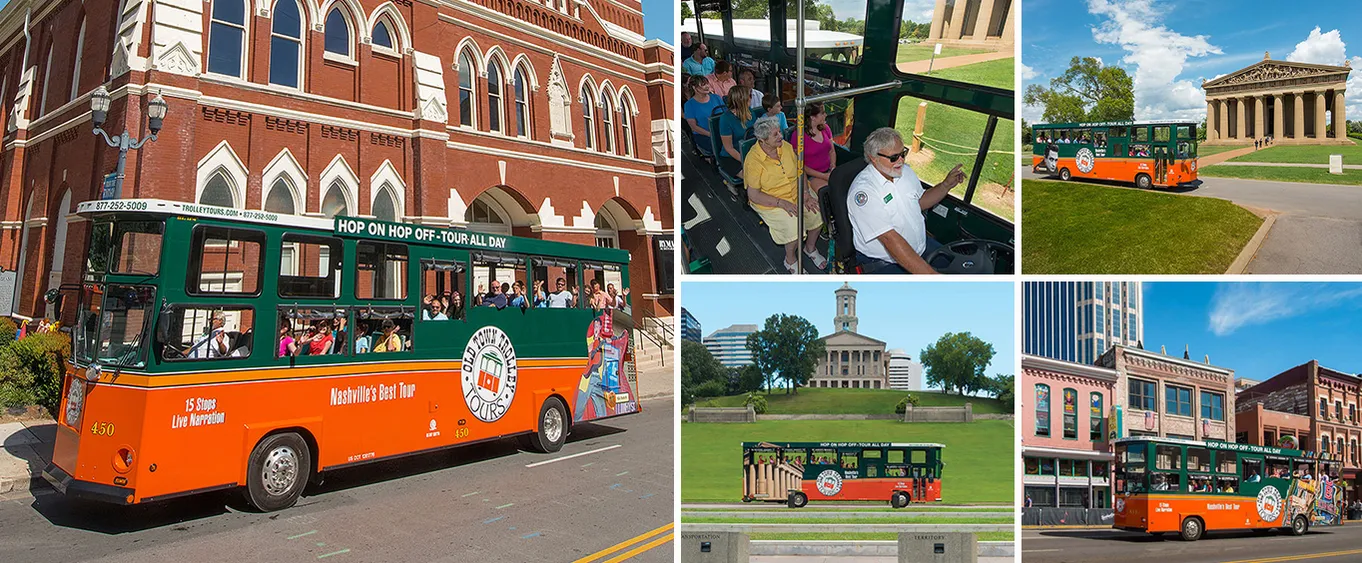 The Nashville Old Town Trolley Tour is the most fascinating way to experience the city; set out upon this fully-narrated hop on/hop off trolley tour to see Music City like you never have before on a family-oriented excursion. As well as offering amazing sights, the tour gives an in-depth look at Nashville, offering up some memorable times in the city!
Just a few of the places that you will see include the Parthenon, the Ryman Auditorium, Opry Museum, the Nashville's Farmers Market, and Music Row. The tour takes visitors on a fun-filled ride through Music City, allowing them to see the most popular spots in the area, including the Ryman, Marathon Village, Lower Broadway, Music Row, and Centennial Park. It also includes a 20-minute break stop at the Bi-Centennial Mall / Farmers Market. The narration covers more than 100 points of interest, so it's the best in-depth trolley tour to see the best of Nashville! The stops along this tour include: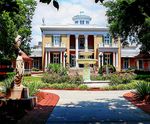 The Belmont Mansion in Nashville, TN is filled with history. The mansion stretches along 177 acres and features gardens, a museum, plenty of beautiful art, and tours of the entire estate are available for taking.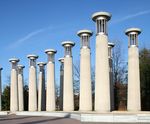 Stop at
Bicentennial Capitol Mall State Park
Located in the shadow of the Capitol in downtown Nashville, Bicentennial Capitol Mall gives visitors a taste of Tennessee's history and natural wonders, and serves as a lasting monument to Tennessee's Bicentennial Celebration, which was June 1, 1996.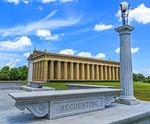 Visit Centennial Park in Nashville, one of the area's most gorgeous parks. Located on the West End and 25th, this park draws thousands upon thousands of visitors to its greenery each year. The park features the famous Partenon replication, offering a great way to go sightseeing in Nashville.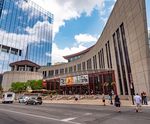 Stop at
Country Music Hall of Fame
The Country Music Hall of Fame in Nashville, Tennessee is a non profit educational project. The goal of the museum is to obtain and preserve the many artifacts, stories and the history of country music throughout the country. In addition, it also acts as a showcase for information so others can enjoy the traditions and history behind the genre.

Stop at
Frist Center for the Visual Arts
For those who enjoy art, a visit to the Frist Center for the Visual Arts in Nashville is sure to be a great time. Enjoy paintings, sculptures, and exhibits created not only by famous artists, but by Nashville locals as well. It is a great way to enjoy the culture and artistic influences in Music City.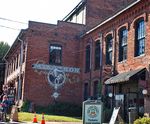 Stop at
Marathon Village in Nashville, TN
Marathon Village is an eclectic place to visit when you want to enjoy awesome shopping in Nashville, TN. Eat, drink, shop, and have a great time with these retail businesses and historical wonders of this former auto factory.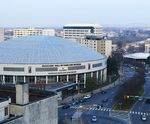 Stop at
Musicians Hall of Fame and Museum
Explore the hallowed halls of the Musicians all of Fame and Museum in Nashville, TN. This museum pays homage to the finest artists that Nashville has seen, and guests can see their artifacts and learn about them firsthand.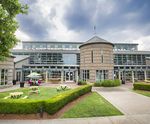 Stop at
Nashville Farmers Market
Enjoy fresh produce, food, and homemade goods at the Nashville Farmer's Market. It is a great place to go and take a stroll while enjoying some of the hard work of Nashville locals. Chat with residents and take something amazing back with you.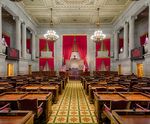 Pass By
Tennessee State Capitol Building
The Tennessee State Capitol Building is perhaps the most important building in Nashville, TN. Here, the Tennessee government makes the state's laws and completes all of its governmental needs. Marvel at the beautiful architecture of the building as you ride by.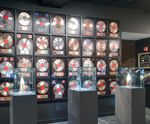 Stop at
Johnny Cash Museum
Open seven days a week from 11 a.m. to 7 p.m., the Johnny Cash Museum features the largest and most comprehensive collection of Johnny Cash artifacts and memorabilia in the world.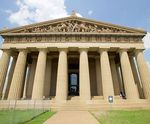 See one of the most interesting landmarks in Nashville, TN at the Parthenon. Modeled after Greek architecture, this landmark is perfect for photos and enjoying the architectural efforts of Music City's finest citizens.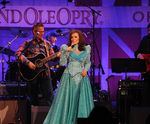 Stop at
The Ryman Auditorium in Nashville, TN
The Ryman Auditorium is one of the most historic theaters in the country. It was the birthplace of the Grand Ole Opry, and today guests can embark upon informative tours and even catch Grand Ole Opry Christmas shows at this beloved theater.

Union Station is a railroad station in Nashville, TN. Known as the center of transportation for the city, Union Station is brimming with fascinating history to discover. Finished in 1900, this station served passengers from eight different railroad stations which grew to its modern legacy.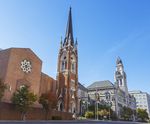 Stop at
Midtown Neighborhood in Nashville, TN
Midtown is a great stop for those who want to experience a little bit of everything while visiting Nashville. Midtown is home to some of the best restaurants, eateries, boutiques, and more. Grab a bite to eat, sip a cocktail, and explore tons of rich culture and art just a little bit west of downtown.
This trolley tour presents you Nashville right at your fingertips, so add it to any vacationing plans for a unique and brilliant experience. There are also plenty of other great opportunities to delight in some of the best fun in Nashville. Whether you take a bus tour or a history - centered tour, peruse an attraction or take a walking tour, there are so many things to uncover. Be sure to combine your attractions with a hotel or resort booking.
Reviews

Dawn Bechtholdt
Marysville, WA
✓
Verified Traveler
"Great drivers and a lovely city!"
Great drivers and a lovely city!

Mike McLaughlin
Warwick, RI
✓
Verified Traveler
"great way to see all the sights with a minimum amount of walking"
We spent the entire day hopping on and off tour...Both sam & tony "from wisconsin" were excellent! Musicians hall of fame is a must see for music lovers. Did not have to wait long for next trolley...Great way to see all the sights with a minimum amount of walking

Mark Null
Rhome, TX
✓
Verified Traveler
We had a great time. Mark was excellent at giving us the grand tour. Would do it again in a heartbeat.
Robyn Immoos
Enterprise, OR
✓
Verified Traveler
We (my sister and i) got off and on at will, it was the best. Learned a lot about nashville, the drives are great would do it again, we'll be back the sooner the better.
Frequently Asked Questions for Nashville Old Town Trolley Tour:
Is photography / video recording allowed on the Nashville Old Town Trolley Tour?

Yes.

Is the Nashville Old Town Trolley Tour handicap accessible?

Yes.

What methods of transportation does the Nashville Old Town Trolley Tour use (if any)? (Give specific vehicle description)

This is a hop on / hop off trolley tour.

Approximately how long does the Nashville Old Town Trolley Tour last?

The narrated portion of the tour lasts approximately 90 minutes.

For what ages is the tour appropriate?

Great for all ages.

What type of dress & footwear are recommended?

Comfortable clothing.

Where does the Nashville Old Town Trolley Tour depart from?

Old Town Trolley Main Ticket Booth 201 Broadway
Book Now!