Nashville TN Limited Engagement Shows
Do not miss out on an array of limited engagement shows in Nashville, TN. These unique concerts, events, and shows only appear in Music City, TN for a limited amount of time, so be sure to check back frequently so you do not miss out on any of the fun during your Nashville trip.
Nashville Limited Engagement Shows
Top Pick
We are confident you and your family will enjoy this top pick.
A General Jackson Showboat Lunch or Dinner Cruise provides an amazing adventure to those visiting Nashville, TN.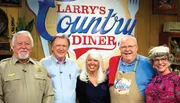 Straight from the Ozarks comes the much-loved show Larry's Country Diner, which serves up mouthwatering food alongside entertainment for a palatable and fun evening out on the town!