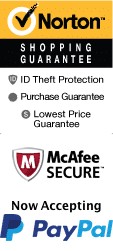 Memphis Day Trip Bus Tour
108 1st Ave S Nashville, TN 37201
1-800-987-9852
Chat Now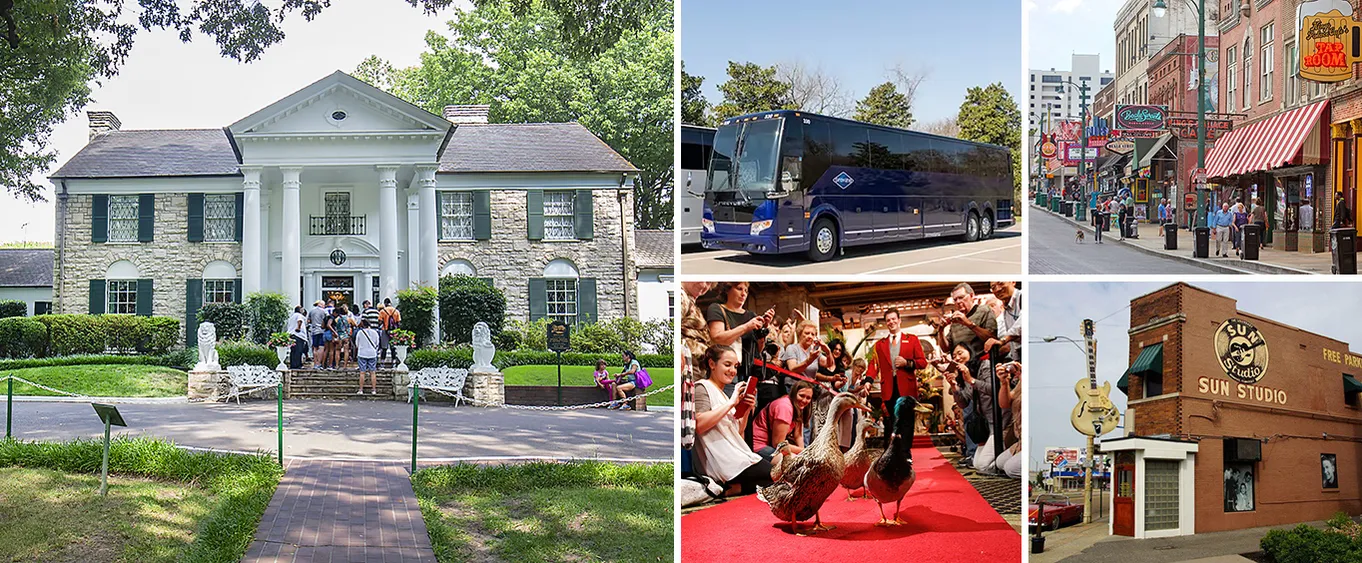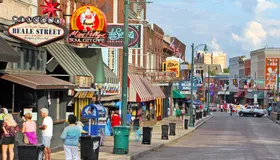 The Memphis Day Trip Bus Tour is the perfect way to experience all that Memphis has to offer; from the popular attractions to the towering city buildings, you can get everything you want and more out of this fabulous tour. The Grayline takes you on a full-day adventure through the brilliant city of Memphis, Tennessee. Known as the birthplace of rock 'n roll, Elvis' birthplace, and the capital of blues, Memphis (aka Blues City) is famous for its music just as much as it is famous for its barbeque.
As you board the bus, you will be whisked away for a Gray Line tour full of sights, sounds, and smells of the Memphis area. During your ride to Memphis, your talented tour guide will give you tons of interesting information about the area. This guided tour is a great way to enjoy transportation and a Memphis tour. You will peruse the sprawling mansion where the King is buried. Guests will also get to experience the Elvis Car Museum and you will get to venture on your own for lunch.

Pass By
Beale Street near Nashville, TN
Beale Street is perhaps the most iconic place in Memphis. During your tour, you will travel down this historic district and see some of the most delightful and interesting places in the city. Keep an eye out for the best restaurants, boutiques, recording studios, and theatrical and musical venues.

Pass By
Downtown Memphis near Nashville, TN
As you relax on this adventure, keep an eye out as you travel through downtown Memphis. You will see places like Beale Street and Sun Studios on the way to Graceland. This district of the city comes to life with energy, and you are certain to see something impressive and historic along the way.

Stop at
Elvis Presley Car Museum near Nashville, TN
Elvis Presley was an avid motorhead, and as such, he collected many pieces and vehicles throughout his life. During this incredible adventure, guests will also be able to see Elvis' airplanes as well as the Elvis Car Museum which houses some of his most recognized vehicles. Browse his prized collection and admire the beautiful vehicles that mattered to the King himself.

Stop at
Graceland near Nashville, TN
Your ticket includes admission to Nashville to Graceland to go on a Graceland tour, giving insight into the home of the King of rock 'n' roll Elvis Presley himself. This eclectic tour experience allows guests to take a pilgrimage to famous sites at this mansion including the Jungle Room, various galleries, and even see the gravesite of the King. On this adventure through the mansion, guests will see many different artifacts and items that belonged to Elvis Presley, gaining new insight into the life and legacy of Elvis himself.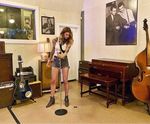 Stop at
Sun Studios near Nashville, TN
This sightseeing adventure also includes a tour of the famed Sun Studios in downtown Memphis. Here, visitors will take a tour to see how the recording process works. Your tour director will recount stories of the trailblazers who recorded in these studios, including Johnny Cash and Jerry Lee Lewis. It is truly an awesome experience to be able to walk the recording studios that housed some of the most famous stars and saw some of the most beloved recording sessions.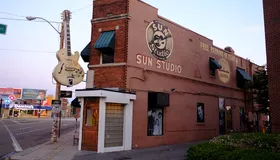 To finish out the tour, you will get to experience a famous Peabody duck walk, explore Beale Street, and witness the Memphis Rock 'n Soul Museum. The day is finished off with views of the Mississippi River. All of this is included in your bus ticket, so you will have a remarkable venture exploring on this city tour.
This bus tour is the perfect way for travelers to experience the heart of Memphis. With the hottest attractions and a plethora of information, you will feel like you really know the blues capital at the end of this tour. When you are back from Graceland to Nashville after your bus trip, discover the history of country music at the Country Music Hall of Fame and Museum, take a walking tour, or take a city tour or trolley tour. Your Music City adventures will be a blast!
Reviews

Brian East
Midland , Texas
✓
Verified Traveler
It was a long day but we all really enjoyed the tour. The only downside was we didn't have time to see all the museums.

Valerie Perreault
Clovis, CA
✓
Verified Traveler
Very fun bus trip and well organized

ALAN PERREAULT
St Catharines, ON
✓
Verified Traveler
Although 3 hours plus on a bus isn't great. They had videos going there which helped pass the time. Unfortunately, they played the same one coming back for an hour and a half, but didn't play anything else which made the trip back seem to take forever. The tour itself was excellent and we're glad we went
Tip: Blues city grill on beal street has the best ribs i have ever had. Highly recommend it
Frequently Asked Questions for Memphis Day Trip Bus Tour:
What is included in the admission price?

Admission to Graceland, Sun Studios, and Duck Walk

Approximately how long does the Memphis Day Trip last?

It is approximately 15 hours.

For what ages is the tour appropriate?

Great for all ages.

What type of dress & footwear are recommended?

Wear comfortable clothes and walking shoes.

Will there be time allotted for dining on the Memphis Day Trip?

Yes. You will have time for lunch.

Is photography / video recording allowed on the Memphis Day Trip?

Yes.

Is the Memphis Day Trip handicap accessible?

Yes.

Is photography & video recording allowed?

Yes.
Book Now!