Murder Mystery Dinner Show Options in Myrtle Beach, SC
Enjoy a fun murder mystery dinner Myrtle Beach show the next time you are in Myrtle Beach, SC. There are plenty of things to do, and there is no better way to spend an evening than with a mouthwatering meal and a mystery on your next vacation! Solve some fun Myrtle Beach murders during a murder mystery dinner show!
Myrtle Beach Murder Mystery Dinner Shows
Myrtle Beach, SC is one of the most popular coastal destinations in the United States and offers plenty of dinner cruise opportunities.
Sep 23
N/A
Sep 24
N/A
Sep 26
N/A
Oct 01
N/A
Oct 08
N/A
>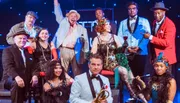 There's been a mysterious murder, and it's up to you to solve it! This thrilling show is full of mystery and intrigue, making for an entertaining evening of sleuthing. You'll need to don your detective hat and prepare to search for clues and solve puzzles because it's up to you to figure out who the criminal is! The night takes a turn for the worse when one of the entertainers is murdered while you are enjoying your meal and live music! You can try to figure out who the suspect is by interacting with the costumed cast and solving clues, bringing the murderer to justice in an action-packed murder mystery dinner show experience. You might even win a prize if you figure it out!