Hard Rock Cafe, SC

Description
Hard Rock Cafe - Myrtle Beach, SC Photos (9)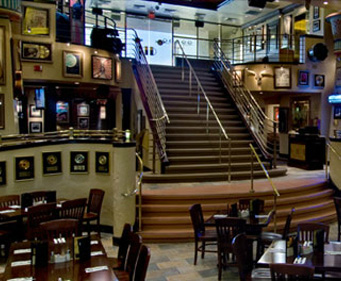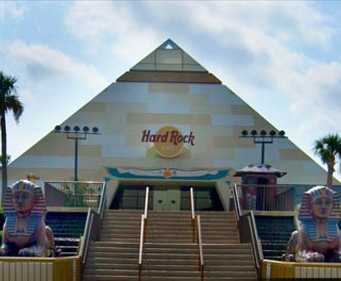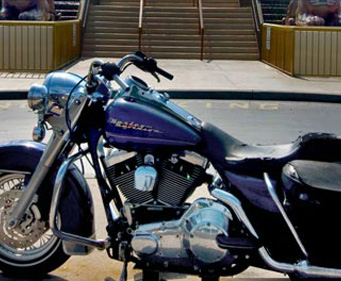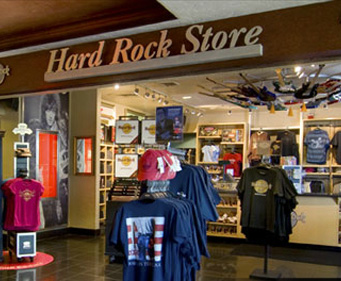 Sit down and relax for a fabulous dining experience at Myrtle Beach's own Hard Rock Cafe. You can't miss the pyramid-shaped building on the Grand Strand, which features a wonderful Egyptian motif throughout the premises.
If you think the outside of the Hard Rock Cafe is impressive, come inside and feast your eyes on priceless rock and roll artifacts that are sure to impress you. These rare, valuable pieces of memorabilia draw visitors from far and wide to the Hard Rock Cafe, and during your visit, you will have the opportunity to see Johnny Cash's black lace-up leather boots, Paul McCartney's suit from the film 'A Hard Day's Night,' the guitar Eric Clapton used to record 'Layla' and the Vespa scooter used in The Who's film 'Quadrophenia.'
The food at the Hard Rock Cafe is just as spectacular as the artifacts you will see, with American fare like burgers, fries, grilled chicken and even vegetarian options. Your experience at the Hard Rock Cafe is sure to provide you with a great dining experience and wonderful memories! Enjoy the wonderful Hard Rock Cafe after tons of fun activities during your next getaway to Myrtle Beach, Sc.
Reviews
4.2 | 6 reviews
david shepherd
Hope Mills, NC
✓
Verified Traveler
The hard rock had great food and we enjoyed looking at all the famous musician decorations. I was however displeased to find that my free suvonier was a luggage bage tag.
Carol Mitchell
Seabrook, NH
✓
Verified Traveler
"This was my thrid time there."
This was my thrid time there. My daughter enjoyed taking pics of her favorite artists memorabilia, but i thought they should have at least included a pin or luggage tag for their guests (as previously, but now no more!) as a rememberance of their visit with them. The food is nothing great, it's just okay. We had a good waiter who was attentive and courteous.
Ira Fink
Lexington, KY
✓
Verified Traveler
"Good food"
Good food
LaToya Coates
Sunderland , MD
✓
Verified Traveler
The food and the deal was excellent.
Book Now!