Walking Culinary Tour Options in Lancaster, PA
Get out and experience some of the food and fun of Lancaster, PA. During your vacation, you will be able to dine on some of the most flavorful cuisine while enjoying the foodie scene of this brilliant city. A walking culinary tour is a great choice!
Lancaster Walking Culinary Tours
Experience Lancaster's food scene on the Sweet & Savory Walking Culinary Tour of Lancaster City. This guided tour takes you through the heart of Lancaster to explore the city's rich culinary heritage. You'll visit local restaurants and boutique shops, and taste delicious dishes and snacks along the way. From homemade baked goods to gourmet sandwiches, this tour allows you to indulge in some of the finest flavors of Lancaster while learning about the city's history and culture. Some of the foods you will be able to enjoy during this entrancing tour include pickles, teas, olive oil, vinegars, cupcakes, pastries, and more! By combining the sweet and savory flavors of Lancaster, guests will be able to get a unique foodie experience in the city. Do not miss out on an incredible adventure for your taste buds!
Sep 24
N/A
Sep 25
N/A
Oct 01
N/A
Oct 02
N/A
Oct 08
N/A
>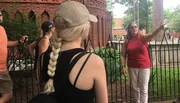 Walking Culinary Tours offer an exciting way to explore Lancaster, Pennsylvania, and its culinary delights! On this walking food tour, you'll get to sample local fare from a variety of independently-owned and operated restaurants lining the charming streets of downtown Lancaster. Your guide will take you on a journey through the city, sharing its history and culture while stopping to savor the tastes of the town. Get ready for an unforgettable culinary adventure in Lancaster! Along the way, you will also be able to learn all about places like Fulton Theatre, St James Episcopal Church, Central Market, and more. This incredible endeavor offers an amazing look at the history and foodie culture of Lancaster, making it an ideal addition to any itinerary.
Sep 20
N/A
Sep 21
N/A
Sep 24
N/A
Sep 25
N/A
Sep 27
N/A
Sep 28
N/A
Oct 01
N/A
Oct 02
N/A
Oct 04
N/A
Oct 05
N/A
Oct 08
N/A
>