Culinary Tour Options in Lancaster, PA
Take a trip in Amish country and experience the amazing culture and cuisine with one of the culinary tour options offered in the area.
Embark on a mouth-watering adventure with the Culinary Tours of Lancaster City! This delightful walking tour takes you on an enriching culinary journey through the historic city of Lancaster. You'll explore the city's culinary landscape, visiting sweet and savory eateries, and savoring various samples along the way. The tour is led by a knowledgeable and friendly guide who will share interesting insights into the city's culture, history, and food. Whether you're a foodie or a curious traveler, this tour is a perfect opportunity to discover the hidden treasures of Lancaster's culinary scene. From sweet cupcakes and pastries to pickles and more, you'll be delighted by the flavors of Lancaster.
Dec 10
N/A
Dec 11
N/A
Dec 17
N/A
Dec 18
N/A
Dec 24
N/A
Dec 25
N/A
>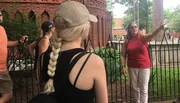 Culinary Tours offer a Private Walking Food Tour in Lancaster, Pennsylvania that takes you on a delicious journey through the city's most iconic flavors. As you stroll through its charming streets, you'll have the opportunity to taste a variety of dishes. Explore places like Central Market, Penn Square, Aura Espresso Room, Fulton Theatre, St James Episcopal Church, and many more. Your knowledgeable guide will also provide insight into the history and culture of Lancaster, making this tour not only enjoyable but also educational. For food and fun in Lancaster, this foodie tour is an amazing choice. Do not miss out on all of the fun!
May 05
N/A
May 06
N/A
May 08
N/A
May 09
N/A
May 12
N/A
May 13
N/A
May 15
N/A
May 16
N/A
May 19
N/A
May 20
N/A
May 22
N/A
>
Culinary Tours offer a unique experience, and the International Food Tour in Downtown Lancaster, Pennsylvania is a delightful experience for foodies. This tour takes you on an exciting culinary journey, exploring the diverse cuisine of Lancaster's downtown district. Sample a variety of traditional dishes, including Pennsylvania Dutch, Italian, and Ukrainian, while learning about the area's food history and cultural background. This two-hour walking tour is led by expert guides who share their knowledge and passion for the local cuisine. It's a must-try for anyone who wants to taste the flavors of Lancaster and immerse themselves in its vibrant food scene. For unforgettable flavors and tons of historic fun, be sure to book this adventure.
<
Dec 08
10:00 AM
12:30 PM
4:00 PM
Dec 09
10:00 AM
12:30 PM
4:00 PM
Dec 10
N/A
Dec 11
N/A
Dec 12
N/A
Dec 13
N/A
Dec 15
10:00 AM
12:30 PM
4:00 PM
Dec 16
10:00 AM
12:30 PM
4:00 PM
Dec 17
N/A
Dec 18
N/A
Dec 19
N/A
Dec 20
N/A
Dec 22
10:00 AM
12:30 PM
4:00 PM
Dec 23
10:00 AM
12:30 PM
4:00 PM
Dec 24
N/A
Dec 25
N/A
>