Christmas Vacation Ideas in Lake Tahoe
ORDERING INFORMATION
Book by Phone:
1-800-987-9852
Book Online:
When looking for the perfect place to spend Christmas, look no further than Lake Tahoe. From the sun shining off of the snow-capped peaks of the Sierra Nevada mountains to Christmas light displays, this breathtaking scenery makes for the perfect backdrop to your holiday escape this season.

As you explore the scenic Lake Tahoe, be sure to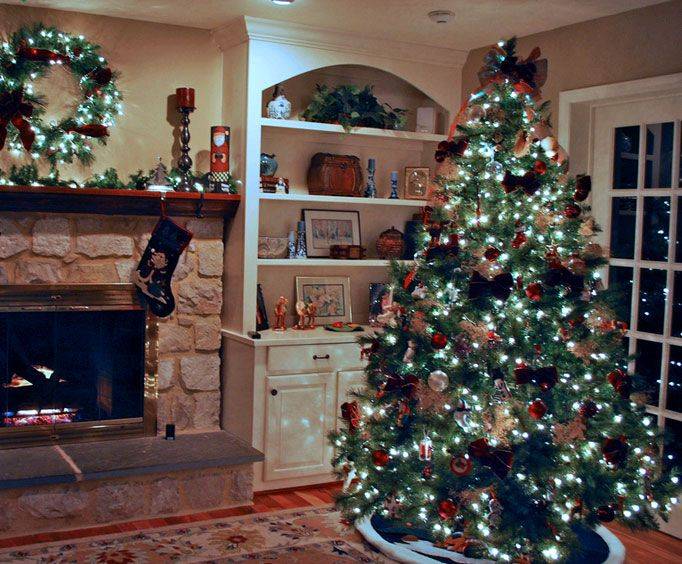 stop by Squaw Valley Ski Resort and participate in Holidays at Squaw. Look for Santa while on the slopes, snuggle up around fire-pits and listen to carolers while sipping on hot cocoa. There are plenty of activities to do while at Squaw Valley, your family is sure to love every moment!

Take a scenic snowy sleigh or carriage ride with Borges Sleigh and Carriage Rides; taking in the beauty of La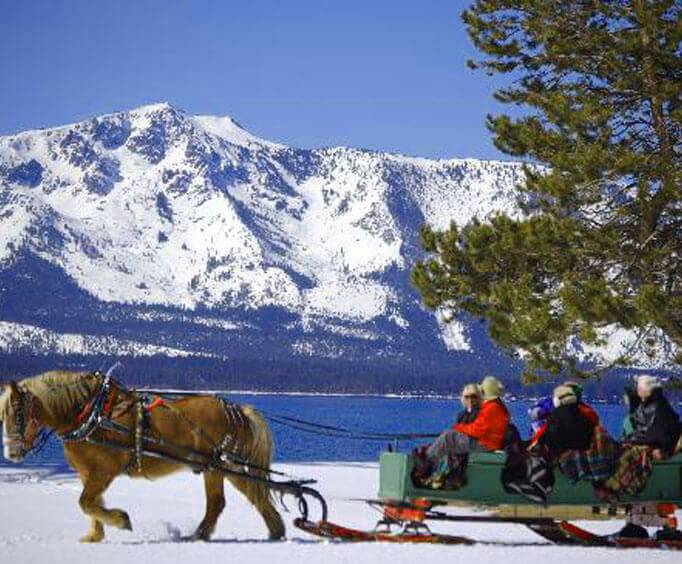 ke Tahoe in the winter season in handmade sleighs equipped with warm blankets, perfect for cuddling up to your loved ones. Each sleigh is pulled by 2,000 pound Blonde Belgian Draft Horses, fitted with jingle bells to make your snow-clad ride even more festive. Your driver will point out local landmarks and tell you stories throughout your Christmas time journey.

More great activities available for your family are dinner cruises aboard the Tahoe Queen and M.S. Dixie cruise ships and sightseeing cruises aboard the Bleu Wave. Cruise the glossy waters of Lake Tahoe and take in sights like glacier caved granite, mountaintops, and landmarks like the whole of Emerald Bay, a designated Natural Landmark, and architectural feats like the Vikingsholm mansion and the remains of Mrs. Lora Josephine Knights Tea House on the only island on Lake Tahoe, Fannette Island.

To take some of the hassle out of planning your upcoming holiday vacation or trip, make sure to check out the pre-made vacation packages we have available. With multiple winter and skiing vacation packages to choose from, and the option to create your own dream winter vacation, you are sure to find exactly what you're looking for ! From skiing at Sierra at Tahoe or numerous other Ski Resorts to enjoying the sightseeing of a dinner cruise or romantic sleigh ride, this holiday season will be one you and your family won't soon forget!
Reviews
Lake Tahoe Sightseeing & Lunch Cruises Aboard the Bleu Wave
Very relaxing cruise. Excellent staff who was very attentive.





-- Rene Stoner - Stockton, CA

M.S. Dixie II Sightseeing & Dinner Cruises
Sailing on the m.S. Dixie ii was the highlight of our vacation! The staff was great, outstanding food and some of the best scenery i have ever seen. A 10 out of 10 experience!





-- Russ Hague - Albuquerque, NM

M.S. Dixie II Sightseeing & Sunset Dinner Cruises
I expected this to be a very good event, but it became a high point of our trip. Not to take away from the beautiful beaches or the great sights but this cruise had everything. Lots of people but all moved on board quickly. We sat with a group of 4 and had great conversations. The food was very good, the wine inexpensive and the servers very attentive. The sights were spectacular and it was all rounded out with a dance band in a large lounge playing popular music.





-- Jean Marc Lessard - Mississauga, Ontario


LAKE TAHOE CA
HOTELS & VACATION PACKAGES
MOST POPULAR THINGS TO DO
IN LAKE TAHOE CALIFORNIA