Yosemite Valley Tour From Lake Tahoe
Save a Thursday for this spectacular sightseeing tour of Yosemite Valley, for up close views of world famous waterfalls, granite peaks, and glorious vistas.
Description
This fourteen-hour sightseeing tour is one astounding scene after another accompanied by narration by your skilled driver You'll depart from Lake Tahoe riding in a comfortable, modern shuttle bus over Tioga Pass, one of the few places where you can get across the Sierra Nevada Mountains. The view from the summit, at an elevation of 9,941 feet is absolutely breathtaking.
From there you enter Yosemite National Park where you'll visit Tuolumne Meadows, a high alpine meadow which is a great vantage point for granite cliffs and clear meandering streams. You'll spend the day at amazing photo spots in Yosemite; incredible granite monoliths that rise thousands of feet above the valley floor, like the famous Half Dome, and El Capitan, both world renowned rock-climbing destinations; Tenaya Lake, an alpine lake set idyllically amid light-colored granite boulders and bordered by forests of pines and fir, and whose outlet stream cascades down the rough and rugged Tenaya Canyon, so extreme is the terrain of this canyon, it is known as the Bermuda Triangle of Yosemite.
The crown jewel of Yosemite National Park is Yosemite Valley. The eight mile long valley surrounded by granite summits, red metamorphic rock peaks, and forested mountains. Some of California's highest waterfalls, Yosemite Falls, Horsetail Fall and Bridalveil Falls all pour into the valley. Enjoy a narrated nature walk to either Bridalveil Fall or Yosemite Falls.
Your tour comes with a catered picnic lunch which you'll enjoy near the Cascade Falls.
Detailed Tour Itinerary
STOP 1
Tour Stop at
Tour Stop at
Bridgeport, CA
The community of Bridgeport, California, surrounded by National Forest land and the Sawtooth Mountains, is known for its rich history, recreation, scenic beauty, picturesque neighborhoods and the state's second oldest courthouse still in use.
STOP 2
Tour Stop at
Tour Stop at
Tioga Pass in Yosemite National Park, CA
Perched at an elevation of 9,941 feet above sea level, Tioga Pass on California State Route 120 is the gateway to Yosemite National Park and provides a remarkable viewpoint of the peaks and valleys and forested hillsides. This is one of the few places you can get across the Sierra Nevada Mountains.
STOP 3
Tour Stop at
Tour Stop at
Tuolumne Meadows in Yosemite National Park, CA
Tuolumne Meadows is a gentle sub-alpine meadow along the meandering Tuolumne River in Yosemite National Park. Several creeks feed the river and in spring the snow melt floods vast sections of the meadow. The meadow is bountiful with wildflowers in the late spring and summer. From the meadows you'll see several massive granite domes.
STOP 4
Tour Stop at
Tour Stop at
Lembert Dome in Yosemite National Park, CA
Lembert Dome is the predominate Monolithic Granite dome in Tuolumne Meadows of Yosemite National Park. Rising 800 feet above the meadow floor where the Tuolumne river gently winds through the pastoral scene, the dome is one of the area's favored rock-climbing destinations.
STOP 5
Tour Stop at
Tour Stop at
Olmstead Point in Yosemite National Park, CA
Olmstead Point is a magnificent viewing point off of Tioga Road. Looking Southwest into Tenaya Canyon the view is dominated by the less recognizable North side of the Half Dome, and Cloud's Rest, a prominent granite peak rising 5000 feet above the creek.
STOP 6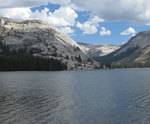 Tour Stop at
Tour Stop at
Tenaya Lake in Yosemite National Park, CA
Tenaya Lake is an Alpine lake lying between Yosemite Valley and Tuolumne Meadows. Created by branch of the Tuolumne Glacier, the lake is fed primarily by Tenaya Creek, which is also the outflow and cascades down the valley ten miles to the Yosemite River. Amidst a backdrop of light colored granite rocks the lake is a popular destination for kayaking, canoeing, sailing and fishing.
STOP 7
Tour Stop at
Tour Stop at
Cascade Falls in Yosemite National Park, CA
The Cascade Falls is the name of the middle section of the Yosemite Falls. Not visble from the valley the middle cascades is comprised of five smaller plunges that together drop a total of 675 feet, twice the distance of the lower falls.
STOP 8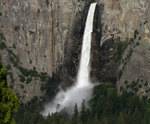 Tour Stop at
Tour Stop at
Bridalveil Fall in Pollock Pines, CA
The Bridalveil Fall is a spectacular 150 foot waterfall pouring over one massive granite peak. The fall is a cascading majesty especially in the spring run-off. The surrounding hillside of fragrant pines and firs, is marked with granite outcropping speckled with moss and lichen.
STOP 9
Tour Stop at
Tour Stop at
Yosemite Falls in Yosemite National Park, CA
The crown-jewel of Yosemite Valley, Yosemite Falls is among the world's most famous waterfalls. Made up of three sections which combined drop 2,545 feet, making it the highest fall in North America and seventh highest in the world. Pictures cant portray the awesomeness of this majestic wonder.
STOP 10
Tour Stop at
Tour Stop at
Yosemite Valley in Yosemite National Park, CA
The valley is the centerpiece of Yosemite National Park. While in Yosemite Valley you'll see some of the worlds most famous granite monoliths like El Capitan and Half Dome and waterfalls including Yosemite Falls, Bridalveil Fall and Cascade Falls. The valley floor is a thriving highland meadow surrounded by the amazing peaks of the Sierra Nevada Range.
STOP 11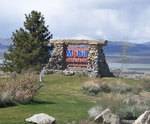 Tour Stop at
Tour Stop at
Lee Vining, CA
At the Eastern entrance to Yosemite National Park, the ghost town of Lee Vining overlooks Mono Lake. Be sure to stop at the Old Schoolhouse Museum for an exhibit of artifacts and photographs chronicling the history of Mono Basin, and outdoor exhibits of antique farming and mining equipment. Next door you'll find one of the country's quirkiest exhibits, The Upside-Down House. Built in the 1950s as a tourist attraction, the small cabin is complete with beds, table and chairs, pots and pans, and its completely upside down.
Stops may change due to traffic, weather, maintenance, etc.
This amazing tours runs on Thursdays and includes all the best and most famous sights in Yosemite National Park, some of the most incredible places in all of nature.
Reviews
MOST POPULAR THINGS TO DO
IN CALIFORNIA
Book Now!