Dolly Parton: The Legend
Internationally renowned superstar Dolly Parton has wowed crowds across the nation with her beautiful soprano voice and folksy charm alongside masterful music. Her incredible career, which spans nearly five decades, has brought many fan favorites to the entertainment world including such classic songs as "Jolene" and her mega-hit "I Will Always Love You," Even now, Dolly shows no signs of stopping. With one song, she was able to remove the boundaries between country and pop music and become a household name. "My songs are the door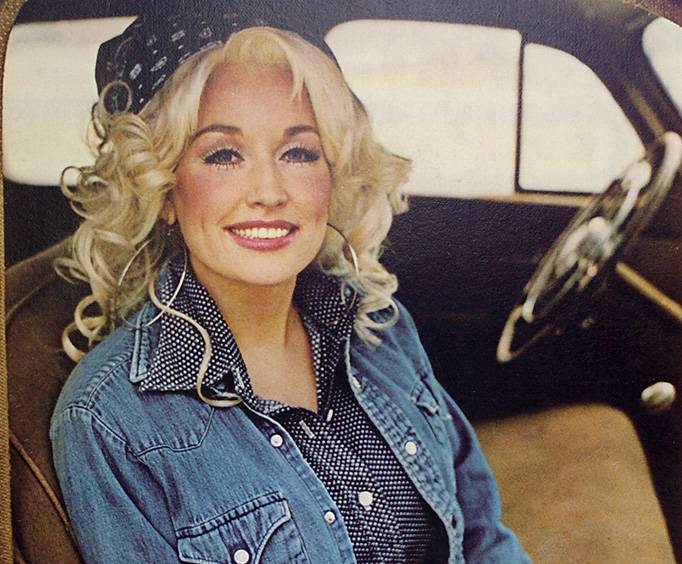 to every dream I've ever had and every success I've ever achieved," Dolly said. Her great achievements include a series of theme parks, appearances on television variety shows, and several successful films, all of which helped cement her status as an all-American superstar.
Childhood
Dolly Rebecca Parton was born January 19, 1946, as the fourth of twelve children to Robert Lee and Avie Lee Parton. Although the family struggled to make ends meet at their home in the beautiful Great Smoky Mountains, Dolly found joy in music at a young age and she began singing before she could even talk, according to her father. She and her siblings all grew up to love music; her first exposure to music came from her mother's singing, and years later, six of her siblings have experienced the joy of their own musical careers. To this day, Dolly credits her Uncle Bill Owens for helping jump-start her music career.
After receiving her first guitar from a relative, Dolly began to write her own songs. By the age of ten, she was already performing professionally on local television and radio shows in Knoxville,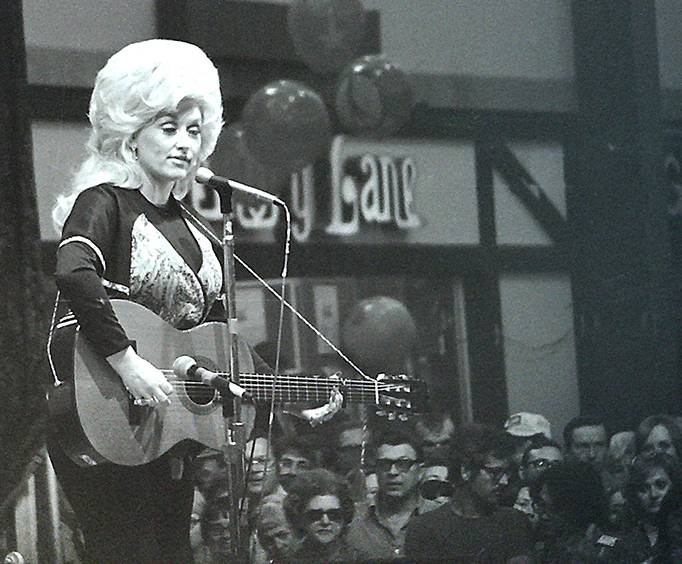 Tennessee. Most notable of these was The Cas Walker Farm and Home Hour, where she sang with members of her grade school class. Her ambition quickly paid off, as only three years later, she made her debut at the Grand Ole Opry for the beginning of an awe-inspiring music career. Not long after that, she released her first single, "Puppy Love," on the Louisiana label Goldband.
Early Career
"I always wanted to be a star," she said. "It just seemed natural to me. Making music is all I've ever known." With this in mind, she remained a regular on Cas Walker's radio show until she graduated high school and decided to pursue her dreams. She left for Nashville the day after graduation, and on her first afternoon in town, she met a young man named Carl Dean at the laundromat. She and Dean married two years later in May of 1966, and they remain together today.
In 1967, Dolly finally got her big break with the song "Dumb Blonde," which reached No. 24 on the country charts. That year, she joined Mr. Grand Ole Opry himself on his syndicated country music show,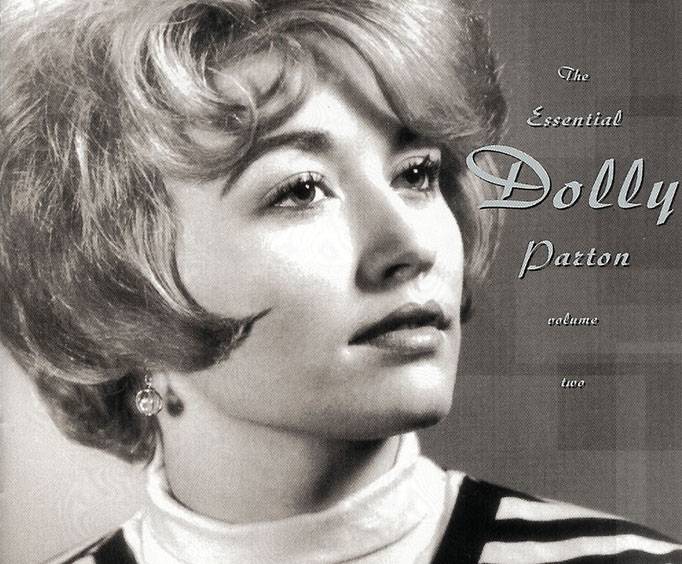 The Porter Wagoner Show, and as "Miss Dolly" she became quite popular with viewers. Through the early 70s, Dolly and Porter Wagoner recorded a number of country hits together, including "Just Someone I Used to Know" in 1969 and "Daddy Was an Old Time Preacher Man" in 1970.
Her work with Wagoner landed her a contract with RCA Records, and she got her first No. 1 country hit, "Joshua," in 1971. Only a few years later, after the release of her sensational No. 1 hit, "Jolene," she and Porter Wagoner split ways. The separation was difficult, and she wore her heart on her sleeves when she wrote "I Will Always Love You" about their parting. This song was later revived for one of her many films in 1982, at which time Dolly became the first musician to earn a No. 1 record twice with the same song. Ten years later, the song was recorded by Whitney Houston for the film The Bodyguard and became BMI's Most Performed Song of the Year in 1993.
Renowned Singer and Actress
As Dolly ascended toward her dreams, other country singers began t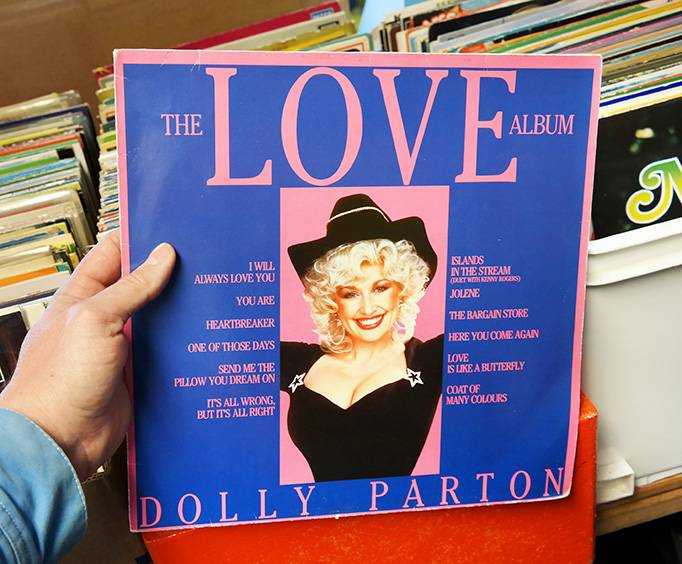 o take an interest in her work. Many popular artists of the day did covers of her popular songs, including Linda Ronstadt, Emmylou Harris, and Maria Muldaur. The obvious desire for her music encouraged Dolly to take her country talent to the pop market, which she did with the Grammy Award-winning "Here You Come Again," in 1977. This instant hit went gold and reached the top of both country and pop charts, but she remained true to her country roots in style. "I'm not leaving the country," she insisted, "I'm just taking it with me."
By 1980, Dolly released many other chart-topping numbers, including "You're the Only One" (1979), "Starting Over Again" (1980), and "Old Flames Can't Hold a Candle to You" (1980), and was a regular headliner in Las Vegas.
That same year, she decided to branch out and pursue another facet of her amazing career. She co-starred with Jane Fonda and Lily Tomlin in her film debut 9 to 5 for the start of a successful acting career. Her recording of the theme song for the film hit No. 1 on pop and country charts. In th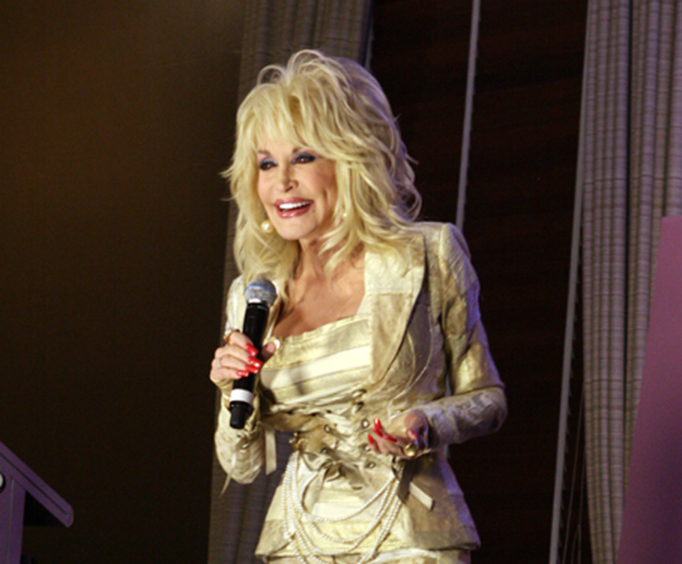 e following years, Dolly co-starred in films with many well-known actors, including Burt Reynolds in The Best Little Whorehouse in Texas (1982), Sylvester Stallone in Rhinestone (1984), Julia Roberts and Shirley MacLaine in Steel Magnolias (1989), James Woods in Straight Talk (1992), Gary Busey in Wild Texas Wind (1992), and a number of talented actors in The Beverly Hillbillies (1993).
During this time, she joined forces with former manager Sandy Gallin to establish the Sandollar Productions, a film and television production company that produced feature films and several television shows. She continued to release many No. 1 hits, including duets with Kenny Rogers and Ricky Van Shelton.
Dollywood
Throughout her expansive career, Dolly has done far more than sing and act. In 1986, she saw a cherished dream become a reality with the opening of her own theme park in Pigeon Forge, at the base of the Great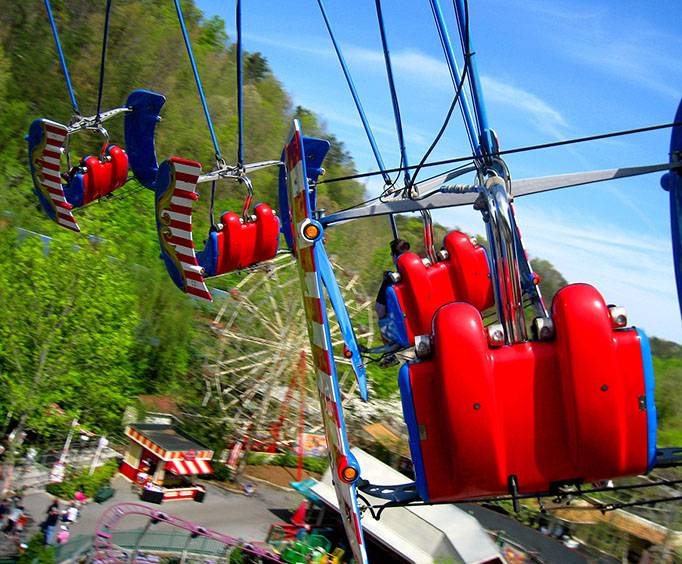 Smoky Mountains.
"I can remember looking up at the Hollywood sign the first time I was in L.A.," she said, "and thinking I would like to change that H to a D." Inspired by her many trips to the West Coast while pursuing her acting career, Dolly partnered with the Herschend family to redevelop a theme park near her hometown. The goal was to create a place where the culture of her beloved Smoky Mountains would be available for everyone to celebrate.
Just as she envisioned, this popular destination is known around the world as Dollywood. A staple of any family trip to the Smokies, Dollywood remains the state's number one tourist attraction, and in 2006, the theme park industry selected it as one of the top three theme parks in the world. The attraction is also the largest provider of jobs in Sevier County.
Imagination Library
In 1988, she began the Dollywood Foundation in an effort to lower the high school dropout rate in her home community. The Foundation challenged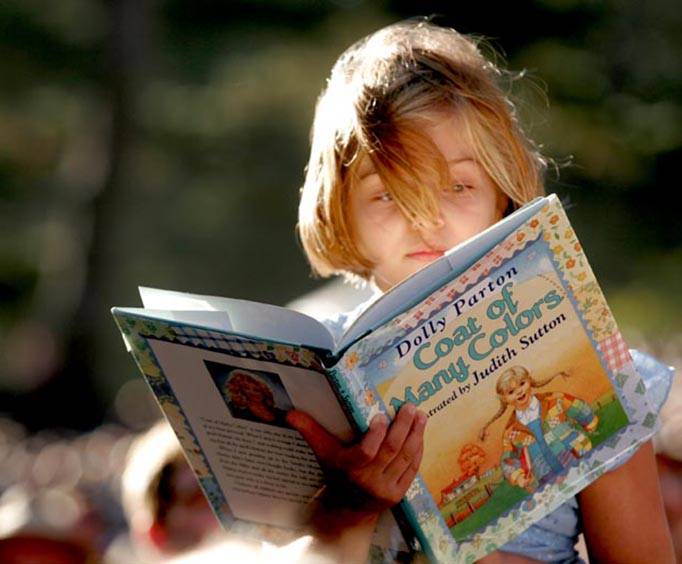 teenagers to dream big and cherish their experiences. Funded by Dolly's net profits, the Foundation brings jobs and tax revenues to a previously depressed region.
The Foundation currently funds the Dolly Parton Imagination Library, which distributes books monthly to preschool children across America, Canada, the U.K., and Australia. The program distributes more than 10 million free books to almost 850,000 children annually. With the help of local sponsors, the program gives children from birth to kindergarten support in 41 states. "My dad," she said, "was prouder of me for this program than for my music career.
Dixie Stampede
Not long after opening Dollywood, Dolly decided to spread a little more love. Inspired by her desire to have a pony growing up, Dolly and her team set out to develop an equestrian-themed entertainment experience for crowds of all ages. The result was Dolly Parton's Dixie Stampede Dinner Attraction.
This Wild West dinner show incorporated a number of country activities and themes, including rodeo events and trick riding. The debut in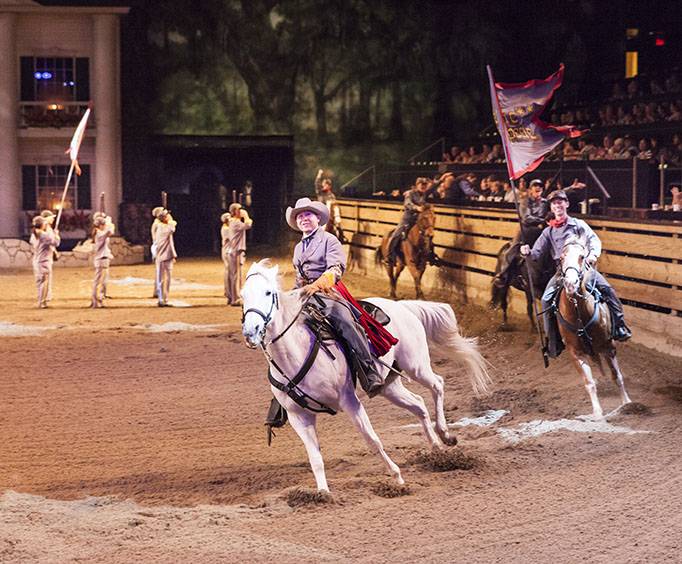 Pigeon Forge was an instant hit, and she quickly opened up locations in Branson, Missouri and Myrtle Beach, South Carolina. Crowds fell in love with the lively atmosphere and continue to make it a family tradition.
Later Career
Even as she pursued other endeavors, Dolly continued to make music her top priority. She released several popular albums like Trio, a country music collection performed with Emmylou Harris and Linda Ronstadt. The album won a Grammy for Best Country Album by a Duo or Group with Vocal in 1987, and the follow-up, Trio II, released more than a decade later, featured a Grammy-winning cover of Neil Young's "After the Gold Rush." She also teamed up with other popular artists like Loretta Lynn, Tammy Wynette, Kitty Wells, Alison Krauss, and Patty Loveless to record more hit songs.
In 1998, Dolly moved to Decca Records and recorded a collection of her own songs, Hungry Again, which kicked off what many critics have called an artistic reawakening. The following y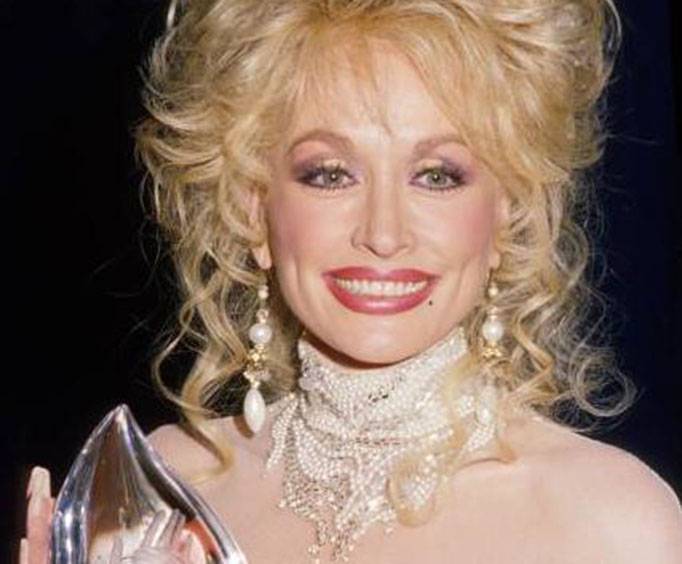 ear, she was inducted into the Country Music Hall of Fame and began to explore more of her Tennessee roots with her first bluegrass album, The Grass Is Blue, which later garnered a pair of Grammy nominations and won Album of the Year at the International Bluegrass Music Awards. Her second bluegrass album, Little Sparrow, was released in 2001.
After years of expanding her musical horizons, Dolly returned to her own label with her first album of mainstream country in nearly a decade. Backwoods Barbie, released in 2008, reached No. 2 in country charts and No. 17 on pop charts. The title song was written for the musical version of her film 9 to 5, which debuted in Los Angeles before a brief run on Broadway.
Pirates Voyage Dinner Show
After 18 successful seasons of her Dixie Stampede in Myrtle Beach, Dolly and her creative team set out to transform the entire property into a pirate-themed experience. Based on the spirit of Blackbeard and his buccaneers, the Pirates Voyage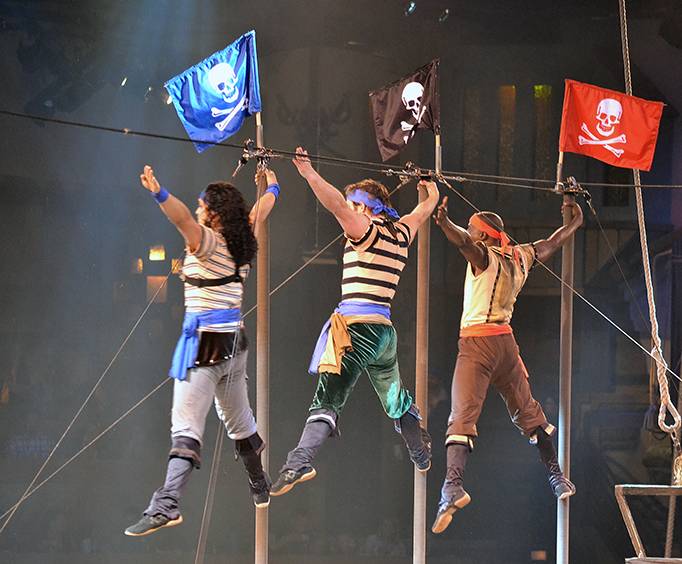 Dinner & Show follows the Crimson and Sapphire pirate crews as they compete for the bounty on two full-size pirate ships.
For the 2008 opening, Dolly starred in the show as a mermaid. She collaborated with Mark Bryner to write the musical score, and today, Pirates Voyage remains a huge hit for Dolly and her team. With an acrobatic competition, sea lions, and an interactive Pirates Village, this experience is rated the number one show in Myrtle Beach.
With this addition to her entertainment businesses, Dolly's attractions bring in 4.5 million visitors every year and employ more than 3,000 people.
Personal Life
Dolly married her husband Carl Thomas Dean on May 30, 1966, in Ringgold, Georgia. Dean, who is retired from running an asphalt road paving business in Nashville, shuns publicity and rarely accompanies his wife to her events. In their many years together, he has only seen her perform once, but he is endlessly supportive of her talents. Dean is quite romantic and often surprises her with his spontaneity and poetry.
While the couple has no children of their o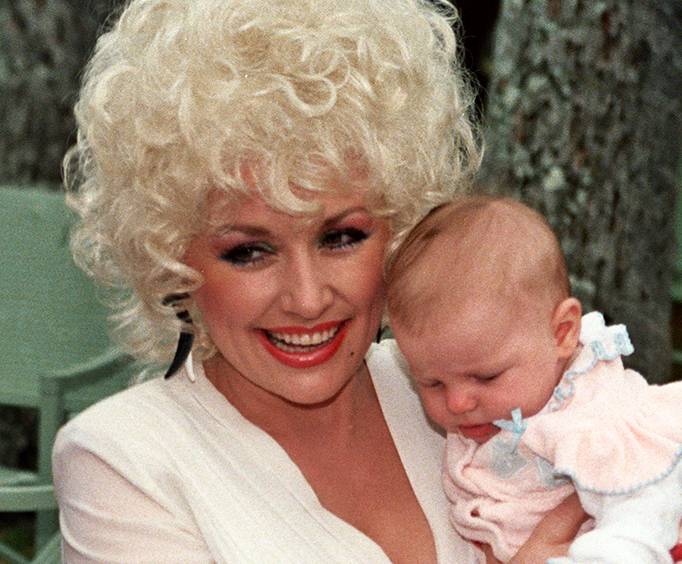 wn, Dolly and her husband helped raise several of her younger siblings in Nashville, and she is the godmother to fellow performer Miley Cyrus. In May, Dolly and her husband celebrated the anniversary of marriage, and she said, "We're really proud of our marriage. It's the first for both of us. And the last.
Net Worth
While her exact net worth is somewhat of a mystery, Dolly is often credited with a net worth of $500 million, though many feel it could be much higher. Dolly has invested locally in many start-ups in the Nashville area, created her own set of theme parks, and supported reading and education through the Imagination Library, all of which adds to her net worth and community value. As a famous and talented singer, Dolly can earn approximately $67 million annually from her music alone. For her mega-hit "I Will Always Love You," Dolly made an estimated $123,743 in royalties through its use in various media.
Her properties are also of monumental value. After she first rose to fame, Dolly purchased her most famous possession, the 1997 Cadillac D'elegance, a silver coupe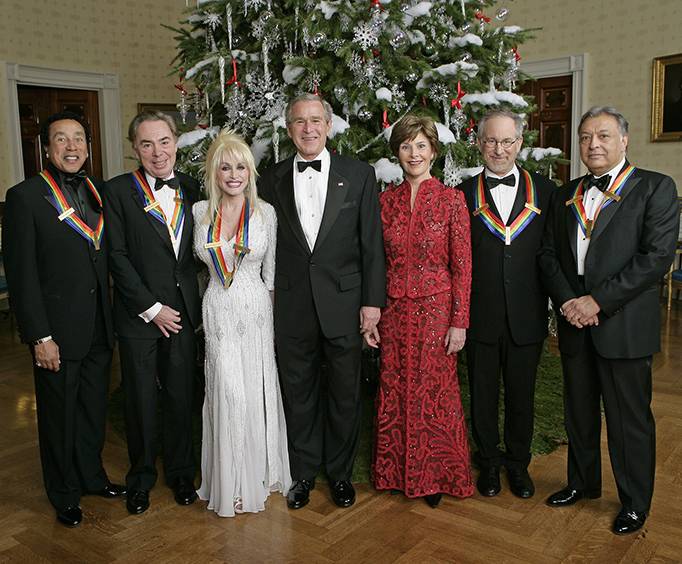 with a black skin roof. She drove the vehicle for ten years before donating it to the Hollywood Star Cars Museum in Gatlinburg, Tennessee. She still prefers Cadillacs to this day. Although Dolly owns more than one house, her main residence is in Nashville, where she keeps a massive estate with wide open pastures that span half a mile. The property even has a small chapel on the grounds so that she can spend time with the Lord.
Awards and Accolades
During her lifetime, Dolly released an autobiography titled Dolly: My Life and Unfinished Business (1994), and a book based on her commencement speech at the University of Tennessee, Dream More: Celebrate the Dreamer in You (2012). She has also received a number of impressive awards, has her own star on the Hollywood Walk of Fame, and is a member of the National Academy of Popular Music Songwriters Hall of Fame. In 2004, the U.S. Library of Congress presented her with the Living Legend Award for her many contributions to the cultural heritage of the country. The following year, she received the National Medal of Arts, the highest honor given by the U.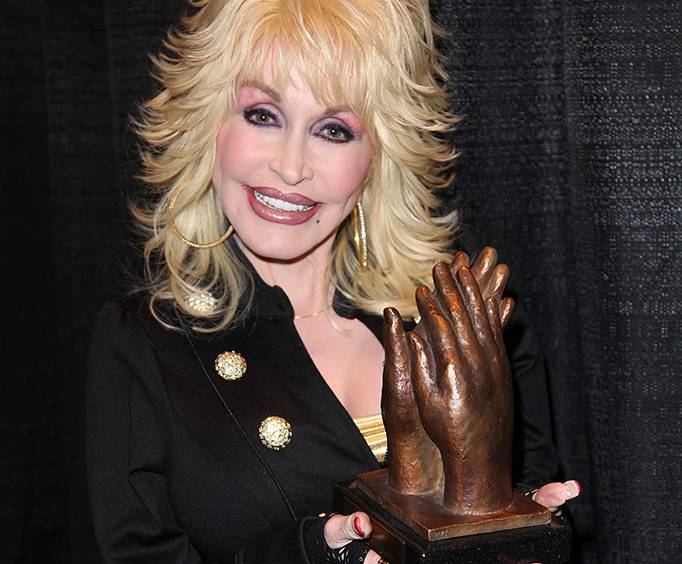 S. government for excellence in the arts. Dolly received special recognition for these same contributions in 2006 at the annual Kennedy Center Honors, and she picked up a second Academy Award nomination for the song "Travelin' Thru," which appeared in the film Transamerica.
Today, Dolly Parton is the most honored female country performer of all time. In all her years performing, she has garnered 25 RIAA certified gold, platinum, and multi-platinum awards, and 25 No. 1 songs on the Billboard country charts - a record for a female artist. All-inclusive sales of singles, albums, hits collections, paid digital downloads, and compilation usage during her Hall of Fame career have reportedly topped a staggering 100 million records worldwide. She has received 7 Grammy Awards, 10 Country Music Association Awards, 5 Academy of Country Music Awards, 3 American Music Awards, and is one of only five female artists to win the Country Music Association's Entertainer of the Year Award.
Dolly is one of an elite group of celebrities received at least one nomination from all four major annual American entertainment award organizations: Emmy, Grammy, Oscar, and Tony. Despite these great honors, Dolly remains humble and grounded in her faith and family. She considers the bronze statue of her on the courthouse lawn in her hometown of Sevierville, Tennessee, her greatest honor, as it was a gift from those that truly know her. "My dream was to make as many people happy as I could in this life," she said, and she has done everything in her power to achieve that goal.
When you visit the Smokies, be sure to visit all of the great things to do that have influence from Dolly Parton herself!