"amazing"
41 related reviews
"great time"
23 related reviews
105 Guests Had Great Experiences
"Definitely worth seeing."
Anakeesta is not set to open on this date.
Chondola Ride
BOOK
Chondola Ride
BOOK
Chondola Ride
BOOK
Chondola Ride
BOOK
Chondola Ride
BOOK
Chondola Ride
BOOK
An exciting Smoky Mountain adventure awaits with a trip to Anakeesta Pigeon Forge theme park, one of the most famous landmarks and natural attraction options in Tennessee!
Details
With a trip to Anakeesta, you and your family will be able to enjoy a variety of fun activities. Begin the day with a marvelous journey up the Sightseeing Chondola. Look out below at the gorgeous sights of the Smokies below as you are transported to Firefly Village where the fun continues.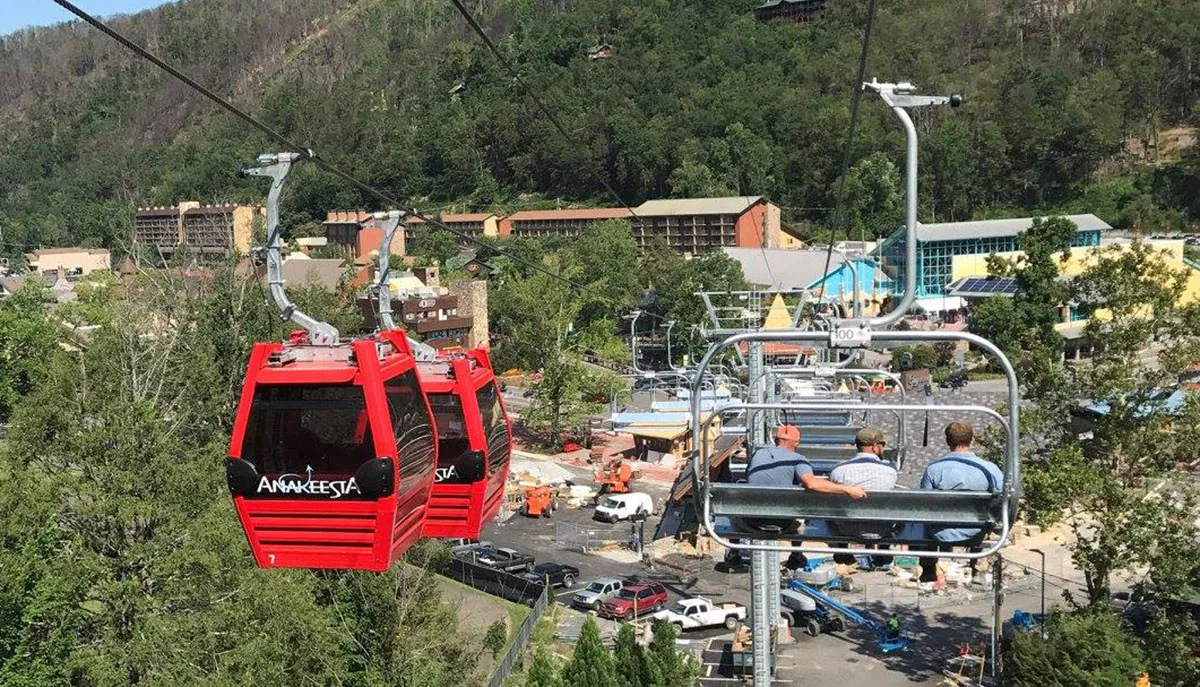 Your time at Anakeesta starts with an amazing scenic ride on the Chondola. Breathe in the fresh mountain air as you ride the chair lift to the mountain peak! This breathtaking experience is a delight in itself, and upon arrival you'll be able to experience all of the amazing activities offered in Firefly Village. These activities include:
The Anakeesta Chondola
Look out the chondola Anakeesta windows for mountainside views that are something out of a fairy tale! The Great Smoky Mountains are absolutely stunning, and the views offered from the Chondola are absolutely unparalleled. Breathtaking views are just the beginning. Once you are taken to the marvelous mountainside village of Anakeesta, you will get to enjoy unlimited Anakeesta gondola rides up and down the mountain and fun adventure at Firefly Village.
Did you know? Anakeesta means "the place of high ground" in the Cherokee language.
After your thrilling Chondola, you'll be able to explore the bustling Firefly Village, which is full of shopping and dining opportunities as well as attractions for the entire family. Start the day off by conquering the Treetop Skywalk, Treeventure Challenge Course, the Children's Treehouse Village Playground, or Bearventure. If you work up a sweat at these obstacle courses, cool off at the Splash Pad or take a break by meandering the Forest Memorial Trail or enjoying the sights at the brand new AnaVista Tower.
Treetop Skywalk

(Included with General Admission)
Branch out at a fun thing in Anakeesta with the Tree Canopy Walk. This walk takes place 40-60' above the forest floor where guests will be able to traverse 16 intertwined sky bridges for spectacular views of the area. Keep an eye out for wildlife while you explore this fun adventure. This is the longest tree-based skywalk in North America and is comprised of 880 feet of bridges.
Treeventure Challenge Course

(Included with General Admission)
Perfect for the kiddos, the Treeventure Challenge Course gives little ones the chance to play and burn off some energy while mom and dad rest. This treehouse village includes bridges, an elevated bird nest observation tower, a plank wall, a maze, a tube net, and more with educational themes along the way. This is a great way for families to burn off some energy and have a blast!
Children's Treehouse Village Playground

(Included with General Admission)
This treetop wonder is perfect for the entire family. From tree to tree, kiddos will cross netted bridges and go through tunnels, each with their own difficulty. You can see log walks, an elevated bird's nest of an American Goldfinch, conquer a plank walk and find your way through a maze.
Bearventure

(Included with General Admission during Anakeesta Hours)
Logs, tight ropes, and moving obstacles come together to provide a challenging obstacle course that is bound to be a favorite among families. Nestled in the gorgeous Vista Gardens, the obstacle course is perfect for children of all ages and features pergolas and beautiful pathways. Kiddos will love seeing the 20' mama bear sculpture that looks after the course! Be sure to listen to the bear safety tips to help enjoy all of the fun safely with your favorite bears!
Splash Pad

(Included with General Admission)
Cool off in Black Bear Village with the Splash Pad attraction! Kiddos and kids at heart will enjoy cooling off at this fun water attraction modeled after a winding Tennesse alpine stream. Complete with a waterfall and jet sprays, you'll enjoy the adorable woodland creature statues and can even hear live music from the Black Bear Village stage.
AnaVista Tower

(Included with General Admission)
The brand new AnaVista Tower provides the best views in the Smokies! Nestled in the middle of the beautiful Vista Gardens botanical garden, the tower stretches to 60 feet tall, providing mountain and forest views. Visitors can look and see views as far away as Kentucky on a clear day! Signs will help decipher mountain ranges and famous peaks and there is a glass panel floor for those who are brave enough to peer below them.
Forest Memorial Interpretive Trail

(Included with General Admission)
The Forest Memorial Interpretive Trail pays homage to the 15,000 acres which were destroyed in the Gatlinburg fire. Guests will walk through the burned forest as they learn about the fires and those brave souls who helped to fight it. Enjoy a gorgeous mountain view when traveling along this adventure outpost.
Festivals at Anakeesta Mountain Pigeon Forge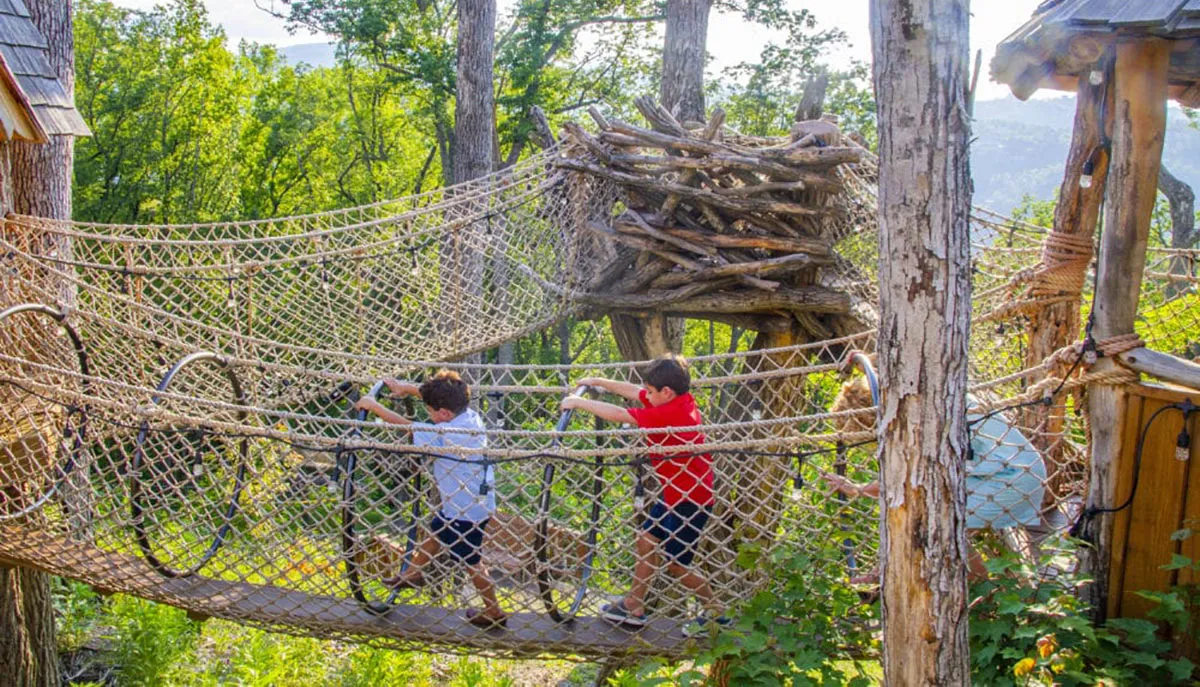 Throughout the year, Anakeesta Mountain Pigeon Forge celebrates a number of great festivals. From the beauty of Astra Lumina to its holiday celebrations, there are always events to enjoy in Firefly Village and beyond.
Shopping & Dining Opportunities in Firefly Village at Pigeon Forge Anakeesta
(Included with General Admission) And of course, a trip to Anakeesta Mountain wouldn't be complete without the fun that awaits in the magical Firefly Village. Here, guests will be able to peruse various shops and restaurants for some of the best dining and shopping opportunities in the area. From Kephart Cafe to the Cliff Top Grill and Anakeesta Smokehouse, there are delicious options.
Finish the day shopping for souvenirs at Firefly Village's Great Outdoors Trading Company, enjoying live music at Black Bear Village, or dining at one of the many amazing restaurants found at Anakeesta. When you've spent the day playing, reminisce on your memories made as you take a final Chondola ride down the mountain and enjoy a marvelous sunset. A day at Anakeesta is the perfect way to create lasting moments with your loved ones.
There are also plenty of other great cliff top adventure options to have at Anakeesta Mountain for an additional cost. Whether you want to enjoy the action of the dueling zipline adventure or do all of the fun Smoky Mountain tourist activities, there's something for everyone. Anakeesta theme park is a proud Natural Attraction of the year winner! This theme park gives visitors the opportunity for a unique time spent relaxing, playing, and enjoying the gorgeous Smoky Mountain scenery - all nestled away in the breathtaking Firefly Village. For great family fun, there is no better place to go than Anakeesta Mountain. Ride the Chondola, visit the Forest Memorial Interpretive Trail, and explore some of the best Smoky Mountain area fun!
There are plenty of things to see and do at this hallow mountain Anakeesta Adventure Park attraction, from the dueling zipline to exploring Firefly Village. When you're not taking to Anakeesta Gatlinburg, be sure to check out the other adventurous activities in the area, from the Rocky Top Mountain Coaster rider to Ripley's Aquarium and exploring Downtown Gatlinburg, there are plenty of great things to do. Add a Pigeon Forge hotel or inn reservation to complete your vacation, and get ready to experience the stunning views and fun in this famous National Park area! Browse an array of Pigeon Forge and Gatlinburg TN attractions, from Ober Gatlinburg to gem mining, the Ridge Rambler, Rail Runner Mountain Coaster, and many more. You can also browse Smoky Mountain cabins and other fantastic lodging options.
Reviews

Scott Prue
Stroudsburg, PA
✓
Verified Traveler
"Definitely worth seeing."
Definitely worth seeing. Ride the chondola to the top of the mountain and take in the beautiful scenery. We had lunch at cliftop where we took in the amazing panoramic views and the food was excellent. A lot of shops and wonderful views. If you want to zip line or ride the mountain coaster make sure to book ahead of time as they fill up quickly

Eugenia Carroll
Prince Frederick, MD
✓
Verified Traveler
My girls loved this! We are a girl scout troop from the maryland area and thoroughly enjoyed visiting gatlingberg. The girls loved the chondola ride up anakeesta mountain. The wait wasn't bad and had a lot to do once up there.

Jackie Koch
Aurora, Indiana
✓
Verified Traveler
"Great place to relax and unwind"
Great place to relax and unwind after being on the busy street in gatlinburg.

Susan Armstrong
Santa Maria, CA
✓
Verified Traveler
"Wonderful, one - of-a- kind outdoor activity park."
Wonderful, one - of-a- kind outdoor activity park. Loads of shopping, great eats and fun inactive family friendly climbs, bridge walks. The views were beautiful.
Frequently Asked Questions for Anakeesta Mountain Sightseeing Chondola in Pigeon Forge - Hours, Schedule & Reviews:
What is included in the admission price for Anakeesta Mountain Sightseeing Chondola & Attractions?

Includes chondola ride and admission to Anakeesta Mountain.

Approximately how long could a customer plan to spend at Anakeesta Mountain Sightseeing Chondola & Attractions?

Guests tend to the day here.

What amenities are available?

There is a gift shop, restaurants, and more.

Is Anakeesta Mountain Sightseeing Chondola & Attractions handicap/wheelchair accessible?

The Gondola cabins are 32in wide and 49in deep to accommodate both wheelchairs and strollers for your ride to the summit. Many parts of Anakeesta are wheelchair accessible like Firefly Village shops, dining pavilion, and scenic viewing platforms. There are some areas that are not accessible by wheelchair or stroller such as Vista Gardens (Wheelchair accessible ramp coming Spring 2021) or the Treetop Skywalk. Anakeesta is also walker-accessible. The Astra Lumina attraction is NOT wheelchair or stroller accessible.

Is photography & video recording allowed?

Yes, but flash photography is not allowed on the Astra Lumina attraction.

For what ages is Anakeesta Mountain Sightseeing Chondola & Attractions appropriate?

Great for all ages.

Is parking available at Anakeesta Mountain Sightseeing Chondola & Attractions?

Paid Premier Public Parking at Anakeesta or nearby city parking at Ripley's Aquarium and the McMahan Parking Garage.

Are pets allowed at Anakeesta?

No, but ADA certified service animals are permitted.

Can you leave Anakeesta and come back?

Yes, the admission ticket includes unlimited access for all day.

What is the policy in case of inclement weather?

Anakeesta operates rain or shine.

Is it faster to prebuy tickets to Anakeesta or is there still a wait?

If you prebuy your tickets to Anakeesta, you will be able to skip the line with tickets in hand to enjoy all of the activities faster!

Are there lockers to store things in while I zipline?

Anakeesta offers small complimentary cubbies to hold your valuables while you zipline.
Options:
Anakeesta General Admission & Sightseeing Chondola
Available Now until 12/31/2023 View Detailed Schedule
The Scenic Chondola Ride is a great form of transportation that offers tons of views as you are taken up the 600' summit to Anakeesta Mountain. You can ride in a 4-person open air chair or an enclosed gondola-style cabin with room for six. Your destination will end up being Firefly Village.
Customers Who Bought This Also Bought


CALL

SCHEDULE