Fort Lauderdale, FL Day Trips
Leave the city to explore nearby outdoor destinations or visit another city nearby on a Fort Lauderdale day trip. Guided day trips are perfect for those looking to explore Fort Lauderdale but are unsure of where to start. Browse through our listings below to plan a perfect day for your vacation.
Fort Lauderdale Day Trips
Get out and experience Key West on this exciting day trip. This brilliant cruise option allows guests to see all of its landmarks and enjoy plenty of free time on the island.
This day trip from Miami to Key West offers some incredible fun for all who attend. Get out and experience the natural beauty and native wildlife with a snorkeling adventure.
Day Trips don't get any better than the Miami to Key West Round Trip Adventure offered by Vacations Made Easy. This full-day tour takes you on a scenic drive over the iconic Seven Mile Bridge, with stops at the vibrant and colorful streets of Key West. You'll have plenty of time to explore the city's museums, shops, and restaurants, or simply relax on the beach. Don't miss out on this unforgettable experience!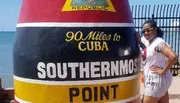 Day Trips from Fort Lauderdale are made easy with a visit to Key West. This full-day tour takes you on a picturesque drive along the Overseas Highway above waters filled with tropical fish and sea turtles. Take in panoramic views of the ocean and the Gulf of Mexico. Once you arrive in Key West, explore the island's rich history, with highlights such as Ernest Hemingway's house, colorful local architecture, and the famous southernmost point marker. It's the perfect way to experience the best of South Florida in just one day.
Embark upon an amazing day trip from Miami to Key West with this 15-hour endeavor. Guests will get roundtrip transportation as well as plenty of free time to explore Key West.
Day Trips to Bimini Island from Fort Lauderdale offer incredible experiences for travelers seeking a laid-back tropical getaway. This activity takes visitors on a scenic ferry ride across crystal-clear waters to the lively island of Bimini. Here, tourists can explore the island's breathtakingly beautiful beaches, indulge in delicious local cuisine, or embark on thrilling water sports activities such as snorkeling or deep-sea fishing. Additionally, visitors can visit historic landmarks or visit incredible natural attractions such as the Healing Hole.
Sep 28
N/A
Sep 30
N/A
Oct 02
N/A
Oct 03
N/A
Oct 05
N/A
Oct 07
N/A
Oct 09
N/A
Oct 10
N/A
Oct 12
N/A
Oct 14
N/A
Oct 16
N/A
>
Day Trips don't get much better than this transportation ticket from Miami to Key West. Spend a day exploring the stunning scenery of the Florida Keys as you make your way to Key West, with plenty of opportunities to soak up the legendary sun and sea. When you arrive in Key West, take a dip in the crystal-clear waters, visit restaurants, or enjoy the local life. What you do is totally up to you!