Walking Tour Options in Eureka Springs, AR
Eureka Springs, AR is one of the most gorgeous cities in the state. You will be able to walk along its downtown scene and more with one of these great walking tour options. Visitors of all ages are certain to have a wonderful time stretching their legs as they meander through the city.
Eureka Springs Walking Tours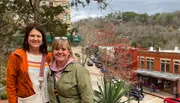 Walking Tours in Eureka Springs, Arkansas offer a unique way to explore the city's history and culture. Led by knowledgeable guides, visitors embark on a leisurely stroll through historic downtown and learn about the architecture, art, and colorful characters that make Eureka Springs such a charming destination. The tours cover a variety of themes, from ghost stories to the city's Civil War history, and provide an intimate glimpse into this town's rich past. With several tours available throughout the year, one of these Walking Tours is a must-do activity for any Eureka Springs visitor. Uncover the vast history of Eureka Springs and its gorgeous landmarks and scenery on this brilliant adventure.
Walking Tours of Eureka Springs offer a unique experience for visitors to the Ozarks. One such option is the Magic Water Tour, a two-hour adventure that showcases the town's natural springs and the history and legends surrounding them. Knowledgeable guides lead small groups through hidden gardens and historic neighborhoods, all while sharing intriguing stories about the town's past. The tour culminates at Basin Spring Park, where travelers can enjoy an illuminated fountain show set to music, making for a truly memorable experience. You will even have the opportunity to sample some of the sparkling spring water at the end of the tour. Book this brilliant adventure today to learn all about Eureka Springs' magical reputation and have a marvelous time sightseeing in the area.