The Suites at Fall Creek
1 Fall Creek Dr Branson, MO 65616
1-800-987-9852
Chat Now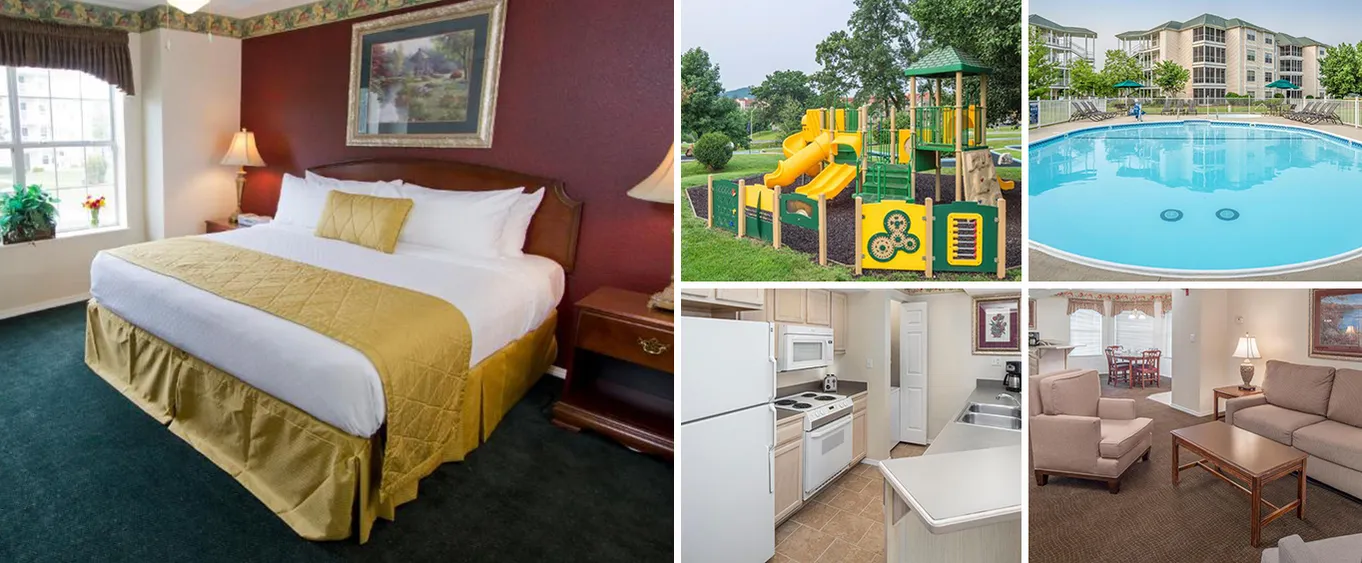 If you're looking for a beautiful hotel to get for your Branson stay, then here you go, there isn't any need to look any further. The Suites at Fall Creek- Branson is what you're looking for, for many reasons. It's not located on a busy road, which is perfect for if you want that secluded feel. You won't hear traffic all night here. There are many magical shows that are located near The Suites at Fall Creek. Within a short drive from this great hotel you can see any of these superb shows, Branson's Christmas Wonderland, Reza Edge of Illusion Magic Show, King's Castle Theatre Shows, Amazing Acrobats Of Shanghai featuring Shanghai Circus, The Haygoods, Branson Titanic - World's Largest Museum Attraction, and the Hughes Music Show. These are wonderful shows, or attractions, that you're going to want to check out during your Branson stay. The Suites at Fall Creek- Branson is an absolute gorgeous place to stay. It's located on a lake, what can be better than that? It actually offers quite a bit, it's an amazing place. There's a marina. You can go fishing here. There's a fitness center, a game room, playground, pool table, movie/dvd rental area, golf/mini-golf area, horseshoe pit, table tennis, volleyball, tennis, and so much more. It has absolutely everything that you could want a hotel to have for your stay, and then some. On top of all the wonderfully amazing amenities that The Suites at Fall Creek- Branson has to offer, it of course has fridges, microwaves, cables, and high speed internet as well. Don't worry about that. There are also great restaurants nearby to grab something to eat from as well. There is Fall Creek Steak & Catfish House, Star Bar & Grill, Hungry Hunter Restaurant, as well as many more.
Reviews

Carla Hern
Independence , Missouri
✓
Verified Traveler
"Beautiful setting and very quiet."
Beautiful setting and very quiet. The grounds are pristine as well as the parking area. This is a place that we recommend to anyone wanting to get away for a few days to relax.

Norma Griffin
Salina, Kansas
✓
Verified Traveler
" BEST RESORT IN BRANSON"
This is the best resort in branson, the parking is very spacious and the staff is very friendly. I give this a five star rate

Mike Koenig
MN
✓
Verified Traveler
"Couldn't have asked for a nicer place"
We did not know that this did not have an elevator (coming from minnesota, all places have elevators) and i had recently had hip replacement surgery. It was a bit difficult climbing the stairs to 3rd floor, however, so worth it. The location right on the river watching the nesting bald eagles was fabulous and the condo itself was wonderful. Couldn't have asked for a nicer place. Will definitely come back again!

Debra Seddon
IA
✓
Verified Traveler
"The Staff is very Friendly."
The staff is very friendly. Rooms were in clean condition. I would stay there again. The only thing that i would suggest is that they needed two shower curtains on the pole because one was not enough to cover the entire tub area.
Book Now!