Branson's Murder Mystery Dinner Show
Click for More Information

Exclusive Online Offer: Buy 1 Get 1 Free
(Must purchase in advance online or toll-free at 1-800-987-9852)
Location: Grand Majestic Dinner Theater, 2849 Gretna Rd Branson, MO 65616
1-800-987-9852
Description
Branson's Murder Mystery Dinner Show Photos (11)
Customer Photos (15)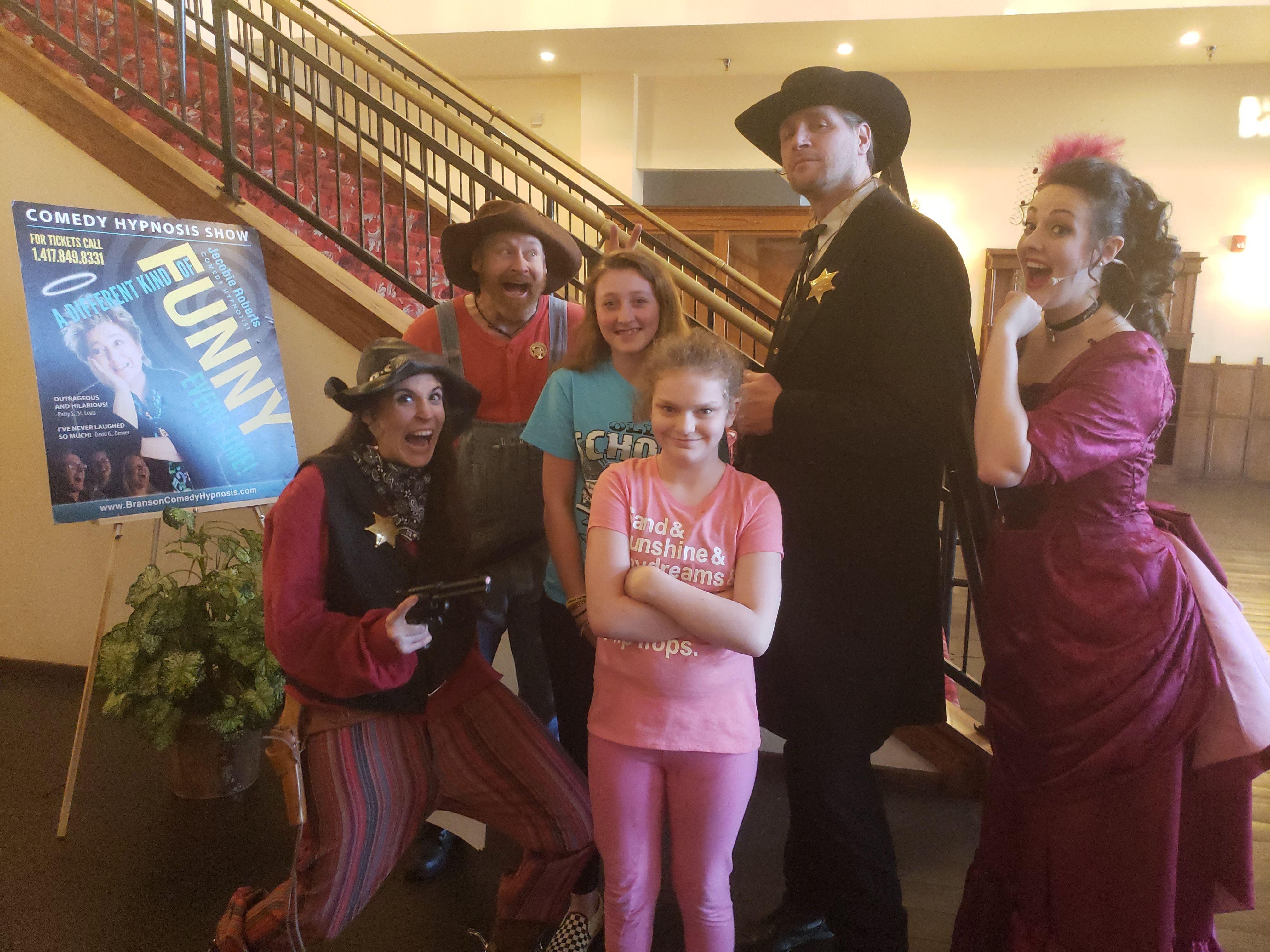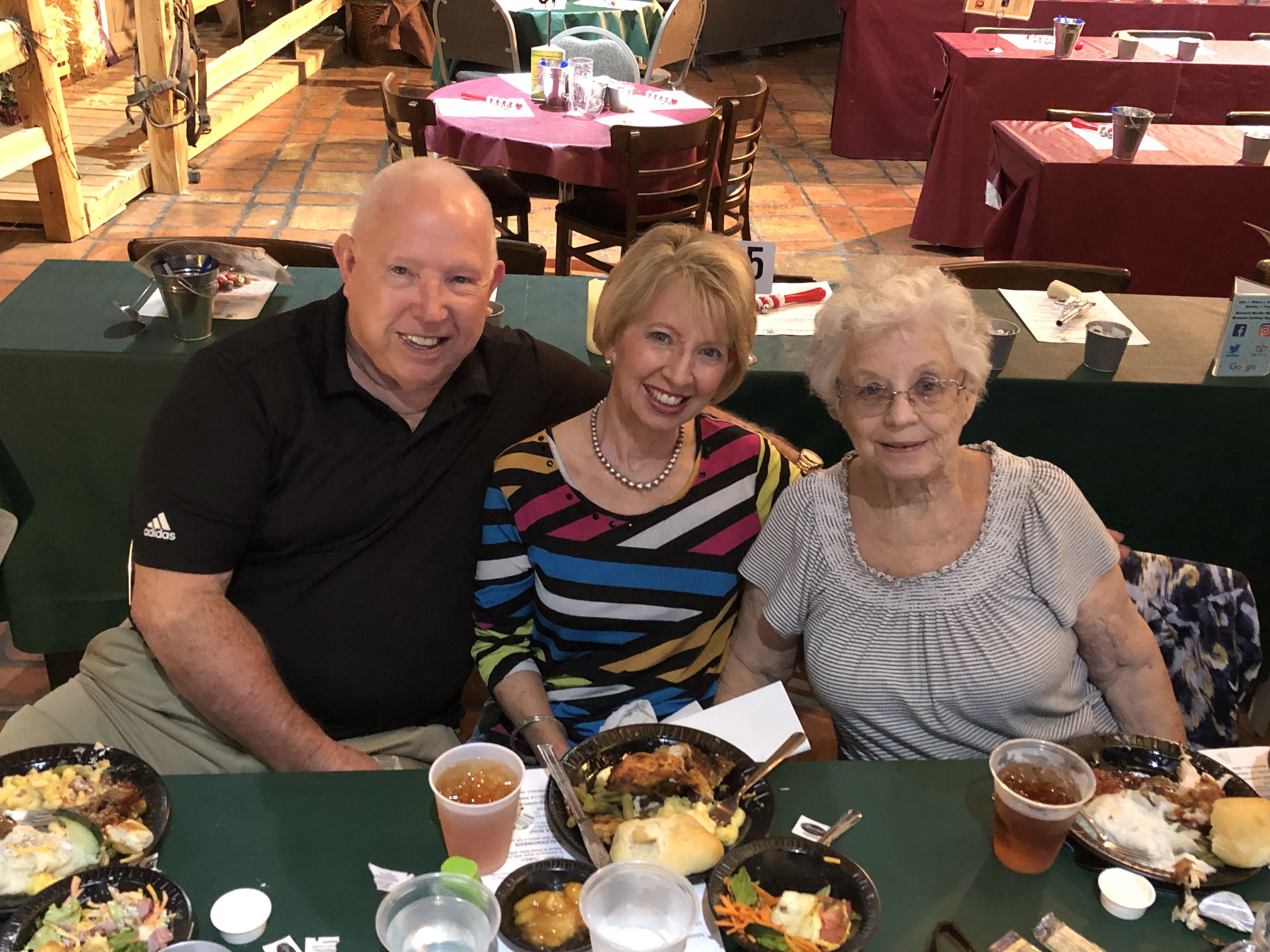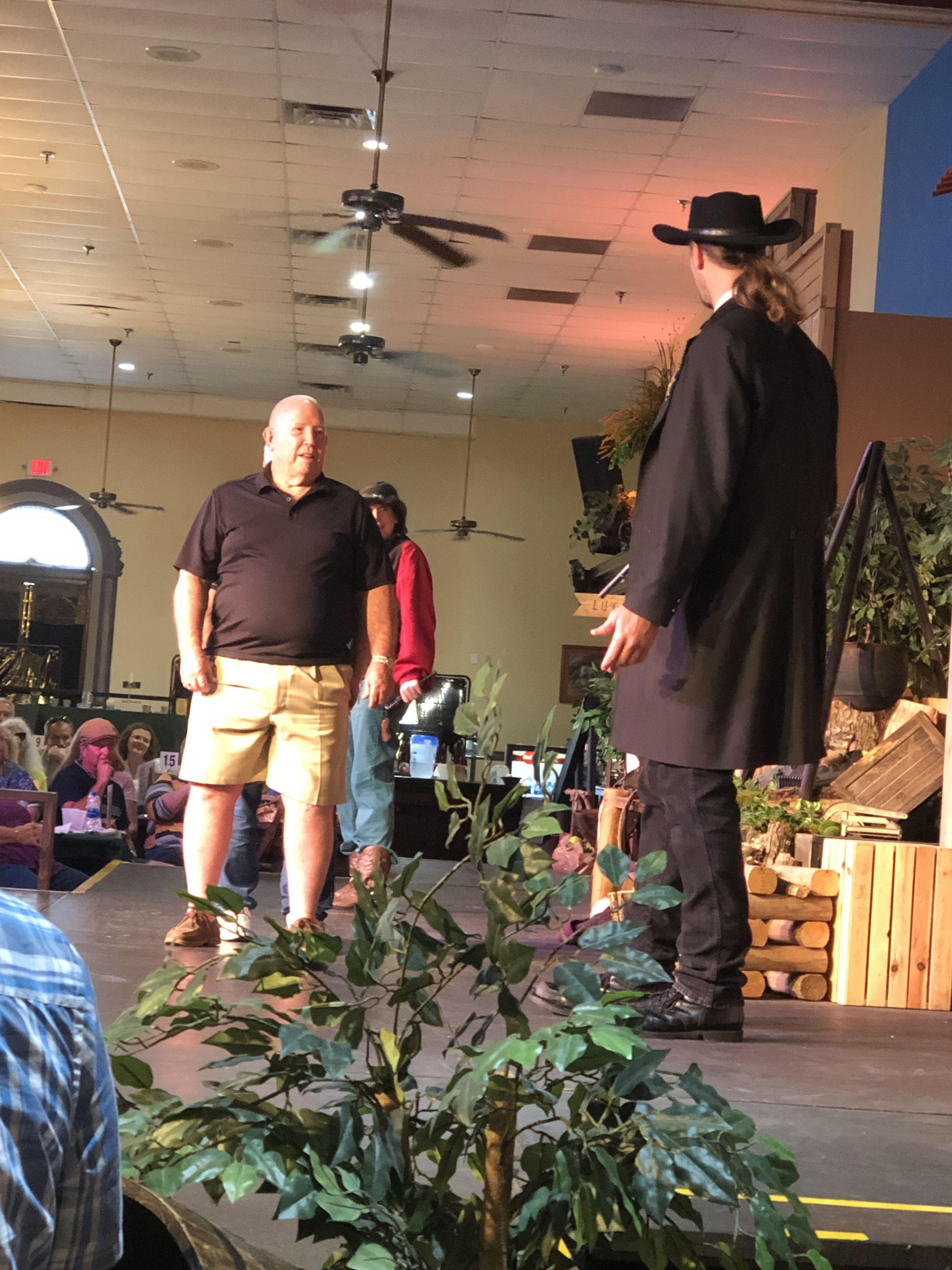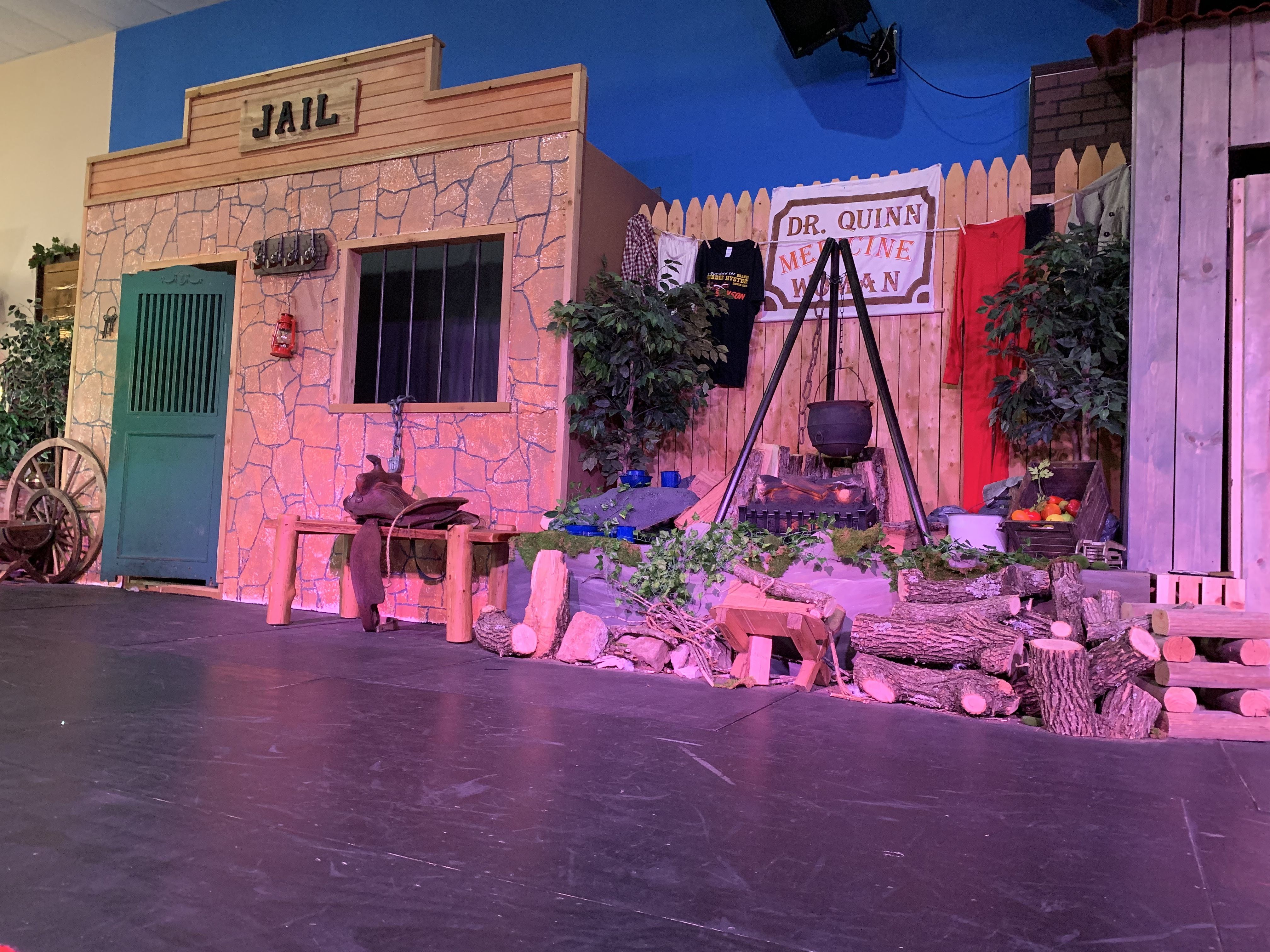 During your next Ozarks trip, head to Branson's famous murder mystery dinner show theater in Branson, MO for a presentation of 'Murder at the Town Vote'; don't miss out on this evening full of murder, mystery, and great food! A murder mystery dinner production is the perfect amount of outrageous fun to bring some awesome fun to your Branson vacation.
About the Meal
To begin your evening, guests will be treated to a delicious, mouthwatering meal. This meal is served buffet-style allowing you to feast to your heart's content. Dig into the pork and ground beef meatloaf, southwestern chicken, roasted potatoes, pulled pork, buttery cut corn, fresh homemade mashed potatoes with Southern pepper Gravy, macaroni and cheese, green beans, salad, dinner roll, and lemonade or tea. Top it all off with a sweet and indulgent piece of Grandma's Apple Cobbler. With all the crime-fighting that awaits you, you'll need a full stomach and the Aunt B's baked chicken and salad dinner is the perfect way to stave off that appetite!
Murder at the Town Vote
This production brings the wild old west to Branson, MO with tons of thrills and fun. The story unfolds as guests in the town mysteriously begin to get murdered at the town vote. With so many gun-wielding cowboys around, it's up to you to figure out 'whodunnit' in this fast-paced and fun murder mystery show.
The show offers something that a lot of dinner theaters don't: 10 members of the audience will actually play characters live. There is tons of entertainment and never a dull moment when you have a guest actor! Thankfully the cast is full of performers with great acting skills, so do not feel too shy to participate.
Did You Know? Branson, MO is one of the top destinations for Christmas celebrations in the country.
Cast audience members are given a prop six-shooter gun, a cowboy hat, and instructions on a character to portray as each mysterious death begins to unfold. You might even be the murderer! Don the personality of your character while getting in on the action and becoming part of the mystery. Whether you participate in the show or not, it is your job to figure out just what is going on, and you are sure to enjoy every moment of this live entertainment extravaganza. Audience members will have to have a keen eye to spot different clues and to finally help save Branson from the murderer. Branson's Murder Mystery Dinner show is sure to be a blast for all ages.
About the Christmas Show
Get in the holiday spirit in a brand new way with a fun murder mystery dinner show! The show takes place in Branson in the 1890s. While everyone is getting ready for the big annual Christmas Pageant, one of the citizens is murdered. More than 12 roles are filled by audience members during this show, and it' a unique way to enjoy both a fun mystery show combined with all your favorite holiday cheer and Christmas music with some talented singers. The 'Murder by Eggnog' show was a blast in 2018, and it is set to be just as amazing this season. The Christmas shows begin on November 1, 2019, and run through December 31, 2019.
About the Majestic Dinner Theatre
The Majestic Theater is located at 2849 Gretna Rd and has been serving up amazing dinner shows and quality entertainment in Branson for more than 18 years. Each show here is served up with a meal that is included in each ticket price, and the meals are prepared fresh each day, in-house by talented chefs. These buffet menus are bursting with flavor and featuring everything from chicken roasted to perfection and meatloaf. Just a few of the other great shows found here include the
Comedy Hypnosis Dinner Show
and the
Johnson Strings
. With fun and intimate table seating, you are sure to enjoy a great evening!
Join the Branson Murder Mystery Dinner Theater for a fun evening of mystery and intrigue. This activity does a great job at bringing something completely new to Branson entertainment seekers, allowing them to simply enjoy making new memories with this awesome live event. It is different than the country music and live music performances that the city is known for. Join in on the action and you may even become part of the show. Either way, you won't leave hungry or without having a good time in the famous entertainment capital of the country! Get your tickets today!
Reviews
Bob Griffin
AR
✓
Verified Traveler
"Very enjoyable and fun!"
Very enjoyable and fun! I would see it again!
Janet Hill
LA
✓
Verified Traveler
"it was awesome!!!!"
First time we had ever done a show like this. It was awesome!!!!
Cheryl
Hurst
✓
Verified Traveler
" Very enjoyable and worth the money."
This was a highly entertaining show along with a delicious buffet dinner. The actors were high-energy and never missed a beat. They worked so well together and keep a constant dialog going for the full two hours. We were astounded to learn while visiting with the actors after the show that two of them had been with the show for only a week, and the lead actress had been there only 3 months. They were seasoned pros. Very enjoyable and worth the money.
Rhonda Barber
Pocahontas, Arkansas
✓
Verified Traveler
"I loved this show!"
I loved this show!! Our band group came in on the 26th of april. And we all had a great time! 3 of our students was picked to interact with the play. Which made it a great experience for them and great for us parents to see. The food was amazing!! The actors/actresses were amazing too!! Super friendly and just truly genuine!! We will be back!! Thank you for the show!!
Frequently Asked Questions for Branson's Murder Mystery Dinner Show:
What is included in the admission price for Branson's Murder Mystery Dinner Show?

Includes admission to the show and a buffet dinner.

Approximately how long is the Branson's Murder Mystery Dinner Show?

The show is approximately two hours long.

In what theater is the show held?

The show is held at the Grand Majestic Theatre.

What type of parking do you have?

Parking is free.
Branson's Murder Mystery Dinner Show Schedule
| | |
| --- | --- |
| Date / Day | Available Times |
| | N/A Sold Out |
| | N/A Sold Out |
| | |
| | |
| | N/A Sold Out |
| | N/A Sold Out |
| | |
| | |
| | N/A Sold Out |
| | |
| | |
| | N/A Sold Out |
| | N/A Sold Out |
| | |
| | |
| | N/A Sold Out |
Full Calendar
Branson's Murder Mystery Christmas Dinner Show:
November 2019
Su
M
Tu
W
Th
F
Sa
1
2
3
4
5
6
7
8
9
10
11
12
13
14
15
16
17
18
19
20
21
22
23
24
25
26
27
28
29
30
December 2019
Su
M
Tu
W
Th
F
Sa
1
2
3
4
5
6
7
8
9
10
11
12
13
14
15
16
17
18
19
20
21
22
23
24
25
26
27
28
29
30
31
Book Now!
Exclusive Online Offer: Buy 1 Get 1 Free