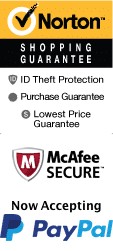 Branson Duck Tours
1940 W 76 Country Blvd Branson, MO 65616
1-800-987-9852
Chat Now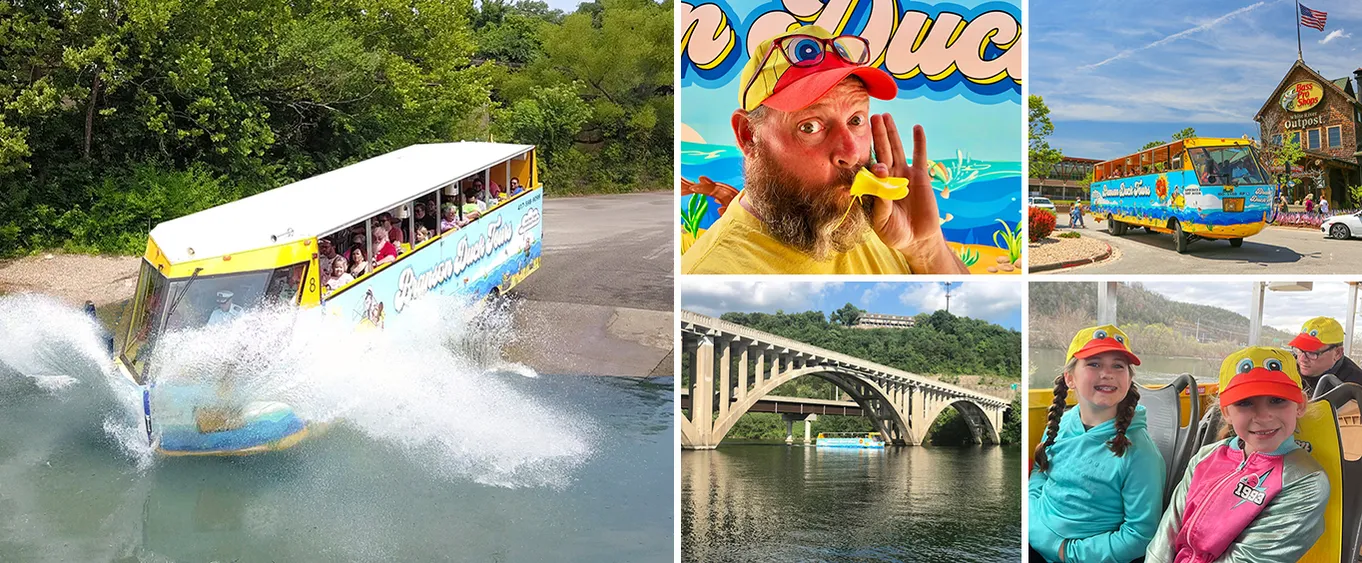 Some of the best sightseeing cruise options offered in Branson can be discovered on the Branson Duck Tours. These new amphibious tours are certain to impress, as they allow guests to discover all of the great attractions, landmarks, and history that makes Branson such a special place to visit. Book your tickets today to get out on the land and the water to see the Ozarks in a new way.
About the Tour on Land
After you meet the Branson Duck Tours vehicle, you will board the ambhibious vehicle for an amazing endeavor. Set out on land for the first part of the tour. Along the way, guests will be able to see some of Branson's most notable places. Explore downtown and hear some of the local legends and lore along the way. Guests will also be able to enjoy some great music as they learn about the area and everything that makes Branson so intriguing. From the local theaters and classic shows to the natural wonders and plenty of beauty, you can relax as you see the sights go by until you are taken to the shores of Lake Taneycomo.
About the Tour on the Water
This is the most exciting part of the adventure! Without even moving from your seat, you will be whisked out onto the water for an awesome endeavor. This totally amphibious boat makes it possible to explore both land and water in one fluid motion. As you get out on the gorgeous Lake Taneycomo, you will be impressed by the natural wonders, wildlife, and ecosystem of the lake. Keep your eyes peeled for the local fish, birds, and wildlife. As the vehicle sails along the sparkling waters of Lake Taneycomo, guests will also be able to witness places like the Branson Landing fountains, downtown Branson, and the historic Taneycomo Bridge. You will have ample sightseeing opportunities while out on the water, making this adventure special!
About the Vehicles
Branson Duck Tours puts customer safety first. As such, the company uses specially-designed boats that differ from outdated WWII-style duck boats. Instead, these vehicles were specifically created for the purpose of sightseeing tours, and the vehicles feature a variety of safety measures to make sure everyone has a fun and safe time. This is the only Coast Guard-approved 'T' vessel. It also has brilliant buoyancy and features foam-filled compartments to make the boat float as well as safety measures like Personal Flotation Devices that are stored under the seats of every guest. With these measures in place, your tour will be fun and safe.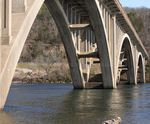 Pass By
1931 Historic Bridge in Branson, MO
Once guests get out on the water on Lake Taneycomo, they will be able to see plenty of views and landmarks. One of these historic landmarks is the 1931 Historic Bridge which towers over Lake Taneycomo. Glimpse a piece of Branson history during this remarkable adventure.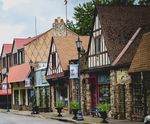 Pass By
Historic Downtown Branson, MO
Branson, MO is an extremely fascinating place, and the downtown area is bustling with things to do and see. Home to some of Branson's most beloved restaurants, boutiques, and more, guests will be able to enjoy plenty of fantastic sightseeing while getting some ideas for their vacation stops along the way.
Combining amazing sightseeing, local history, and plenty of adrenaline-pumping action, the awesome Branson Duck Tours provide some of the best adventures in Branson. Get out and enjoy this iconic experience to see the Ozarks in a new way. You can check out all of the other great attractions in Branson as well and combine them with a hotel booking for an unforgettable vacation.
Reviews

Regan Sandifer
Cornersville,
✓
Verified Traveler
"Relaxing and informative."
Relaxing and informative.
Frequently Asked Questions for Branson Duck Tours:
What methods of transportation does the Branson Duck Tours use?

Coast Guard certified amphibious vehicle.

Approximately how long does the Branson Duck Tours last?

It lasts approximately 60 - 90 minutes.

For what ages is the tour appropriate?

It is great for all ages!

What type of dress & footwear are recommended?

Wear comfortable clothes and shoes. Bring a light jacket in the spring and fall.

Where does the Branson Duck Tours depart from?

1940 W 76 Country Blvd Branson, MO 65616

What sights will be seen from the motor coach?

Branson Landing, Downtown Branson, Lake Taneycomo.

Is photography / video recording allowed on the Branson Duck Tours?

Yes.

Is the Branson Duck Tours handicap accessible?

In order to board the vessel, one must be able to climb a small foldout ladder with seven steps.

What is the policy in case of inclement weather?

Tours go out rain or shine but weather is monitored for safety.

Are coolers allowed?

Food and drinks are welcome, however, alcoholic beverages are prohibited by law and for the safety and comfort of all our guests.

Can I store my child's stroller?

No, there are no spaces for strollers due to safety.
Book Now!