Alpine Coaster Attractions in Branson, MO
Zoom through the hills of the Ozark Mountain area on an exciting alpine coaster adventure! An alpine coaster is a cool way to enjoy sightseeing and thrills all rolled into one. Feel the wind rush in your hair as you soak up your surroundings on one of these thrilling adventures. It is the perfect addition to your next Branson, MO getaway.
Embark upon a remarkable time in the Ozark Mountain area by booking the Branson Coaster tickets. This alpine coaster offers some incredible adventures in the Branson area, allowing guests of all ages to zoom along the winding track. Take in sights and sounds of the beautiful forested area, from its native wildlife to the gorgeous flora and fauna. You can completely control the speed that the carts go at as well for an easy ride or a thrilling adventure. No matter your tastes, you are certain to have a blast when you add tickets to this brilliant Branson Coaster to your itinerary. You're sure to make some awesome new memories in the area.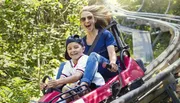 An alpine coaster is a fantastic way to enjoy the sights and fascinating pieces of a city, and the Copperhead Mountain Coaster in Branson, MO is an iconic place to take your family for some fun in the Ozarks. Climb aboard the alpine cart where you will be able to navigate the spiraling tracks. Watch the stunning forested area pass by while keeping your eyes peeled for the gorgeous sights that you'll see of native animals, flora, and fauna. These carts are completely in control by the rider, allowing guests to go as fast or as slow as they'd like to on the trip. This cool experience is certain to be an amazing addition to any Branson itinerary. Don't miss out!