Williamsburg Kayak Tours
Experience natural beauty and wonder in the Williamsburg, VA area with one of the kayak tours offered. While on the water, you may see another adventure that you want to do as well. Be sure to lodge nearby for the best experience.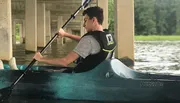 Kayak Tours of Jamestown Island, a small group activity offered by Vacations Made Easy, takes you on an unforgettable journey through the scenic James River. Paddle your way through the serene waters, while taking in the breathtaking views of the lush forests and abundant wildlife. Your experienced guide will share captivating stories about the region's history and natural wonders, providing you with an informative and adventurous experience. This one-of-a-kind tour is perfect for those looking to explore Virginia's stunning landscapes in a unique and exciting way.
May 04
11:30 AM
2:00 PM
4:30 PM
6:00 PM
May 05
11:30 AM
2:00 PM
4:30 PM
6:00 PM
May 06
N/A
May 07
N/A
May 11
11:30 AM
2:00 PM
4:30 PM
6:00 PM
May 12
11:30 AM
2:00 PM
4:30 PM
6:00 PM
May 13
N/A
May 14
N/A
May 18
11:30 AM
2:00 PM
4:30 PM
6:00 PM
May 19
11:30 AM
2:00 PM
4:30 PM
6:00 PM
May 20
N/A
>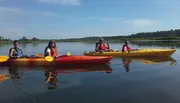 A kayak tour in the Williamsburg area offers some of the most unparalleled adventures in the United States. Take to the sparkling and picturesque Severn River where you will be able to kick back, relax, and learn about the interesting history. This unique adventure is perfect for those who wish to get a better look at the natural wonders that call the area home. With all of your gear provided and a fun and knowledgeable guide to lead the way, you will have an awesome time exploring the Severn River and Johns Point. Plus, you can top the evening off with a dazzling sunset over Bryant Bay.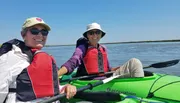 Take a wonderful kayak tour and experience Williamsburg like never before. This fun-filled journey will take you along Queen's Creek, which is a tidal creek connected to the York River where you will see the amazing wildlife of Virginia. Kayaking is a great way to connect with the natural wonders of the world around you. On this spectacular water tour, you will see amazing wildlife and ecosystems. It is fully guided, so you can be assured that you'll learn a lot while in a safe and fun environment. This is great for the entire family! Don't miss out on your next getaway to the beautiful Williamsburg, Virginia.,With the New Quarter Park Kayak Tour, you can experience fun and education in the gorgeous Williamsburg area of Virginia. Head out into the beautiful waterways as you explore the rich ecosystems, lush vegetation, and amazing local wildlife with this tour. Your guide will provide a live commentary discussing the history, stories, and fun facts about animals and the natural area you see. Along the way, you may see a variety of animals including birds, deer, crabs, muskrat, and cute otters to make for a fun and exciting vacation activity on your next trip to Williamsburg, Virginia. Book tickets today to experience this unforgettable excursion!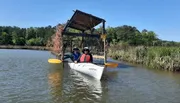 Adventure out by kayak tour and see the beautiful natural wonders of the Chesapeake Bay area. These tours are great for all ages and there are multiple tours to suit your needs and most sought after interests. Learn about the great ecosystem and wildlife of the area while joining in on a fantastic activity on the sparkling water. These kayak tours are a perfect option for all ages and skill levels, giving everyone a chance to have a blast. The adventures are fully guided and life jackets are provided, so you can spend your time worrying about the important part- having fun and making memories with your loved ones! Don't miss out on this chance to enjoy the spectacular outdoors and natural wonders of Williamsburg, Virginia.,Embark on an exciting excursion with this kayak tour in the beautiful area of Williamsburg, Virginia. The Ware House Wetlands Tour provides you to head out through the gorgeous natural areas to explore the Chesapeake Bay and learn about the rich ecosystems and amazing local wildlife. Tours include all gear and equipment necessary and is perfect for all ages and skill levels. Tours last 2.5-3.5 hours and will provide you and your group with a better understanding of nature in Virginia and provide a fun outdoor adventure for your next vacation to Williamsburg. Book your tickets today and get ready for this great and unforgettable outdoor activity.