Williamsburg Culinary Tours
Sample the delicious flavors of Williamsburg, VA with one of the culinary tours offered in the area between your other adventures. You are bound to have an amazing time, so do not miss out. Stay in the city for the best traveling experience.
Williamsburg Culinary Tours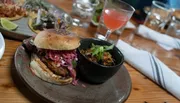 Culinary Tours' Williamsburg Savory Foodie Tour is a must-do activity for food lovers. This 3-hour walking tour takes you through the heart of colonial Williamsburg where you can enjoy the unique taste of Southern cuisine. You will have the opportunity to taste a variety of dishes from local eateries while learning about the history and culture of the city. The knowledgeable guide will provide you with interesting facts about each food stop, making the experience not only delicious but informative as well. Embark upon this incredible culinary walking tour to have a fascinating time in the city of Williamsburg. Explore the city's most beloved landmarks like the Governor's Palace and Bruton Parish Church while sampling delicious dishes and more.
Spending 3-hours in the historic town of Williamsburg on a guided tour that includes snacking and sampling at seven stops with one of them having a complete lunch is surely going to be one of my most memorable culinary tours. On the Williamsburg Food Tour, there is double the fun. Not only does the group learn about a part of the history of the old brick town, but there is also great food involved! Bring the whole family along on this fun culinary tour; everyone will have a blast learning about the area and trying new things. You won't regret it.