Panama City Beach Sightseeing Tours & Cruises
The sightseeing tours of Panama City Beach, Florida provide you and your family gorgeous views of the beautiful waterways, dolphins, and surrounding areas. These activities are fun for people of all ages and for family outings to make for unforgettable memories on your next Panama City Beach vacation.
Panama City Beach Area Sightseeing Tours & Cruises
This will be a wonderful opportunity for you to really enjoy a beautiful sightseeing cruise as you enjoy an adventure on a catamaran watching the sun go by as he sailing to the sunset and having the time of your life with friends and family or if you prefer that special someone who you can bring with you and have the perfect romantic getaway with. You will have a professional taking you around to be able to really enjoy yourself and make sure everything is good and you have a big smile on your face as you're able to truly experience what this place has to offer and really create a long-lasting memory with that special someone on this magical adventure.
Available 241 days between Oct 22 & Nov 28
Oct 23
N/A
Sold Out
Oct 27
N/A
Sold Out
Oct 28
N/A
Sold Out
Oct 29
N/A
Sold Out
Oct 30
N/A
Sold Out
Nov 03
N/A
Sold Out
Nov 04
N/A
Sold Out
Nov 05
N/A
Sold Out
Nov 06
N/A
Sold Out
>
The Dolphin sightseeing tour on the Footloose Catamaran is an amazing event for animal lovers which is held in the Panama City Beach area in Florida. This visual tour is held during the summer and spring seasons and features a scenic cruise on a 38 passenger catamaran. During this tour, guests get to explore the beautiful coasts of Panama City and Shell Island. Although dolphin sightings can never be guaranteed, these coasts are rich with saline and a huge attraction for Dolphin enthusiasts! This 2-hour tour is ideal for families and groups of any kind. Individual tourists will also enjoy the relaxing elements of this cruise and will find the tour's complimentary offering of alcoholic beverages a nice and satisfying bonus!
Available 16 days between Feb 14 & Mar 26
Feb 16
N/A
Sold Out
Feb 17
N/A
Sold Out
Feb 18
N/A
Sold Out
Feb 20
N/A
Sold Out
Feb 21
N/A
Sold Out
Feb 23
N/A
Sold Out
Feb 24
N/A
Sold Out
Feb 25
N/A
Sold Out
Feb 26
N/A
Sold Out
Feb 28
N/A
Sold Out
Feb 29
N/A
Sold Out
Mar 01
N/A
Sold Out
Mar 02
N/A
Sold Out
Mar 03
N/A
Sold Out
Mar 04
N/A
Sold Out
>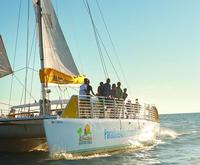 Come sail on the Panama City Beaches which are known for their beautiful beaches and sparkling waters. Enjoy the beautiful views that our catamaran has to offer and enjoy a stunning sunset that you will not forget. You can enjoy a complimentary glass of beer, wine, sangria, or non-alcoholic drink of your choice while you are onboard and relax on open-air decks where you can see various sea creatures like dolphins as you go on your open-seas journey. The ocean breezes will keep you cool while on your catamaran journey. You can enjoy music played through our updated stereo and sound system and dance and relax with your significant other while you enjoy a relaxing night away from reality and daily life. Make our privateer catamaran part of your vacation package, and you will not regret it!
Available 260 days between Oct 24 & Nov 28
Oct 22
N/A
Sold Out
Oct 23
N/A
Sold Out
Oct 27
N/A
Sold Out
Oct 28
N/A
Sold Out
Nov 03
N/A
Sold Out
Nov 04
N/A
Sold Out
Nov 05
N/A
Sold Out
Nov 06
N/A
Sold Out
>