Hop On & Hop Off Tour in Nashville, TN
Nashville, TN is an exciting city that is filled with amazing attractions, landmarks, and historical sites. With a hop on & hop off tour, guests will be able to explore various stops throughout Nashville and discover everything that makes it so special.
Nashville Hop On & Hop Off Tours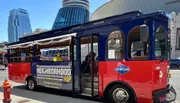 Have an exciting time on a Nashville Hop On & Hop off Tour. On one of these adventures, guests will get out and experience incredible landmarks and the hottest attractions and historical sites that Music City has to offer. Hop on the trolley where you will be able to experience the brilliance of a Gray Line Tour. The tour takes guests to visit places like the Riverfront Train Station, Capitol View, the Gulch, 12th South, BoomBozz, 5th & Broadway, and many more. With so many enticing spots to enjoy, guests can get a cool overview of Nashville and the surrounding area. Do not miss out on this incredible adventure the next time you visit Music City. It adds extra adventure to any excursion, and you are certain to have a marvelous time making some lasting new memories while discovering everything that makes Nashville so special and interesting.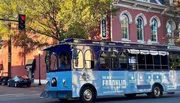 Explore the city of Franklin, TN on the incredible Franklin Hop On & Hop Off Tour. Board the trolley and set out on an adventure through this beautiful city. You will be able to experience some of the area's best locations, with the opportunity to hop on and off at each one. The pass includes stops at the Downtown Franklin Visitor's Center, the Factory at Franklin, Carnton, the Carter / Lotz Houses, Leiper's Fork Distillery, and the Village of Lieper's Fork. Along the way, you will be able to learn all about Franklin and the surrounding areas for an incredible sightseeing experience. For those who want to explore Franklin in style, there is no better opportunity than aboard this incredible trolley tour.
<
Sep 26
10:00 AM
Only 23 Tickets Left
Sep 27
10:00 AM
Only 23 Tickets Left
Sep 28
10:00 AM
Only 33 Tickets Left
Sep 29
10:00 AM
Only 25 Tickets Left
Oct 02
N/A
Oct 03
10:00 AM
Only 40 Tickets Left
Oct 04
10:00 AM
Only 30 Tickets Left
Oct 05
10:00 AM
Only 45 Tickets Left
Oct 06
10:00 AM
Only 37 Tickets Left
Oct 09
N/A
Oct 10
N/A
Oct 11
10:00 AM
Only 37 Tickets Left
Oct 12
10:00 AM
Only 35 Tickets Left
Oct 13
10:00 AM
Only 39 Tickets Left
>