Lake Tahoe Sightseeing & Dinner Cruises Aboard The Tahoe Queen
The Tahoe Queen has been decommissioned and will not be returning to service, however, it's sister boat the M.S. Dixie II is still available.
Click here
for its schedule and ticket options.
Description
Spend an afternoon or evening dinner cruise aboard this authentic Mississippi paddle wheeler for an unforgettable scenic cruise through the beautiful Lake Tahoe.
Embark on a 2.5 hour scenic day cruise to Emerald Bay filled with dozens of larger-than-life photo opportunities featuring sparkling, clear waters, snow-capped mountain tops and natural wildlife. The open-air deck is furnished with plenty of open seating so you can pick the most comfortable spot and soak up the warm sunshine and clean mountain air.
For a more intimate and romantic setting, sail off towards the sunset with the relaxing dinner cruise. Cuddle up with your sweetheart underneath the twinkling stars or treat your taste buds to a delectable meal onboard. Make your way towards Emerald Bay under the cover of night as you sit back and enjoy a relaxing trip through the mountains.
With daytime and dinner cruises available, the Tahoe Queen delights its passengers with absolutely breathtaking views of colorful sunsets, towering mountain peaks, lush foliage and so much more. Local cuisine and live music only add to the experience and make it all the more magical.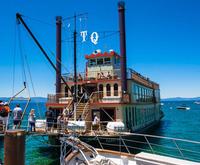 About the Tahoe Queen
The 312-passenger Tahoe Queen was voted the best Tahoe boat cruise in South Lake Tahoe by readers of the Tahoe Tribune. The lake's only authentic Mississippi paddle wheeler, Tahoe Queen recently underwent major renovations to reflect the style and grandeur of paddle wheelers of the 1900's. The Tahoe Queen is handicap accessible and has a handicap accessible bathroom on the first deck.
About Emerald Bay
Emerald Bay is a natural gem located at the southwest corner of Lake Tahoe. A mere 12 miles from the city of Lake Tahoe, it serves as a popular tourist destination for outdoor activities and sightseeing. Emerald Bay is a designated National Natural Landmark and visitors can enjoy natural views of gorgeous mountain tops and glacier-carved granite. Scenic lakeside hiking and walking trails wind through the forest of the bay and Vikingsholm, a mansion and example of Scandinavian architecture is easily visible and accessible. Also nearby are the remains of Mrs. Lora Josephine Knight's Tea House on Fannette Island, the only island on Lake Tahoe.
Reviews
Autumn
Napa
✓
Verified Traveler
"What a perfect evening!"
What a perfect evening! Everything about the dinner cruise was wonderful... The food, music, staff, narration of the lakes history, and the professional pictures we took home with us. Thank you!!
Lawrence Pignataro
CA
✓
Verified Traveler
"It was wonderful."
It was wonderful. Our daughter had just got married and we had dinner/cruise as her reception. The staff was exceptional and the band was awesome!!! We thoroughly enjoyed ourselves. Can't wait to return
Frank Nails
NV
✓
Verified Traveler
My last cruise was 17 years ago. This cruise was by far the best. My grandchldren were in awe of all the activiety . My grandson even got to drive the ship. He will never forget.By the way he is only six years old and he didn't run into anything..... Great experience, one that we will never forget..
Ryan DeBrotherton
Oroville, CA
✓
Verified Traveler
The tahoe queen iswhere i married the love of my life 25years ago today, july 4th 2018. Like any couple it has been up, and down but the amazing journey began on the second deck of the that lovily ship. I was even shocked to see my step son owen get to stear the boat for a half hour, and it was so cute to watch captain jack help 10 year old autistic owen understand a boat that big. It changed all our lives.
Tip: Bring the whole family on those cruises, priceless.