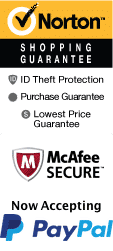 YOUR PEACE OF MIND IS OUR TOP PRIORITY
Should you need to cancel at any time, you have up to 48 hours from your vacation start date to do so for a 100% future travel credit.
M.S. Dixie II & Tahoe Paradise Sightseeing & Sunset Dinner Cruises On Lake Tahoe
760 U.S. Hwy 50 , Zephyr Cove, NV 89448

M.S. Dixie II & Tahoe Paradise Sightseeing & Sunset Dinner Cruises On Lake Tahoe is no longer available.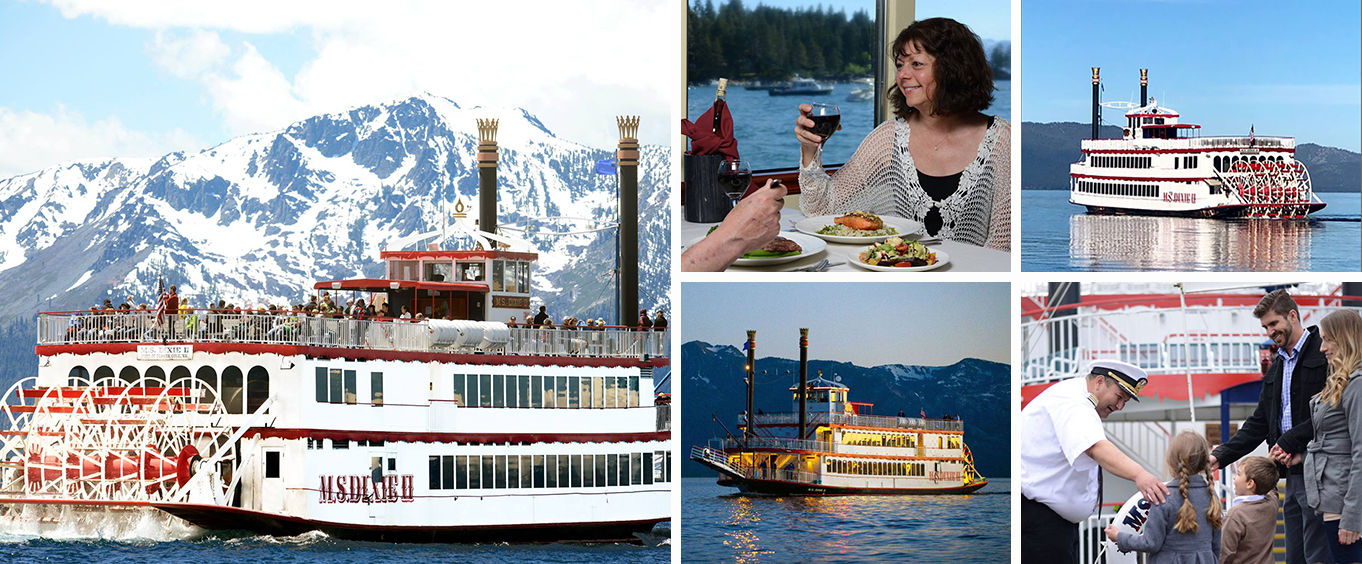 Description
M.S. Dixie II & Tahoe Paradise Sightseeing & Sunset Dinner Cruises On Lake Tahoe Photos (17)




Customer Photos (200)




Take a dinner cruise down the picturesque surface of one of the most photographed locales on earth, Emerald Bay, Lake Tahoe , while on the MS Dixie II or the Tahoe Paradise. Choose from a daytime sightseeing cruise or an exhilarating dinner cruise on the Emerald Bay on the stunning MS Dixie II. Take pictures of the sprawling landscapes with captivating mountainous formations in the background and discover how Emerald Bay's granite surfaces were glacially carved, the history of the bay, and watch a video presentation during the day cruise. No matter which cruise you select, a venture on a MS Dixie Sightseeing Cruises offers picturesque views and a Lake Tahoe cruise experience you won't forget.
The dinner cruise creates a lovely evening beneath a glimmering sea of stars. Savor a five-star meal in the immaculate dining room while listening to the live music and hear the history of the boat and of Emerald Bay as you cruise along the water. Revel in panoramic views of the gorgeous scenery or if you are really feeling the live music, take to do the dance floor. Guests can also sip on cocktails and other drinks in between dance moves. Of course, the boat cruise is topped off by a glorious Lake Tahoe sunset which paints the sky in gorgeous hues of pinks and oranges.
About the MS Dixie II Paddle Wheeler
The award-winning paddlewheel boat cruises of MS Dixie II have been named 'Best Cruise in Nevada' by the Nevada Magazine. By offering up private charters, sunset dinner cruise options, all along with spectacular views of the Lake Tahoe Basin and the glimmering waters of Lake Tahoe's surface, it is no wonder that one of these Lake Tahoe cruises is the ideal way to create an unforgettable evening. This ship is a favorite of locals and holds the crown as the largest cruising vessel in South Lake Tahoe.
About the Tahoe Paradise
This vessel features an expansive window-lined dining room, a full open sundeck, full bar, and a galley. It also features a two-story setup that will have groups from 25 - 90 people sailing Lake Tahoe in luxury.
Passengers will be treated to a cruise with breathtaking views of Zephyr Cove, Emerald Bay, and fun dinner dance cruise options. Soak up the wonders of the cove and Sierra Nevada area from the upper deck of this fantastic cruise ship. 48Embark upon a scenic cruise aboard this stunning paddlewheel boat for a trip you will not forget! The MS Dixie II is completely wheelchair accessible, gifting all passengers the ability to have a great time while they relax and get their fill of food and sightseeing.
About Emerald Bay
Peacefully resting in the southwest corner of Lake Tahoe is the prestigious Emerald Bay. A National Natural Landmark since 1969, the bay is just 12 miles from the city of Lake Tahoe and is a favored spot for tourists. Hike, walk, or go horseback riding on the scenic lakeside trails up to Vikingsholm, Mrs. Lora Josephine Knight's Scandinavian mansion built in 1929, spend a day at the beach swimming or relax and sunbathe, go scuba diving and paddleboarding or simply admire the panoramic views of the clear waters, steep mountain tops and glacier-carved granite.
Guests can also see the remains of Mrs. Knight's Tea House on Lake Tahoe's only island, Fannette Island, which is Lake Tahoe's pride and joy. Some of the additional draws in the area include Vikingsholm Castle, cove resort options, sunset dinner and regular dinner attractions. A trip to beautiful Lake Tahoe is undeniably the best way to experience the area, so be sure to make this Tahoe paradise your destination of choice during your next venture in the Sierra Nevada Mountains area.
Do not forego marvelous opportunities to partake in the mountainside showcases of historic Zephyr Cove and Emerald Bay during your Tahoe adventuring. From champagne brunches, daytime cruises, to sunset sails, these sightseeing tour options combine sightseeing, food, and fun for the best itinerary in magnificent Lake Tahoe!
Reviews

Jean Marc Lessard
Mississauga, Ontario
✓
Verified Traveler





"high point of our trip"
I expected this to be a very good event, but it became a high point of our trip. Not to take away from the beautiful beaches or the great sights but this cruise had everything. Lots of people but all moved on board quickly. We sat with a group of 4 and had great conversations. The food was very good, the wine inexpensive and the servers very attentive. The sights were spectacular and it was all rounded out with a dance band in a large lounge playing popular music.
Tip: Don't be disappointed. To be sure you get on board buy your tickets in advance from vacations made easy.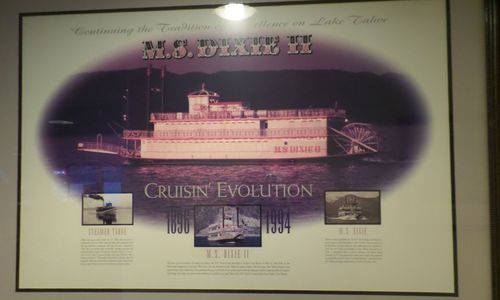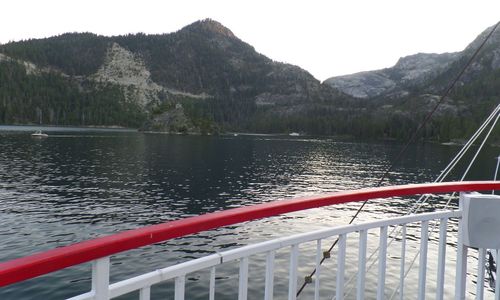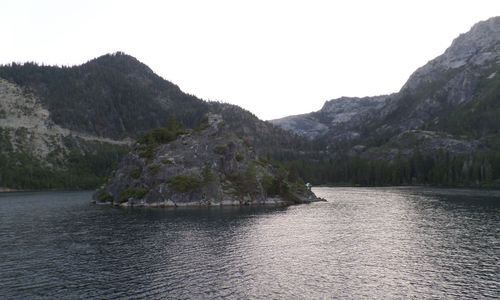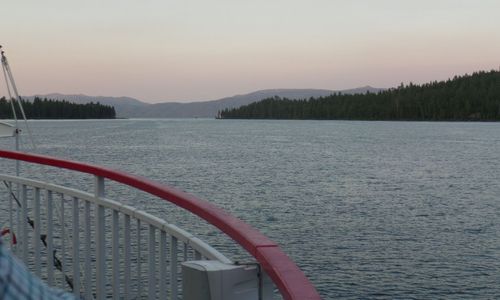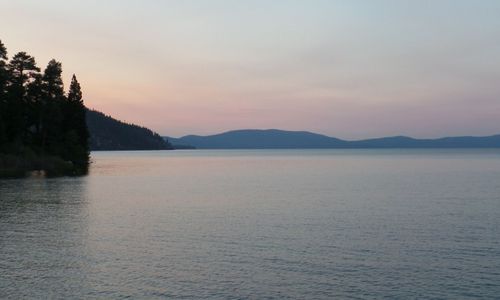 Tiffany Lynch
Knights Landing , California
✓
Verified Traveler





"I recommend this cruise for couples and family dinner"
This is our third time on this boat , 4 years ago we had our wedding reception on this boat and it was amazing! I recommend this cruise for couples and family dinner the staff is extremely friendly. Our waiter kevin was excellent this trip... I order tickets online and had no problems at will call great service. I will be back next year for our 5 year anniversary.
Tip: Must have the rum runner drink delicious ????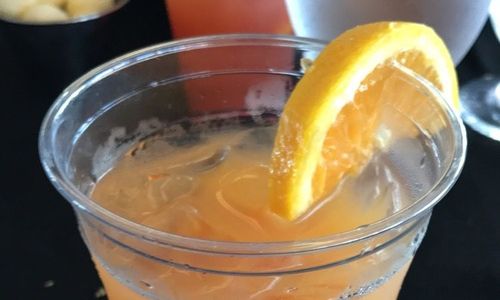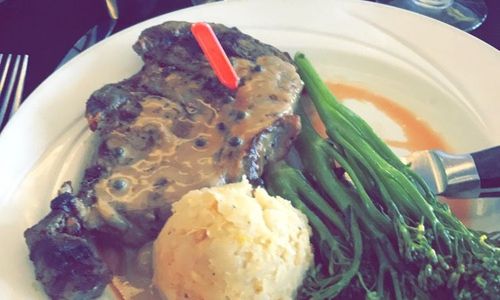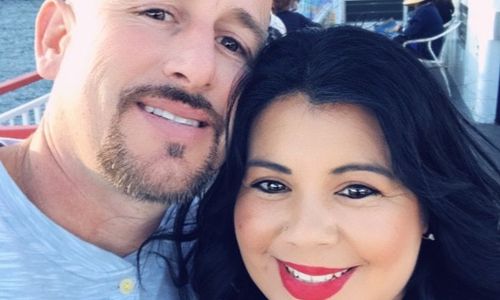 Dana Ruggaber
CA
✓
Verified Traveler





"made you feel right at home"
It was very relaxing, and well worth every penny. It was one of the best dates with my husband i've ever been on. It would also be great for a family day trip. All the servers were friendly and made you feel right at home. I would def go again

Russ Hague
NM
✓
Verified Traveler





"A 10 out of 10 experience!"
Sailing on the m.S. Dixie ii was the highlight of our vacation! The staff was great, outstanding food and some of the best scenery i have ever seen. A 10 out of 10 experience!
Frequently Asked Questions for M.S. Dixie II & Tahoe Paradise Sightseeing & Sunset Dinner Cruises On Lake Tahoe:
Is there a gratuity charge?

Parties with 8+ people will be charged a 20% gratuity for the Dinner cruise. This fee is charged upon check in. Please be prepared to present a credit card at check in for this fee at the Ticket Booth.

Are alcoholic beverages served at M.S. Dixie II & Tahoe Paradise Sightseeing & Sunset Dinner Cruises On Lake Tahoe?

Yes, alcohol is served to guests 21 and older with valid ID.

What type of parking do you have?

Free parking is available.

Approximately how long is M.S. Dixie II Sightseeing & Sunset Dinner Cruises?

The dinner cruise lasts approximately 3 hours. The sightseeing cruise lasts approximately 2 hours.

How many decks or levels are there aboard the M.S. Dixie II Sightseeing & Sunset Dinner Cruises?

There are three decks.

What lake or river does the M.S. Dixie II Sightseeing & Sunset Dinner Cruises cruise on?

Lake Tahoe.

What is the dress code?

The dress is business casual.