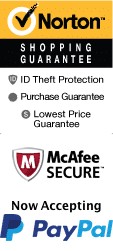 National Parks & State Parks Parks in the Gatlinburg - Pigeon Forge Area
A vacation in Gatlinburg amid the astonishing Great Smoky Mountains offers family fun, awesome things to do, shopping and, above all, breathtaking scenery. If you're looking for a place to escape the worries of daily life, this is the perfect place.
Great Smoky Mountains National Park: As the most popular Gatlinburg National Park, this is a must-visit!
As the most visited of America's National Parks in Gatlinburg TN, the Great Smoky Mountains National Park features over 500,000 acres which include fishing, rafting, waterfalls, 800 miles of hiking trails, 10 campgrounds and fascinating plant and wildlife. Located in the Blue Ridge Mountains along the Tennessee / North Carolina Border, the Pigeon Forge National park was established in 1934 in an effort to preserve the forests and wildlife of the area. Nature lovers will be astounded by the various life found here, including more than 4,000 plant species, 130 different types of trees, 230 birds and 65 mammals. Everything from bears to eagles can be seen within the park and you'll experience sightseeing you won't find at any other Gatlinburg parks.
One of the most visited areas of this Pigeon Forge State Park park is Cade's Cove. First settled by Europeans in 1818, the cove was used by the Cherokee Indians as a hunting ground. Today Cade's Cove offers a look into the history of the Tennessee Appalachian area through original structures built by the first settlers. Spend an entire day hiking through the forests surrounding the cove, taking you back in time with each step and each glimpse of an old cabin, schoolhouse or church.
Clingman's Dome
For a truly awe-inspiring look at the Smoky Mountain area, take a drive up the mountain and then a short hike to Clingman's Dome in the Gatlinburg TN State Park. The highest point in Tennessee and second highest point east of the Mississippi River, Clingman's Dome reaches 6,643 feet. This peak sits half in Tennessee and half in North Carolina and on a clear day the spectacular view can stretch more than 100 miles and include 7 states.
Campgrounds and RV Parks Near Gatlinburg TN
There is much to do in the Great Smoky Mountains and camping is usually at the top of the list. Ten campgrounds can be found within the park and all offer the basic comforts such as cold running water and restrooms. Beyond the basics, however, you're on your own. The campgrounds here put the "roughing" in "roughing it," and none offer any hook-ups. Tents and RV's are allowed and there are two campsites open year-round. More creature comforts can be found at campsites just outside of the park in the surrounding area for those who enjoy the outdoors but prefer hot showers in the morning. Visit a Gatlinburg State Park for tons of fun.
Municipal and Local Parks in Gatlinburg
Aside from the Great Smoky Mountains National Park state park near Gatlinburg TN you can also find a few small local parks in Gatlinburg.
At Holt Park you'll find cooking grills, horseshoe pits, walking trails, picnic tables, sinks, children's streams, a trout facility and a playground area.
Mynatt Park offers a basketball court, horseshoe pits, baseball field, picnic tables, children's streams, tennis courts, grills and a playground area.
In Mills Park you'll have access to picnic tables, horseshoe pits, a playground area, football field, softball field, jogging trail, basketball court, 400-meter track, tennis courts and grills.
All three city parks offer covered pavilions for use by reservation only.
Whether a romantic vacation or a trip centered on quality family time, Gatlinburg is the place to go. There are many state parks near Gatlinburg Tennessee. The beautiful Appalachian Mountains surround this area with a wealth of natural resources and will get you back to basics and focusing on the truly important things in life. state park gatlinburg tn