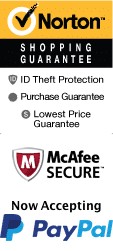 Foxfire Mountain Adventure Park Zipline Tours
3757 Thomas Lane Sevierville, TN 37876
1-800-987-9852
Chat Now
Ziplining and this zipline tour provides tons of fun to all ages. Do not miss out on the opportunity to zoom along the beautiful canopies of the Smoky Mountain area at Foxfire Mountain Themed Adventure Park Zipline attraction in the Gatlinburg/ Pigeon Forge area of Tennessee. This awesome zipline tour is sure to delight, so discover Foxfire Mountain and all of its wonderful outdoor attraction options.
There are several different zipline options available to intrigue and inspire guests of all skill levels and thrill seekers of all ages. Whether you want to zoom along a sparkling waterfall or conquer the Goliath zip line, there's plenty of fun to be had. Just some of the features that visitors can enjoy while visiting Foxfire Mountain include:
Total Challenge Package at Foxfire Mountain Adventure Park
This all-inclusive pass is fantastic for visitors who wish to experience some of the best adventures in the area. Enjoy the Gorilla Rock Climbing Tower, the Tree Climber Aerial Ropes Course, and the Swinging Bridge along with trails and even a llama pasture. Explore River Walk Trail and more!
The Gorilla Rock Climbing Tower
This climbing wall allows guests from ages 5 onward to embark upon a challenging rock climbing adventure. The Gorilla features five rock-climbing lanes each with its select level of difficulty, so longtime rock climbers and beginners alike can all have a blast. Plus, the wall is equipped with a belay system that gently lowers guests to the ground, keeping safety its No. 1 priority.
The Tree Climber Aerial Ropes Obstacle Course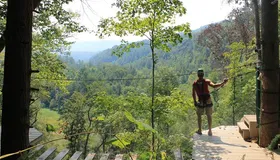 Guests can then put their abilities to the test with a fun aerial ropes course. Conquer swinging bridges, two zip lines that zoom across the gorgeous Dunn Creek, balance beams, and more during this awesome adventure course.
The Swinging Bridge, Trails & Llama Pasture
Guests of all ages are sure to have a blast traversing the longer-than-a-football-field swinging bridge, which is America's longest swinging bridge! The kiddos will also have a fun time on the smaller swinging bridges, soaking in the views of the Riverwalk Trail, and visiting the llamas at the llama pasture.
Bear Crawler ATV Tour
Explore the area on the thrilling ATV adventure. This tour allows visitors to get out and experience the Sevierville area like never before - through a thrilling ride through the woods!
The Goliath Foxfire Zipline Tour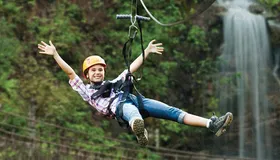 Embark upon a fun scenic canopy tour at this thrilling Foxfire Mountain zipline. As the highest zipline in the park, participants in this course will get unprecedented views of sprawling treetops and stunning mountains. The zip line course towers over the canopies at an astonishing 475 feet and features views of rivers, valleys, and forests. The tour lasts two hours and consists of five zip lines that reach top speeds of over 55 MPH. The tour is for ages 10 and up.
Waterfall Canopy Tour
For some picturesque views, the Waterfall Canopy Tour is the way to go. On this enthralling two-hour adventure, guests will zoom along beautiful treetops to traverse seven platforms and zip lines and conquer two sky bridges. Sights on this tour include delightful waterfalls, valleys, bubbling creeks, and Lost Mine Falls, a sparkling waterfall that is the gem of Fox Fire Mountain Adventure Park. It is located next to a sprawling rope bridge that you can even choose to traverse for up-close views. This tour is the best choice for families because it can accommodate guests as young as seven years old.
If you are seeking thrills in the Gatlinburg/Pigeon Forge area, there's no better place to visit than Foxfire Mountain Adventure Park. With thrilling ziplines and off-road adventures, you're sure to have an astounding time. Be sure to explore some of the other great Smoky Mountain area activities when you're done zip lining! From the gorgeous hiking trails through the mountains to the beauty of the National Park, each outdoor adventure you embark upon is certain to be a blast. Be sure to complete your getaway with your favorite hotel or cabin.
Reviews

Tabatha Lash
Avilla, Indiana
✓
Verified Traveler
Tim and mitch were the best ever! So glad they were the guys in charge in our group! Thank you two for awesome memories!

Levonia Davis
Hope Mills, NC
✓
Verified Traveler
There is a bridge behind the building where you can see a nice river or get a good laugh of your friend slipping trying to beat you to the wishing elves at the end of this bridge. Which was beautiful to see how many people left their wishes! On to the zipline tour, we did the waterfall which was lead by two awesome, wacky dudes who showed us how to be super safe and also have fun by trusting them and the equipment. Overall a great time! Best weekend of my life!!! Thanks guys
Frequently Asked Questions for Foxfire Mountain Adventure Park Zipline Tours:
What is included in the admission price for Foxfire Mountain Adventure Park Zipline Tours?

Includes selected zipline tour and all safety equipment required.

What level of physical ability is required?

Minimal physical ability is required, but no experience is necessary.

What type of clothing is appropriate?

Wear comfortable clothes and close-toed shoes.

What age and weight is Foxfire Mountain Adventure Park Zipline Tours appropriate for?

The Goliath Zipline is for ages 10 and up and people 100 - 250 lbs. The Waterfall Canopy Tour can accommodate guests age 7 and up and 45 - 265 lbs.

Is food available or provided?

Food is available for purchase.

Is photography & video recording allowed?

Yes.