Bike Tour Options in Destin - Fort Walton Beach Area

Get out and experience the white sand beaches and beautiful scenery of the Destin / Fort Walton Beach area with a fun bike tour. These tours are a great way to get out and experience some brilliant sightseeing and natural wonders.
Destin - Fort Walton Beach Area Bike Tours
Bike tours are a fantastic way to experience a new area, and the Panama City Happy Hour Bike Tour is an especially delightful adventure. This guided tour takes you through the picturesque areas of St. Andrews and Historic downtown Panama City. Along the way, you'll learn about the history of the area and visit some of the best bars, breweries, and even a distillery. The tour includes drinks, snacks, and more. A perfect way to explore and relax on your trip to Florida's Emerald Coast.
Jun 05
N/A
Jun 06
N/A
Jun 12
N/A
Jun 13
N/A
Jun 19
N/A
Jun 20
N/A
>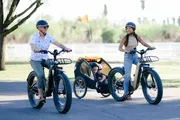 Bike Tours in Destin, Florida offer an exciting way to explore the city while staying active. With a guided tour, visitors can see the beautiful beaches and stunning views while learning about the history and culture of the area. The knowledgeable guides provide interesting details about the landmarks and sights along the way. The tour is suitable for all levels of fitness and a great way to experience the city in a unique and fun way.
Bike Tours is an exciting way to explore Panama City Beach's picturesque scenery. The three-hour guided tour will take you around the city, and you will be able to see the beautiful coastline, sparkling waters, and enchanting wildlife. During this leisurely bike tour, you will pass by some popular attractions, such as M.B. Miller County Pier and St. Andrew State Park. Along with scenic beauty, the tour also features informative commentary about the city's history, landmarks, and culture.
Jun 05
N/A
Jun 06
N/A
Jun 12
N/A
Jun 13
N/A
Jun 19
N/A
Jun 20
N/A
>