Charleston, South Carolina Sightseeing Tours & Cruises – Walking Tours

We are proudly tops among the city's walking tours, and you will enjoy a delightful, small-group stroll through Charleston's history with an experienced guide who will give you insights and help you make incredible memories.
Available 147 days between Jan 23, 2019 & Dec 29, 2019
View Schedule
You will tour Charleston's Old Walled City where you will see hidden gardens, historic buildings, and unusual architecture. Stop at the Heyword Washington House for a tour of the outside buildings and the 18th century garden. Another option is to tour the inside of the house.
Available 43 days between Mar 3, 2019 & Dec 29, 2019
View Schedule
Take a step back into time in history with this guided tour along the streets of Charleston's old walled city. Learn from your knowledgeable guide while taking in all the sights and sounds of a place rich in history.
Available 86 days between Jan 23, 2019 & May 2, 2019
View Schedule
Walking tours an an exciting and fresh way to burn some calories while enjoying the sights of a new city, and this historic downtown walking tour of beautiful Charleston, South Carolina, is no exception.
Available 195 days between Jan 25, 2019 & Dec 31, 2019
View Schedule
The setting for the opera Porgy and Bess, the Jehu Junes Hotel site, and the Old Slave Art Museum are just some of the things covered in the Lost Stories of Black Charleston Walking Tour.
Available 31 days between Jun 1, 2019 & Dec 28, 2019
View Schedule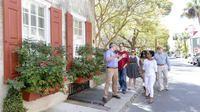 Among the best walking tours is the Charleston Tour, which is running through the rest of the spring and brings tourists to places like historic cemeteries, historic single room homes, and beautiful architecture that cannot be seen anywhere else in the world.
You have not experienced walking tours until you have explored Charleston's Alleys and Hidden Passages, in which you can visit historic spots such as Rainbow Row, Washington-Heyward House and Stroll's Alley, as well as the spot George Washington dined, McCrady's Tavern.
Available 343 days between Jan 23, 2019 & Dec 31, 2019
View Schedule
We will guide you on a walking tour from the Gibbes Museum of Art that will take you past historic Charleston homes, important locations, bucolic parks, the city's outstanding harbor and other spots that will help you create lasting memories.
Available 190 days between Jan 23, 2019 & Jul 31, 2019
View Schedule
Feb 03
9:45 AM
1:00 PM
3:00 PM
Feb 04
9:45 AM
1:00 PM
3:00 PM
Feb 06
9:45 AM
1:00 PM
3:00 PM
>