Charleston SC Culinary Tours

For a foodie, nothing beats a culinary tour. Charleston, SC is full of them, offering great sightseeing opportunities and delicious food in the same place. The next time you visit the city, make sure to embark upon one of these fun tours and many other tours as well when staying in South Carolina.
Charleston Culinary Tours
Culinary Tours' "Dessert with Death in Charleston" is a unique and unforgettable experience that combines history, mystery, and most importantly, dessert. Participants learn about the darker side of Charleston's history while indulging in delicious desserts at local bakeries and cafes. Along the way, expert guides entertain visitors with tales of infamous personalities and notorious events that occurred in the city over the centuries. A sweet and spooky adventure, Dessert with Death in Charleston is a must for any foodie or history buff visiting the city.
Dec 10
N/A
Dec 11
N/A
Dec 12
N/A
Dec 13
N/A
Dec 14
N/A
Dec 17
N/A
Dec 18
N/A
Dec 19
N/A
Dec 20
N/A
Dec 21
N/A
Dec 24
N/A
Dec 25
N/A
Dec 26
N/A
Dec 27
N/A
>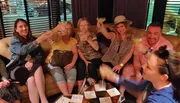 Culinary Tours in Charleston, South Carolina, offer visitors the chance to explore the city's culinary scene, which is a delight for foodies. Travelers can savor the tastes of southern cuisine with barbecue, seafood, and traditional Lowcountry dishes. Along with the food, the tours also share the history of the area's cuisine, and introduce visitors to traditional dishes that are unique to Charleston, all while exploring the city's charming streets and neighborhoods. A must-do for any food lover visiting Charleston.
<
Dec 12
N/A
Dec 13
N/A
Dec 19
N/A
Dec 20
N/A
Dec 26
N/A
>