As the site of the original thirteen colonies, it's no surprise that the East Coast is absolutely brimming with history and important governmental locations that everyone should see at least once. From the Statue of Liberty to the various monuments in DC and even the Old North Church, these thirty locations will help anyone take a step back in time to experience a slice of the rich history that shaped the nation into what it is today.
Photo courtesy of Ronile / (CC0 1.0) cropped
Statue of Liberty
New York City, NY
The Statue of Liberty was presented to America from France in 1886 and has become a beacon to those traveling across the Atlantic to New York City. It's located on Liberty Island, a 12-acre island in New York Harbor. Be sure to go up on the Observation Deck for an amazing view of New York City and to learn more about this iconic statue and the hope it represents. Be sure to also stop by the National 9/11 Memorial, only a few miles away to pay respects and learn about that fateful day in American history.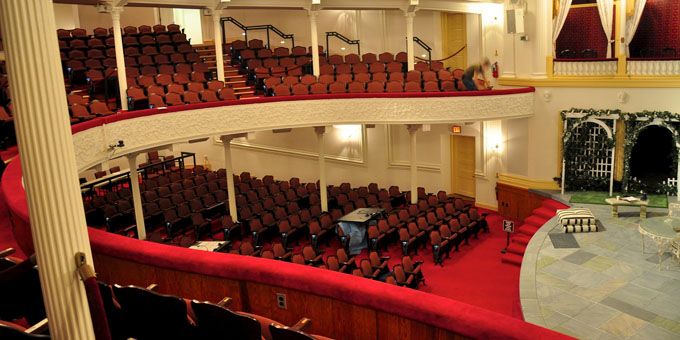 Photo courtesy of Rh Houston / (CC BY-NC-SA 2.0) cropped
Ford's Theater
Washington, DC
Ford's Theater is most widely known as the location where Abraham Lincoln was assassinated in 1865. It's also one of America's most well-known theatres for the performing arts. It reopened in 1968 after being renovated and has been entertaining visitors ever since with performances of famous productions such as "A Christmas Carol" and "The Glass Menagerie."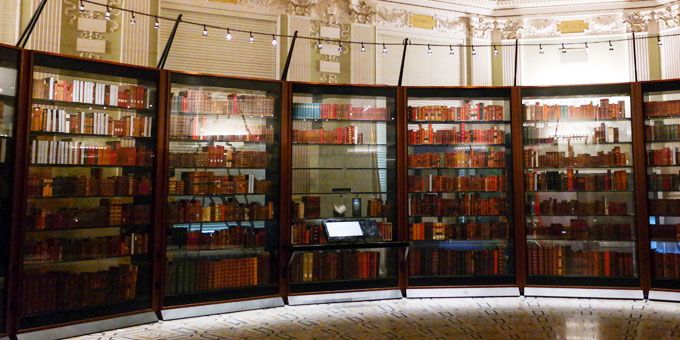 By Smash the Iron Cage (Own work) [CC BY-SA 4.0], via Wikimedia Commons
The Library of Congress
Washington, DC
This library serves as the official library for the United States Congress and is one of largest libraries in the world, housing millions of books. Inside the library you'll find a collection that spans the history of the written word. While the library is open to the public, only high-ranking government officials are allowed to check out books. However, visitors are allowed to view books inside the library. This fantastic library is an absolute must-see for book-lovers. Visitors should also check out the International Spy Museum, only a few miles north of the library, which houses the largest collection of espionage artifacts on public display.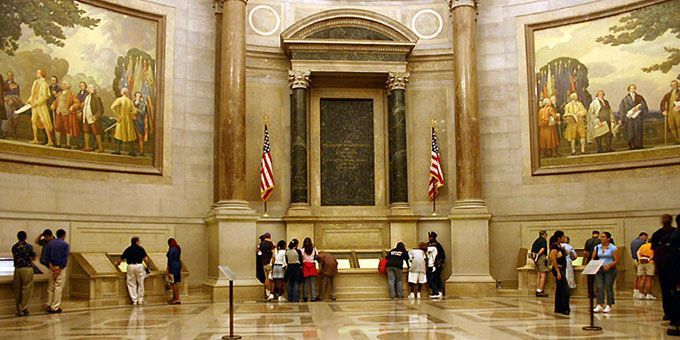 By Kelvin Kay [Public domain, GFDL or CC-BY-SA-3.0], via Wikimedia Commons cropped
National Archives and Records Administration
Washington, DC
The National Archives and Records Administration is an independent agency that provides public access to documents that set up our national government. Records that are held there pertain to the nation's military, civil, and diplomatic activities. It was established by Congress to centralize record keeping. Visitors might recognize the main central chamber from the popular movie, "National Treasure" and documents on display include the Declaration of Independence, the Constitution and the Bill of Rights, among others.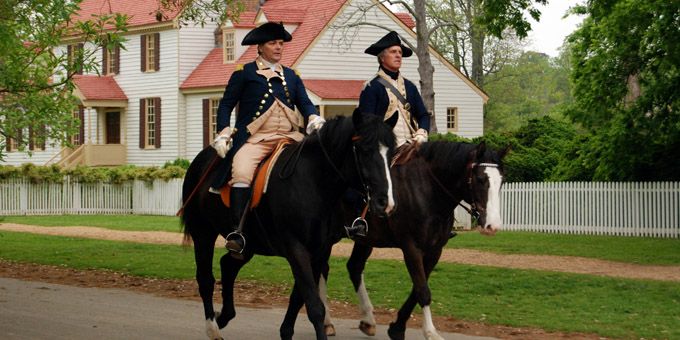 Photo courtesy of Harvey Barrison / (CC BY-SA 2.0) cropped
Colonial National Historical Park
Yorktown, VA
Take a step back in time at this historic park which includes both the Yorktown National Battlefield, where the final battle of Revolutionary War was fought, and Jamestowne Settlement, where visitors can see what life was like when the country was young. Visitors can take guided tours to learn more about the area and enjoy the scenic Colonial Parkway, which runs along the beautiful James River and features a variety of wildlife. You can also stop by the Watermen's Museum which provides information about the Chesapeake Bay Watermen who worked on the river.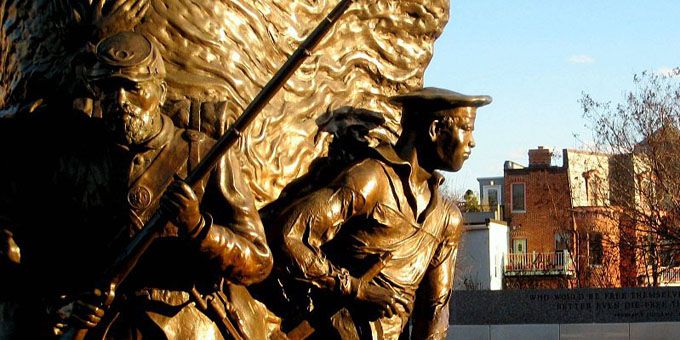 By Peterfitzgerald [CC BY-SA], via Wikimedia Commons cropped
African American Civil War Memorial
Washington, DC
This beautiful museum opened in 1999 to commemorate the African-American troops who fought in the Civil War. The museum has videos, clothing displays, photographs, and weapons used during the war on display. Visitors interested in tracing their lineage back to the civil war can bring along a family tree for help with finding how they might be connected to the soldiers who fought. Once you've paid your respects, go a few blocks northwest to Ben's Chili Bowl which has some of the best chili in the area and a history of celebrity visitors including Chris Tucker.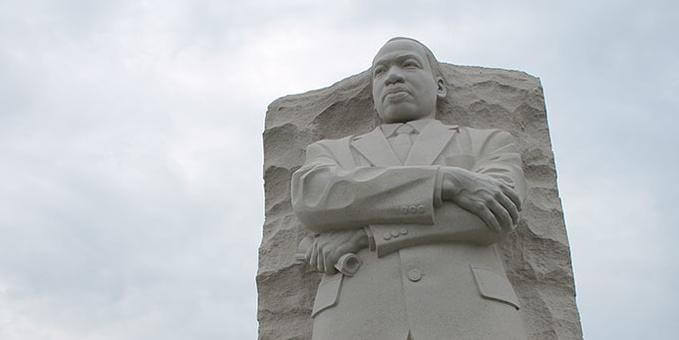 Photo courtesy of Elvert Barnes / (CC BY-SA 2.0) cropped
Dr. Martin Luther King Jr. National Memorial
Washington, D.C
The 30-foot-tall monument is a tribute to Dr. Martin Luther King Jr., a great African-American leader in the fight for equality in the United States. The monument was designed with two other massive pieces of granite that symbolize a "stone of hope" and a "mountain of despair." There is also a nearby wall, approximately 450 feet in length, with passages and quotes from many of his memorable sermons and speeches. This important monument echoes with the words of this incredible leader and is well worth the visit.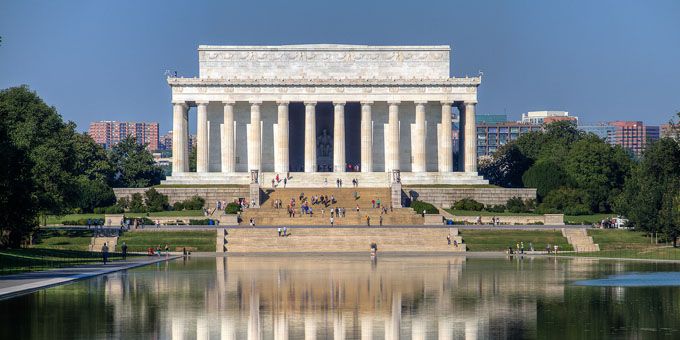 Photo courtesy of Chris Favero / (CC BY-SA 2.0) cropped
Lincoln Memorial
Washington, DC
Built to honor America's 16th President, the Lincoln Memorial is located on the western end of the National Mall in Washington, D.C. The building resembles a Greek Doric temple with a huge statue of Lincoln sitting in contemplation just inside. The majestic statue is 19 feet from head to toe and is made out of Georgia white marble. The famous Gettysburg Address and Lincoln's Second Inaugural Address are both inscribed in the memorial.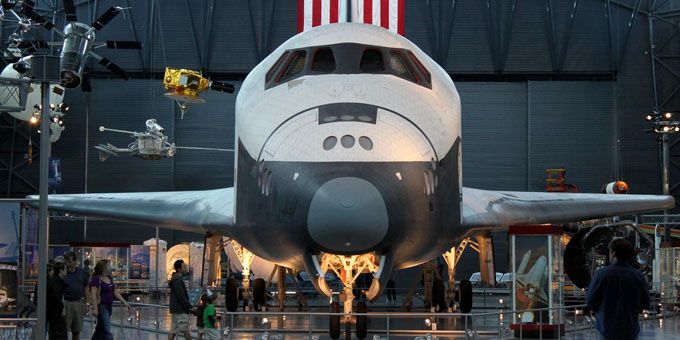 Photo courtesy of Konrad Andrews / (CC BY-NC-SA 2.0) cropped
Smithsonian National Air and Space Museum
Washington, DC
This museum is a showcase of America's aeronautical history and features the world's largest collection of aviation artifacts. Visitors can view samples of many past and present exhibits of air and space exploration. While exhibits vary slightly from year to year, visitors can always count on notable displays loaded with information and history on the human journey through the air and into space.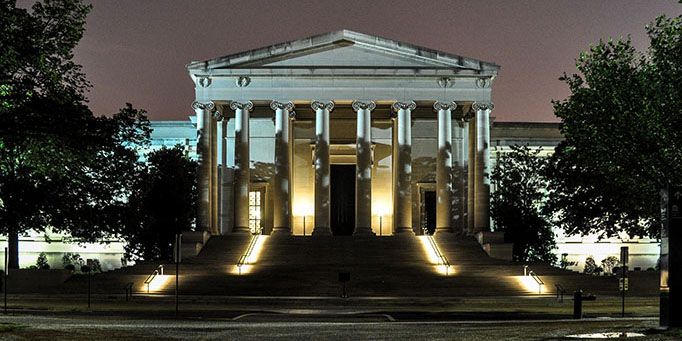 Photo courtesy of Mark Fischer / (CC BY-SA 2.0) cropped
Smithsonian National Museum of Natural History
Washington, D.C
While in D.C. you'll want to visit the ultimate museum of natural history in the world--the Smithsonian National Museum of Natural History. You will be able to see things here that you could never see anywhere else, and the exhibits change periodically throughout the year. The museum has a tremendous amount of exhibits of plants, fossils, rocks, meteorites, and much more. It's no wonder it is the most visited natural museum in the world. The Smithsonian National Zoological Park is only a few miles away and is one of the oldest zoos in the nation. It's also free, and you can't beat that!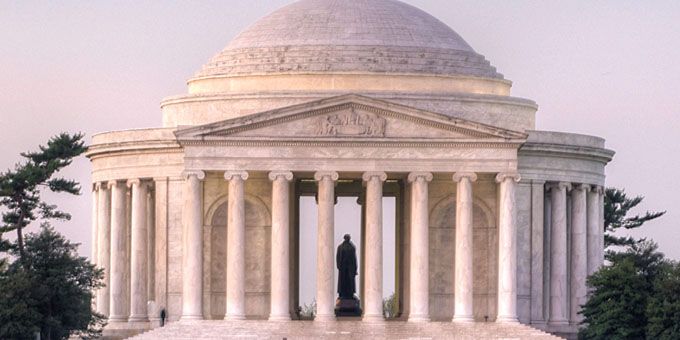 Photo courtesy of Brian Talbot / (CC BY-NC 2.0) cropped
Thomas Jefferson Memorial
Washington, D.C
The memorial was built to honor Thomas Jefferson, the nation's third President and one of the authors of the Declaration of Independence. His statue is surrounded by some of his most notable speeches and quotes from his life. If you visit during the spring, his memorial is surrounded by beautiful Cherry Blossoms and is a very peaceful location where you can honor this great founder of our nation.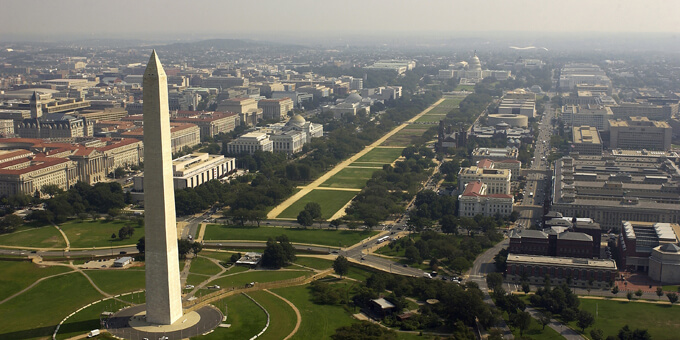 By U.S. Navy photo [Public domain], via Wikimedia Commons cropped
Washington Monument
Washington, DC
This monument honors George Washington, the first President and commander-in-chief of the United States. This structure was completed in 1884 was the world's tallest structure until 1889. The monument stands tall and proud on the National Mall and is near the famous Reflecting Pool and the Lincoln Memorial. Be sure to also stop for a moment to see the Vietnam Veterans Memorial as well, which honors the soldiers who fought and died.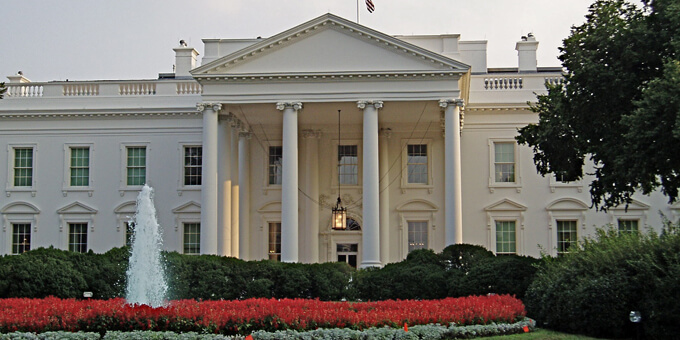 Photo courtesy of Matt Wade / (CC BY-SA 2.0) cropped
White House Visitor Center
Washington, DC
Completed in 1800, President John Adams and his wife Abigail were the first to occupy what has become the official residence and office of the President of the United States. It has been home to all United States Presidents thereafter and is a symbol of pride and democracy for all Americans. The Visitor Center is open daily and visitors can take tours of the White House to get a glimpse into the life of the most powerful man in the country. Don't miss the Eastern Market nearby where you can pick up some fresh food, handmade trinkets and mingle with locals in this premier market.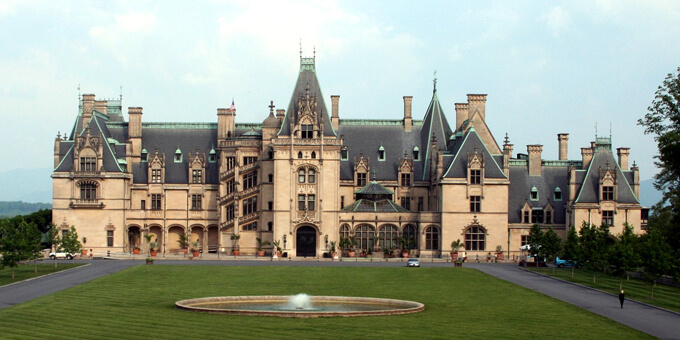 Photo courtesy of Ron Miguel / (CC BY 2.0) cropped
Biltmore Estate
Asheville, NC
Built in 1895, the Biltmore Estate is one of the largest privately-owned homes in the United States and has been perfectly preserved. This historical treasure is absolutely stunning to behold and is nestled near the Blue Ridge Mountains on hundreds of acres of land in North Carolina. The house was once the home of George Vanderbilt. Visitors can enjoy touring the winery located on the property, as well as hiking trails, horse back riding and take historical tours of the area. There are tons of things to do at the Biltmore Estate, and visitors won't want to miss the Stable Cafe which features a bright and airy casual dining or the Courtyard Market, which serves snacks and cold beverages for a picnic!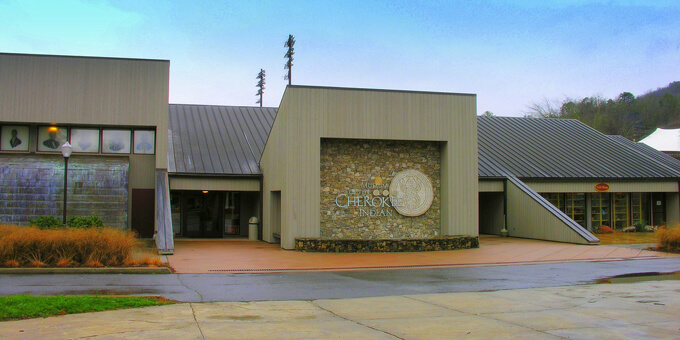 Photo courtesy of Judy Baxter / (CC BY-NC-SA 2.0) cropped
Museum of the Cherokee Indian
Cherokee, NC
If you're traveling to the Smoky Mountains, stop in to visit the Museum of The Cherokee Indians which features replicas from the Cherokee Indians that showcase their way of life. There is a 20 ft. hand carved redwood statue of Sequoyah, a famous Cherokee silversmith who documented the Cherokee language, adorning the entrance to the museum. The museum features traditional Native American dances performed by the Warriors of AniKithwa as well as various demonstrations of crafts and culture.
Photo courtesy of Alan Sharp / (CC BY-NC-SA 2.0) cropped
Oconaluftee Indian Village
Cherokee, NC
This authentic working village offers many hands-on activities and classes to teach visitors about the Native American way of life. Visitors are encouraged to participate with either a guided tour or on their own. You'll see a fascinating reenactment of a village preparing for war and experience what life was like in a Cherokee village during the 1760s.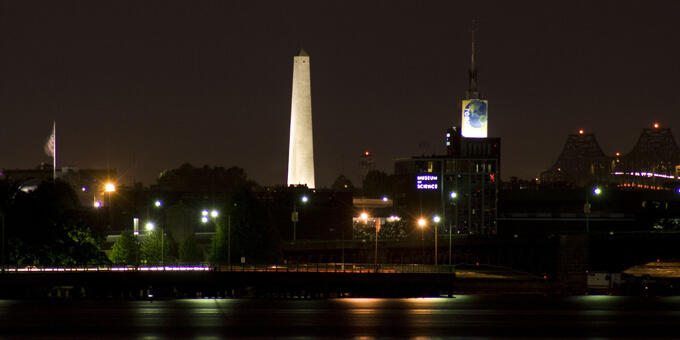 By Luciof (Own work) [CC BY-SA 3.0], via Wikimedia Commons cropped
Bunker Hill Monument
Charlestown, MA
Built in honor of the historic Battle of Bunker Hill, this monument is located in Charleston, Massachusetts. This battle was considered to be the beginning of the American Revolutionary War and is a one-of-a-kind monument that represents the unexpected courage and victory from an army that wasn't prepared for battle. History buffs won't want to miss paying their respects to this historic site.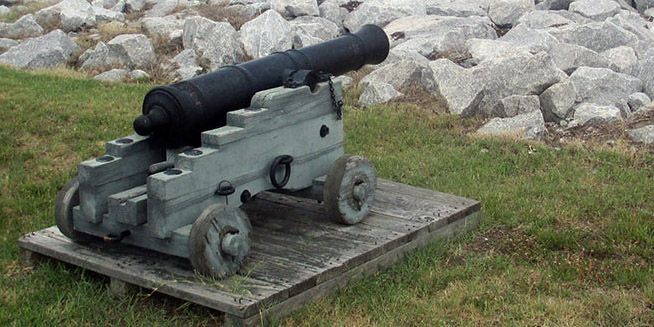 By Billy Hathorn (Own work) [CC BY-SA 3.0 or GFDL], via Wikimedia Commons cropped, color correction
Old Fort Jackson
Savannah, GA
You'll find this historical landmark along the Savannah River. Built in 1808, the fort has been restored to its original form so visitors can get a better peek into the past. Not only was the fort an important part of the War of 1812, but it also played a significant role in the American Civil War. Families love to visit the fort and enjoy the exhibits and cannon and rifle firings. Once you've had your fill of history, get your fill of food at the family-owned Mrs. Wilkes Dining Room, only a few miles west.
Photo courtesy of 6SN7 / (CC BY 2.0) cropped
Faneuil Hall
Boston, MA
This historic building has served as a marketplace and meeting hall since 1742 and was the site of several inspirational speeches by various patriots including Samuel Adams. The marketplace is still open and is located near the government center and waterfront in Boston. Visitors can check out the shops, places to eat and ponder the history of Boston all at once. If you visit Boston, this is a must see! While in that part of town, you won't want to miss the wildly popular Durgin-Park. This local hidden gem serves classic Boston-style comfort food and a range of craft beers.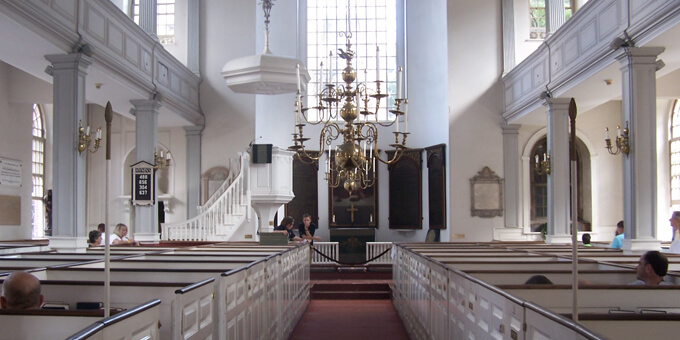 Photo courtesy of J. Stephen Conn / (CC BY-NC 2.0) cropped
Old North Church
Boston, MA
The church was made famous as the location where Captain John Pulling, Jr. and Robert Newman stood watch in the steeple for the British. The story goes that they lit two lanterns to indicate the British were coming and to let Paul Revere know if it was by land or sea. Today, there are many shops and beautiful gardens on the campus of the old church as well as quite a bit of historical significance.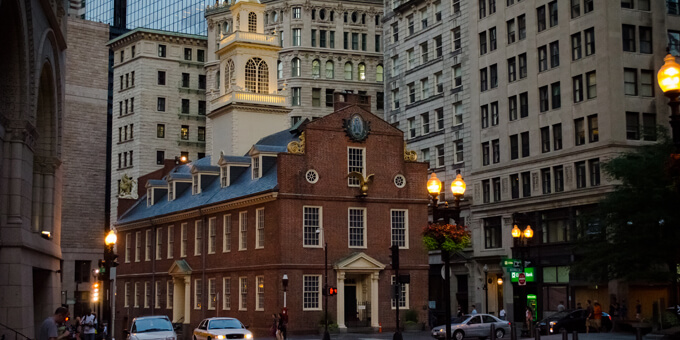 Photo courtesy of Alejandro Castro / (CC BY-NC-SA 2.0) cropped
Old State House
Boston, MA
Located in the middle of Boston's Freedom Trail, this is one of the oldest public buildings in America. The Old State House is also considered to be the heart of Boston and was the site of the Boston Massacre. The balcony of the building is also where the Declaration of Independence was read to the citizens waiting in the streets below.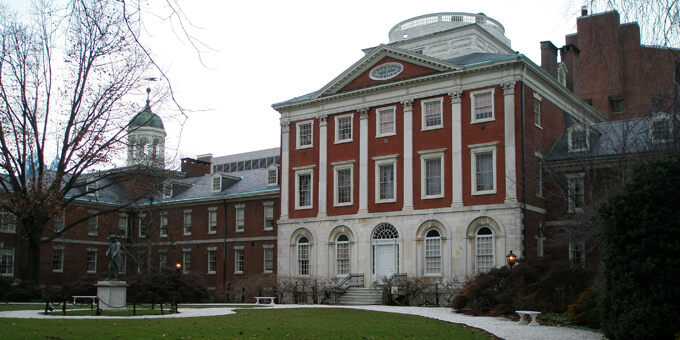 By Bruce Andersen (Own work) [CC BY-SA 2.5], via Wikimedia Commons
Pennsylvania Hospital
Philadelphia, PA
This hospital was founded in 1751 by Benjamin Franklin and Dr. Thomas Bond. It's affiliated with the University of Pennsylvania Health System and is known as the "teaching hospital." It also has the distinguished notoriety of being the oldest and first hospital in America. Visitors can take a self-guided tour and see surgical artifacts, the nation's first surgical amphitheater and, with an appointment, the nation's first medical library.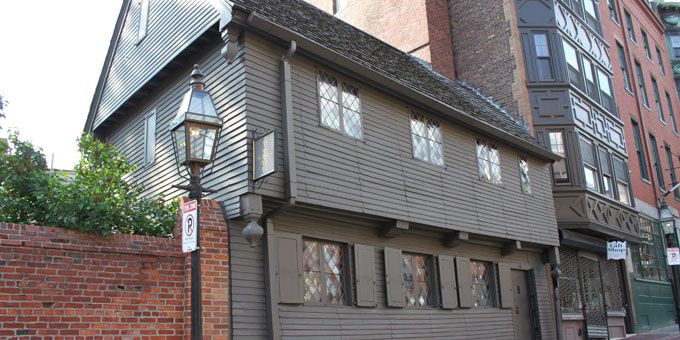 Photo courtesy of Chris Moore / (CC BY-NC-SA 2.0) cropped
Paul Revere's House
Boston, MA
Built in 1680 with three stories, this house was Paul Revere's home until 1880. It is also Boston's oldest building. Revere was famous for his midnight ride to warn Samuel Adams and John Hancock that the British were coming by sea after seeing two lanterns in the steeple of the Old North Church. The meticulously-restored home features original pieces owned by the Revere family and is open to visitors who can take self-guided tours. Once you're done there, stop by Mamma Maria, a delicious local Italian restaurant nearby which focuses on local ingredients and is a favorite in the area.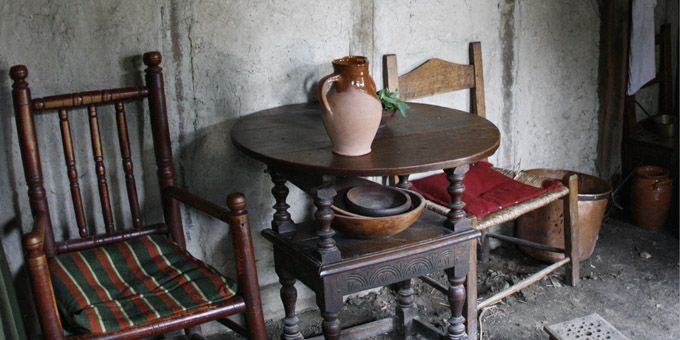 Photo courtesy of David / (CC BY 2.0) cropped
Plimoth Plantation
Plymouth, MA
This museum is located in Plymouth, Massachusetts and is dedicated to helping visitors understand life in the Plymouth Colony during the 17th century. Visitors can see a Wampanoag Homesite where native people dressed in deer skin clothing. There's also a Craft Center where you'll be able to see Natives making porcupine headdresses, tools and cabinets. There a several different parts to this historical and educational site, making it a must-see on any historical tour of the East Coast.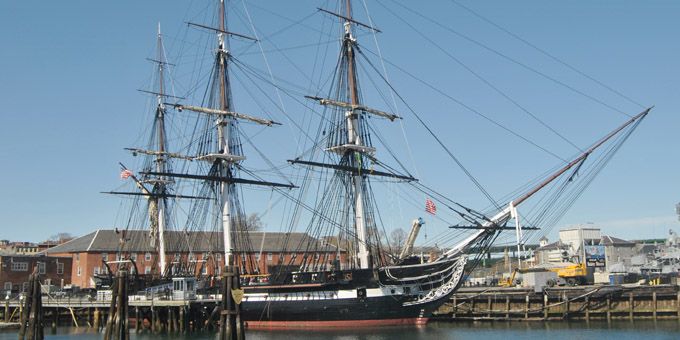 Photo courtesy of Loco Steve / (CC BY-SA 2.0) cropped
USS Constitution
Charlestown, MA
Nicknamed "Old Ironsides", the USS Constitution is a naval warship from colonial times. The ship features a wooden hull and three masts, and was named by President George Washington. It's mostly known for its part in battles in the War of 1812 and is a vital part of our history. Visitors can tour this mighty ship on the pier in Charlestown. After touring the ship, chow down on some fantastic seafood at Pier 6 Boston, casual seafood spot popular with locals.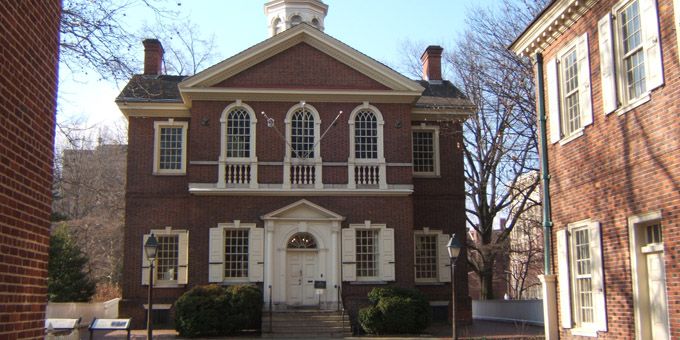 By Davidt8 (Own work) [Public domain], via Wikimedia Commons cropped
Carpenter's Hall
Philadelphia, PA
This building was the home of the First Continental Congress in 1774 in Philadelphia. The beautiful brick building has exquisite architectural features and played a large role in American history. Many of our forefathers spent many hours in this very building dreaming the nation into what it is today. Visitors can also experience the 18th century American cuisine and history at the City Tavern Restaurant nearby, where visitors will be served by waiters and waitresses in authentic period dress and eat colonial-style food.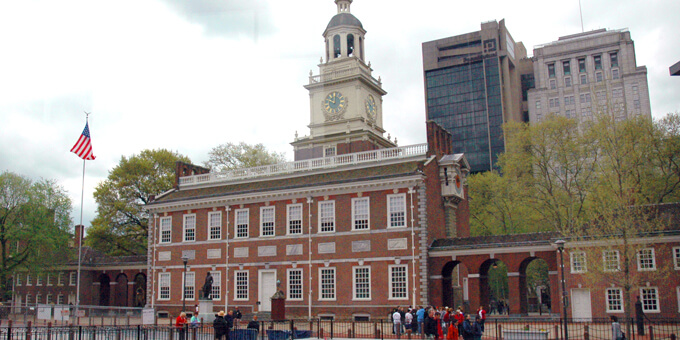 By Rdsmith4 (Own work) [CC BY-SA 2.5], via Wikimedia Commons cropped
Independence Hall
Philadelphia, PA
Independence Hall was originally built to hold meetings for the state legislative house for the Pennsylvania colony, but has been the site of numerous historical events. The Declaration of Independence was approved there in 1776 and the Constitution was signed in this building in 1788. The building was the primary meeting place of the Second Continental Congress and has served a variety of functions over the years including housing a dog pound in the basement. Learn more about the history of Philadelphia at the Philadelphia History Museum, only a few blocks northwest. The museum features artifacts and information dating from 1680.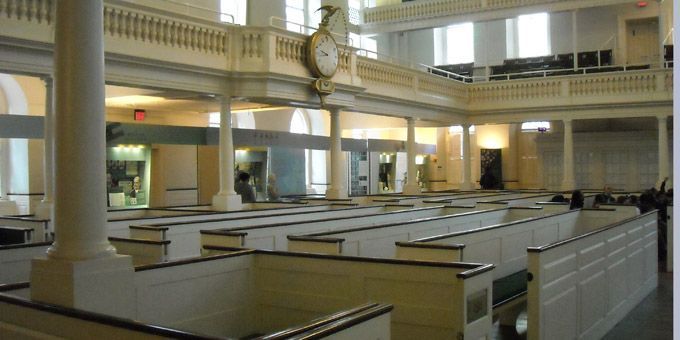 Photo courtesy of ericodeg / (CC BY-SA 2.0) cropped
The Old South Meeting House
Boston, MA
In 1729, this meeting house was a hub of free speech and served as place for the Puritans to meet in Boston. It's also where the famous Boston Tea Party took shape and was the largest building in colonial Boston when it was built. The building has been the center of activity and meetings since the nation was young and still is today. Vistors can see re-enactments of the Boston Tea Party and learn more about the history of the area. If you're interested in the Boston Tea Party, be sure to check out the Boston Tea Party Ships and Museum, only a few block southeast.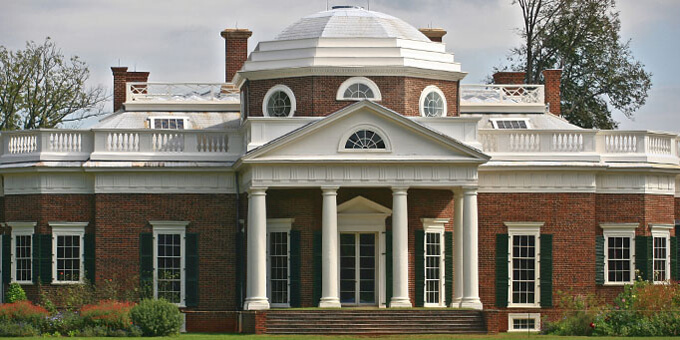 Photo courtesy of mhall209 / (CC BY-NC-SA 2.0) cropped
Thomas Jefferson's Monticello
Charlottesville, VA
Located just outside Charlottesville, Virginia, this was Thomas Jefferson's family plantation. Visitors enjoy touring the gardens, the family house, and an informational film in The Center. The Griffin Discovery Room is especially fun for children as they can try on clothes, learn how to weave, or write on a polygraph machine. The grounds are picturesque and also well worth a visit. Depending on the season, be sure to swing by Carter Mountain Orchard where you can pick your own fruits to take home with you!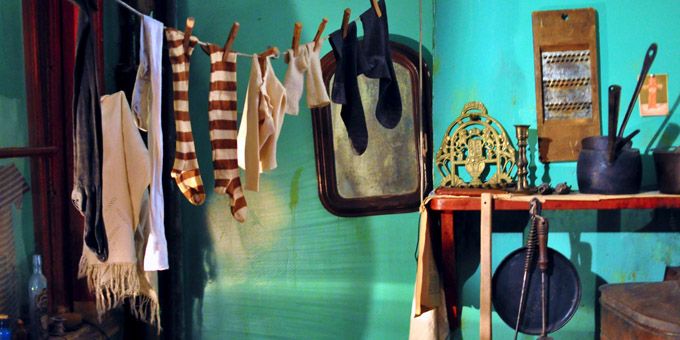 Photo courtesy of Shawn HokeBy: Shawn Hoke / (CC BY-NC 2.0) cropped, vibrancy
Tenement Museum
New York, NY
This is an incredible museum focusing on immigration life in the 19th century. Focusing on the period of 1863 -1935, this historical site showcases the home of thousands of people and tells their story and how they lived. Along with tours, there are discussions, workshops, and educational programs to help understand the importance of life during that time. The museum is also nearby the Museum of the American Gangster, which is located inside a former speakeasy and provides guided tours on the history of organized crime in the U.S.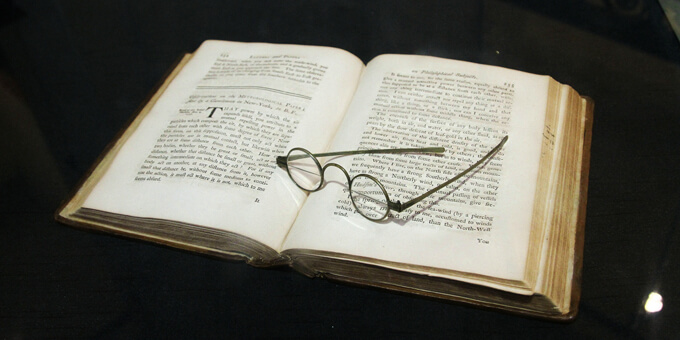 Photo courtesy of Jim, the Photographer / (CC BY 2.0) cropped, color correction
The Benjamin Franklin Museum
Philadelphia, PA
Dedicated to the beloved Benjamin Franklin, this museum has personal artifacts and displays of his life. Adults and children will appreciate the many rooms that are used to divide the different aspects of his life. Franklin loved squirrels and was known to keep them as pets, so the museum created Skuggs the Squirrel to provide clues for children and to add humor and an interactive element which makes this enjoyable for all ages. There are plenty of objects on display that will teach about the life of this great founding father.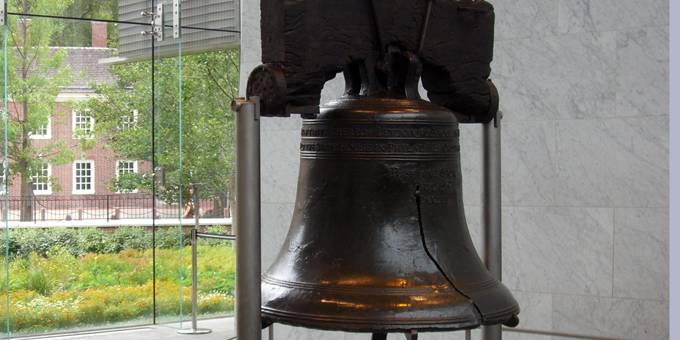 By Diego Delso (Own work) [GFDL or CC BY-SA 4.0-3.0-2.5-2.0-1.0], via Wikimedia Commons cropped, color correction
Liberty Bell
Philadelphia, PA
One of America's most famous symbols of freedom is the Liberty Bell. Located in Philadelphia's Independence National Historic Park, the bell is known for the thick crack running down the side which caused it to be retired. It's not certain how the crack was formed, but many believe it was cracked when the bell rang to commemorate the death of Chief Justice John Marshall in 1835. This iconic symbol shouldn't be missed if you're in the Philadephia area and it's only a few miles away from the Reading Terminal Market, a famous indoor farmer's market that features a wide range of food and items since 1892.
How many of these have you seen? Do you know of any other awesome historical landmarks we missed? Tell us about it in the comments and don't forget to share with your history-loving friends!
Follow Us on Social Media
Read More Articles