Interactive Attraction Options in New Orleans, LA
Experience some fun in New Orleans, LA with one of these great interactive attractions. You'll be able to have a great time interacting with the attractions.
New Orleans Interactive Attractions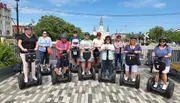 Interactive Attractions offers the French Quarter Historic Segway Tour in New Orleans. This two-hour tour takes you through the heart of the French Quarter, one of the oldest neighborhoods in America. On this Segway tour, you'll experience all the landmarks and sights the quarter is famous for, including St. Louis Cathedral and the famous Bourbon Street. Enjoy the convenience of gliding on a Segway while learning the fascinating history of this iconic neighborhood.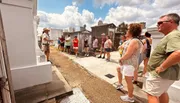 Interactive Attractions offers an Official Walking Tour of St. Louis Cemetery No. 1 in New Orleans, Louisiana. This tour takes visitors through the history and culture of this unique cemetery, the final resting place of prominent New Orleans residents such as voodoo queen Marie Laveau. Visitors will learn about the city's burial customs, experience the stunning above-ground tombs and mausoleums, and gain insight into the cemetery's unique importance to New Orleans' culture and history.
<
Oct 03
9:00 AM
10:30 AM
12:00 PM
1:30 PM
3:00 PM
Oct 04
9:00 AM
10:30 AM
10:45 AM
12:00 PM
12:30 PM
1:30 PM
2:00 PM
3:00 PM
3:30 PM
Oct 05
9:00 AM
10:30 AM
10:45 AM
12:00 PM
12:30 PM
1:30 PM
2:00 PM
3:00 PM
3:30 PM
Oct 06
9:00 AM
9:30 AM
10:30 AM
11:00 AM
12:00 PM
12:30 PM
1:30 PM
2:00 PM
3:00 PM
3:30 PM
Oct 07
9:00 AM
10:30 AM
12:00 PM
12:30 PM
1:30 PM
2:00 PM
3:00 PM
3:30 PM
Oct 08
9:00 AM
10:30 AM
12:00 PM
12:15 PM
1:30 PM
1:45 PM
3:00 PM
3:15 PM
Oct 09
9:00 AM
10:30 AM
12:00 PM
12:30 PM
1:30 PM
2:00 PM
3:00 PM
3:30 PM
Oct 10
9:00 AM
10:30 AM
12:00 PM
1:30 PM
3:00 PM
Oct 11
9:00 AM
10:30 AM
12:00 PM
1:30 PM
3:00 PM
Oct 12
9:00 AM
10:30 AM
12:00 PM
12:15 PM
1:30 PM
1:45 PM
3:00 PM
3:15 PM
Oct 13
9:00 AM
10:30 AM
10:45 AM
12:00 PM
12:15 PM
12:30 PM
1:30 PM
1:45 PM
2:00 PM
2:30 PM
3:00 PM
3:15 PM
3:30 PM
Oct 14
9:00 AM
10:30 AM
10:45 AM
12:00 PM
12:15 PM
12:30 PM
1:30 PM
1:45 PM
2:00 PM
3:00 PM
3:15 PM
3:30 PM
Oct 15
9:00 AM
10:30 AM
12:00 PM
12:30 PM
1:30 PM
2:00 PM
3:00 PM
3:30 PM
Oct 16
9:00 AM
10:30 AM
12:00 PM
12:15 PM
1:30 PM
1:45 PM
3:00 PM
3:15 PM
Oct 17
9:00 AM
10:30 AM
12:00 PM
1:30 PM
3:00 PM
Oct 18
9:00 AM
10:30 AM
12:00 PM
1:30 PM
3:00 PM
Oct 19
9:00 AM
10:30 AM
10:45 AM
12:00 PM
12:15 PM
12:30 PM
1:30 PM
1:45 PM
2:00 PM
3:00 PM
3:15 PM
3:30 PM
Oct 20
9:00 AM
10:30 AM
10:45 AM
12:00 PM
12:15 PM
12:30 PM
1:30 PM
1:45 PM
2:00 PM
2:30 PM
3:00 PM
3:15 PM
3:30 PM
Oct 21
9:00 AM
10:30 AM
10:45 AM
11:30 AM
12:00 PM
12:15 PM
12:30 PM
1:30 PM
1:45 PM
2:00 PM
3:00 PM
3:15 PM
3:30 PM
3:45 PM
Oct 22
9:00 AM
10:30 AM
10:45 AM
12:00 PM
12:15 PM
12:30 PM
1:30 PM
1:45 PM
2:00 PM
3:00 PM
3:15 PM
3:30 PM
>