New Orleans, LA Hop On & Hop Off Tours
Discover the city of New Orleans at your own pace on a Hop On & Hop Off Tour. With a multitude of popular stops, these tours make the best activities and are perfect for those traveling without a car, those looking to avoid driving a car, or folks trying to make their vacation just a little bit easier. With these tours, you will have an unforgettable getaway on your next stay in The Big Read More
New Orleans Hop On & Hop Off Tours
Experience the fascinating history, gorgeous architecture, thrilling culture, and vibrant local life of New Orleans on the New Orleans Hop On & Hop Off Tour. This incredible tour takes the stress out of travel, allowing you to kick back and relax as you explore the city streets and more than 30 points of interest along the way. The trolley stops at 19 different locations throughout NOLA, including Decatur Street, French Market, Canal Street, the National WWII Museum, Magazine Street, the Garden District, and the Arts District New Orleans. The entire loop lasts approximately 2 hours in its entirety, and guests will have the entire day to use the trolley as much as they would like. Enjoy some of the most incredible adventures through NOLA on this awesome adventure.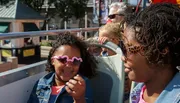 Hop On & Hop Off Tours in New Orleans is a fantastic way to explore the city at your own pace. It offers a unique experience with a bird's-eye view of the beautiful architecture, parks, and historical landmarks. You can hop on and hop off at any of the 18 stops throughout the city, including historic Jackson Square, the National World War II Museum, and the iconic Superdome. The informative tour guide will provide you with fascinating insights about New Orleans' rich history, culture, and traditions.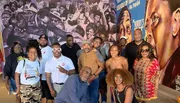 Hop On & Hop Off Tours is an excellent way to explore the vibrant city of New Orleans. This tour offers a comfortable ride through the city as you enjoy the unique architecture, delicious cuisine, and rich history. You'll have the opportunity to visit must-see attractions such as the National WWII Museum, Jackson Square, and the French Market. With the option to hop on and off as you please, this tour provides the flexibility to create your own itinerary and experience the city at your own pace.
<
Sep 19
N/A
Sep 26
N/A
Oct 03
N/A
>