New Orleans, LA Canoe Tours

Embark upon a canoe tour to see the best parts of New Orleans, LA from the water during this unforgettable adventure.
You can choose to go solo with private tours, join a formed group, or bring your own group of at least two people on the Manchac Mystic Wildlife Kayak Tour sightseeing tour and adventure experience.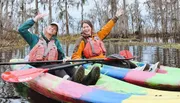 Canoe Tours' Manchac Magic Kayak Swamp Tour is a thrilling escapade for nature lovers looking to witness the alluring beauty of Louisiana's swamps. Paddle your way through the bayous and cypress forests, and get up close with the wildlife, including alligators, turtles, and exotic birds. Enjoy the serenity of the swamp as your knowledgeable guide regales you with intriguing facts about the ecology and history of the region. This is a unique way to immerse yourself in the wonders of the swampy ecosystem.
Sep 28
10:15 AM
1:00 PM
4:00 PM
Sep 30
10:15 AM
1:00 PM
4:00 PM
Oct 01
10:15 AM
1:00 PM
4:00 PM
Oct 02
10:15 AM
1:00 PM
4:00 PM
Oct 03
10:15 AM
1:00 PM
4:00 PM
Oct 04
10:15 AM
1:00 PM
4:00 PM
Oct 05
10:15 AM
1:00 PM
4:00 PM
Oct 06
10:15 AM
1:00 PM
4:00 PM
Oct 07
10:15 AM
1:00 PM
4:00 PM
Oct 08
10:15 AM
1:00 PM
4:00 PM
Oct 09
10:15 AM
1:00 PM
4:00 PM
Oct 10
10:15 AM
1:00 PM
4:00 PM
Oct 11
10:15 AM
1:00 PM
4:00 PM
Oct 12
10:15 AM
1:00 PM
4:00 PM
Oct 13
10:15 AM
1:00 PM
4:00 PM
Oct 14
10:15 AM
1:00 PM
4:00 PM
Oct 15
10:15 AM
1:00 PM
4:00 PM
Oct 16
10:15 AM
1:00 PM
4:00 PM
Oct 17
10:15 AM
1:00 PM
4:00 PM
>