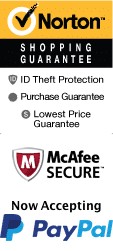 SkyLand Ranch & Horizon SkyRide Skylift
Click for More Information

Exclusive Online Offer: Buy 1 Get 1 Free
(Must purchase in advance online or toll-free at 1-800-987-9852)
1620 Parkway Sevierville, TN 37862
1-800-987-9852
Chat Now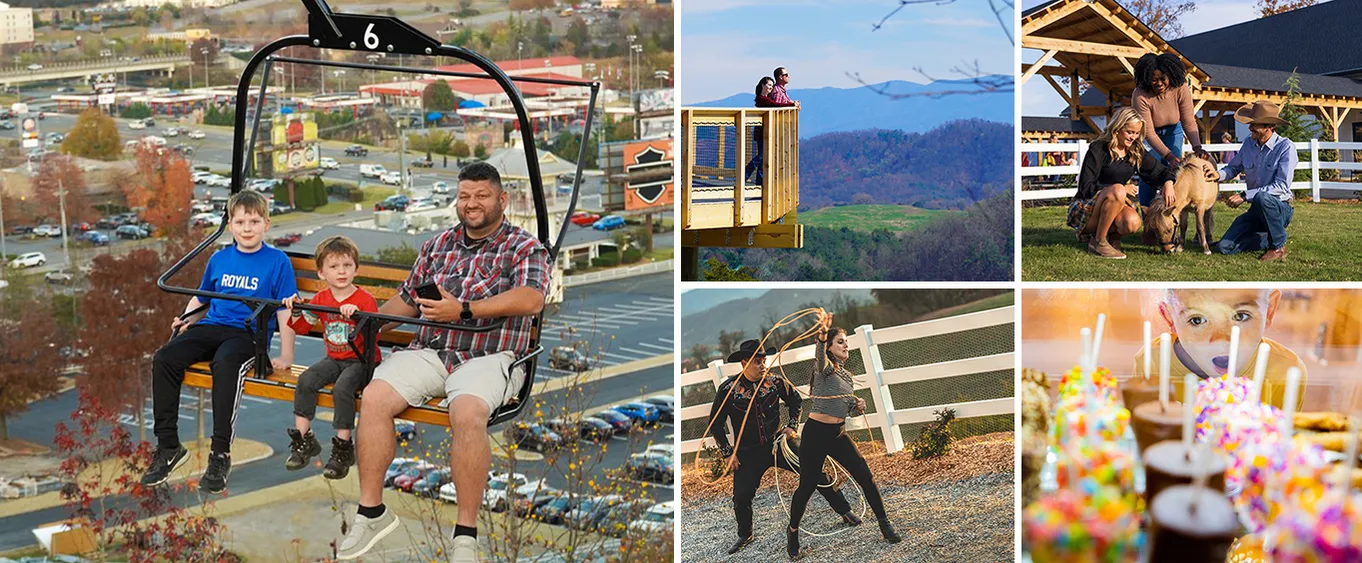 Experience some great family fun in Sevierville, TN with tickets to the new Skyland Ranch Pigeon Forge natural attraction. This family-friendly place has plenty of remarkable activities to enjoy. No matter what adventures you choose to enjoy, a day spent at SkyLand Ranch is certain to help you create some awesome Smoky Mountain area memories.
Getting to SkyLand Ranch on the Horizon SkyRide
Climb aboard the chairlift and get ready for a relaxing ride to the top of SkyRanch. As you are buckled in and taken for a ride, be sure to marvel at the magnificent scenery of the mountain range below. Known as the Horizon SkyRide, the chairlift starts your day off with a fun and unique experience that takes you to the rest of the fun at the SkyLand Ranch. For those who prefer not to ride the chairlift, there are also shuttls and an open-air safari truck as an option. Once you arrive at the top of SkyLand Ranch, you will find a variety of attractions to enjoy.
The NEW Buckaroo Playbarn
Bring the kiddos to Skyland Ranch to experience the fun of its brand new Buckaroo Play Barn. The playground features a fort, various climbing elements, games, and a slide. There is also a shaded pergola for parents to sit under and enjoy the shade while watching their kiddos play.
Animal Encounters
The animals of SkyLand Ranch are easily the stars of the show! Guests can participate in animal counters and get up-close with a plethora of miniature animals. See an adorable mini horse as well as mini cows, sheep, goats, and donkeys. SkyLand Ranch is also home to some stunning Longhorns!
Skyland Cafe & Bakery
All of the fun is certain to make you work up an appetite, and the SkyLand Ranch is home to two delicious restaurants. If you have a sweet tooth, a visit to the SkyLand Cafe and Bakery will help you indulge in homemade candy, baked goods, and coffee. It also sells sandwiches, soups, and salads for a light lunch option.
The Backyard at SkyLand Ranch
The other restaurant found at SkyLand Ranch is the Backyard. This area houses some local food trucks that serve up everything from fall-off-the-bone BBQ to roasted corn and The Chuckwagon which serves up chicken and burgers. A visit to Sweet Darlin's Dessert Truck is also a must if you want something sweet to top off your dinner!
Shopping Opportunities at SkyLand Ranch
SkyLand Ranch is also brimming with multiple shopping opportunities for those who love a little retail therapy. Guests will find everything from toys to cowboy hats and unique goods at Williford Mercantile, a cool retail barn. Visit a boutique, check out the cool digs at the Western wear shop, get a jumpstart on your holiday shopping at the Christmas store, or feel like a kid again at the toy shop.
Live Music & Daily Entertainment
As well as offering eateries, shopping, and plenty of fun, SkyLand Ranch is also known for its live entertainment. Every day, guests can be treated to live music starring the Brad Hudson Band and Gary 'Biscuit' Davis. Some shows also feature the mini animals, magic, and the SkyLand Ranch mascots.
Whether you want to enjoy the Smoky Mountain Scenery, get in some shopping opportunities or grab a bite to eat, SkyLand Ranch nestled in the Sevierville mountainside, is sure to be a remarkable choice for your next Smoky Mountain vacation. The entire family will be entertained, and you'll create some great memories in the Smokies!
Options:
SkyLand Ranch
Available Now until 12/31/2024 View Detailed Schedule
This ticket option includes the chairlift ride as well as access to the shopping, dining, live music, miniature animal encounters, and other fun adventures at the SkyLand Ranch.
Reviews

Pamela Pennington
Webbville, KY
✓
Verified Traveler
Wonderful place. Everyone loved it. One of the best mountain coasters we have ridden amazing views from the top. Age group from 10-65 and we all enjoyed our visit . Plan on going back at night time to see the views. Had live music . Comfortable places to set with rocking chairs and picnic tables. Highly recommend a visit .

Michelle Reeve
Lebanon, TN
✓
Verified Traveler
"We loved Skyland Ranch."
We loved skyland ranch. The views are beautiful from the top. We enjoyed the miniature animals and hearing about who they were. We loved the ice cream coffee from the cafe, yum. We also enjoyed meeting biscuit and talking w/him. He was so kind! My husband loved the coaster...I was chicken!

Marcy Renken
Greenwood, Indiana
✓
Verified Traveler
"Our family had a great time at Skyland Ranch"
Our family had a great time at skyland ranch. This was our first visit! Gem mining, goats, mini horses, and the skywalk were all great. The icecream treats looked amazing and the food trucks smelled great. We learned a few things about roping and loved the mountain coaster! The live music was an added bonus. The views were amazing!

Garry Millwood
Signal Mountain, TN
✓
Verified Traveler
"We loved it . Beautiful area and the sky life was amazing"
We loved it . Beautiful area and the sky life was amazing .The performance was fun and enjoyable. Everyone was very friendly and the views where breathtaking.
Frequently Asked Questions for SkyLand Ranch & Horizon SkyRide Skylift:
What is included in the admission price for SkyLand Ranch & Horizon SkyRide Skylift?

Includes the chairlift ride, admission to Skyland Ranch, as well as live music, practice roping, animal viewings, fire pits, games, and Legacy Lookout.

Approximately how long could a customer plan to spend at SkyLand Ranch & Horizon SkyRide Skylift?

Guests usually spend the day at SkyLand Ranch.

What amenities are available?

SkyLand Ranch has restrooms, shopping options, restaurants, and a shuttle/safari bus for those who do not wish to take the chairlift.

Is photography & video recording allowed?

Yes.

For what ages is SkyLand Ranch & Horizon SkyRide Skylift appropriate?

Great for all ages!

Is parking available at SkyLand Ranch & Horizon SkyRide Skylift? Is it free?

Parking is free. The lot is right next to the ticket office and the mountain coaster.

What is the policy in case of inclement weather?

SkyLand Ranch is open rain or shine.

Is food available or provided?

Food is available for purchase at one of the eateries and food trucks.

Is the SkyLand Ranch & Horizon SkyRide Skylift handicap accessible?

The Horizon Skyride is not wheelchair accessible but is accessible to guests who are able to stand to load on and off the chairlift. Mobility equipment is not allowed on the chairlift but can be checked at the base of the lift. Wheelchairs are available with no charge at the top of the lift.
Book Now!

Exclusive Online Offer: Buy 1 Get 1 Free