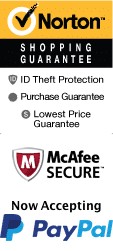 Ghost and Haunt Walking Tour
327 Historic Nature Trail Gatlinburg, TN 37738

Uncover the spookiest mysteries of the Gatlinburg/Pigeon Forge, TN area with the Ghost and Haunt Walking Tour, a thrilling haunted ghost tour that will intrigue all who attend. For those who love the paranormal, there's no better way to experience the history and haunted stories that plague the city.
Stretch your legs and open up your mind to everything supernatural on this unforgettable walking tour. Guests will traverse the most haunted areas of Gatlinburg to learn all about the pioneers, loggers, and settlers of the past. Hear their harrowing stories and learn just why their spirits may still linger behind.
The tour is completely guided, allowing visitors to truly learn all about the history in the area. Plus, there are no gimmicks - everything you experience on this tour is real and historic, providing only the truest (and sometimes creepiest) information about Gatlinburg. Using real ghost equipment, just like on TV, participants can even perhaps have their own paranormal experience! Guests will be able to listen to historic accounts, learn the legends that are popular here, and maybe even experience paranormal activity at the actual locations mentioned in the tour.
Just a few of the people and legends you may learn about include Radford Gatlin, the richest man in the city; Richard Reagan, the first Post Master in the area; The Witch of Gatlinburg; and the tragic suicide of Lydia.
For those who are looking to experience something truly unique, this Ghost and Haunt Walking Tour is sure to be a great time.
Reviews

Amber Rogers
Salisbury, NC
✓
Verified Traveler
The tour was fun and informative.

Jonnie Reeves
Moody, AL
✓
Verified Traveler
This was the exact thing i was looking for. The tour was fun, i learned a little about the place, saw some cool churches and buildings, and the stories were interesting. Loved it.
Frequently Asked Questions for Ghost and Haunt Walking Tour:
Is there any walking involved?

Yes. It includes approximately 1 mile of walking on flat paved ground. This is an easy walk!

Approximately how long does the Ghost and Haunt Tour last?

It lasts approximately 2 hours.

For what ages is the tour appropriate?

Parents know their children best, 10 and up is a good recommended age.