Sightseeing Cruise Options in Fort Myers, FL
Guests will have an amazing time getting out and exploring all of the wonderful sightseeing and landmarks in Fort Myers, FL with one of these sightseeing cruise options. Enjoy some of the best sightseeing opportunities while getting out on the water.
Fort Myers Sightseeing Cruises
Sightseeing Cruises in Fort Myers Beach offers an unforgettable one-hour guided stand-up paddleboard (SUP) and kayak tour in Pelican Bay. Paddle through the mangroves and shallow waters of this serene ecosystem, observing its abundant wildlife. Professional guides will point out birds such as ospreys and egrets, and even manatees and dolphins in the water. The tour is perfect for all skill levels, allowing you to immerse yourself in the natural beauty of Fort Myers Beach.
Sightseeing Cruises offers a spectacular Guided Kayak Sunset Tour in Pelican Bay at Fort Myers Beach, Florida. This activity will give you a breathtaking view of the setting sun while paddling on a kayak. A passionate guide will educate you about the rich nature of the beach area while exploring the mangrove forest. Besides, the gentle breeze and the tranquil water will offer a relaxing and peaceful experience.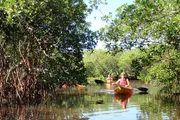 Sightseeing Cruises offers a Guided Kayak Eco-Tour in Florida that takes visitors on a memorable adventure through the stunning natural beauty of the area. Led by experienced guides, this tour offers a unique way to explore the local ecology and wildlife. Paddling along the Caloosahatchee River, visitors will have the opportunity to see manatees, dolphins, and other marine life up close. The tour also includes a visit to the beautiful Hickey Creek Wildlife Preserve, providing a well-rounded experience for nature lovers.
Sightseeing Cruises offers the Copacetic Day Sail, an exciting sailing adventure in Fort Myers, Florida. Passengers will enjoy a smooth and comfortable ride on a 40-foot catamaran with plenty of room to move around. The sail takes place on the Caloosahatchee River along the beautiful coastline of Fort Myers Beach. The friendly and knowledgeable crew shares interesting facts about the area and the history of sailing. Snacks and drinks are provided, making it a relaxing day on the water.
<
Dec 04
N/A
Dec 05
N/A
Dec 06
N/A
Dec 11
N/A
Dec 12
N/A
Dec 13
N/A
Dec 18
N/A
Dec 19
N/A
>