Historical Tour Options in Fort Lauderdale, FL
Take a historical tour in Fort Lauderdale and experience the intrigue, landmarks, and fascinating history of this city.
Fort Lauderdale Historical Tours
Historical Tours' Little Havana Introductory Tour is a must-do activity for those looking to experience the vibrant culture of Miami's Cuban community. Led by a knowledgeable guide, visitors will explore colorful streets filled with vibrant murals, lively music, and mouth-watering smells from local food stands. Stops include the famous Domino Park, the Cuba Ocho Art and Research Center, and the El Credito Cigar Factory. This tour is the perfect way to immerse yourself in the cultural richness of Little Havana.
<
Dec 16
10:00 AM
12:00 PM
2:00 PM
>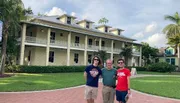 Historical Tours offers a unique and informative way to explore Fort Lauderdale's rich history. Led by knowledgeable and friendly guides, visitors can immerse themselves in the city's past while exploring downtown landmarks and historic sites. The tour includes stops at Stranahan House, one of Fort Lauderdale's oldest and most iconic buildings, as well as the Broward Center for the Performing Arts and the historic Pioneer House. Don't miss this exciting opportunity to learn about Fort Lauderdale's fascinating past.
<
Nov 28
1:00 PM
2:00 PM
3:00 PM
Nov 29
1:00 PM
2:00 PM
3:00 PM
Nov 30
1:00 PM
2:00 PM
3:00 PM
Dec 01
1:00 PM
2:00 PM
3:00 PM
Dec 02
1:00 PM
2:00 PM
3:00 PM
Dec 03
1:00 PM
2:00 PM
3:00 PM
Dec 04
1:00 PM
2:00 PM
3:00 PM
Dec 05
1:00 PM
2:00 PM
3:00 PM
Dec 06
1:00 PM
2:00 PM
3:00 PM
Dec 07
1:00 PM
2:00 PM
3:00 PM
Dec 08
1:00 PM
2:00 PM
3:00 PM
Dec 09
1:00 PM
2:00 PM
3:00 PM
Dec 10
1:00 PM
2:00 PM
3:00 PM
Dec 11
1:00 PM
2:00 PM
3:00 PM
Dec 12
1:00 PM
2:00 PM
3:00 PM
Dec 13
1:00 PM
2:00 PM
3:00 PM
Dec 14
1:00 PM
2:00 PM
3:00 PM
Dec 15
1:00 PM
2:00 PM
3:00 PM
Dec 16
1:00 PM
2:00 PM
3:00 PM
Dec 17
1:00 PM
2:00 PM
3:00 PM
>