History of the Brooklyn Bridge
The towering Brooklyn Bridge has been an icon of industry, culture, and triumph in New York City since its completion in 1883. As the first dry crossing of the turbulent East River, this great bridge spanned an impressive 6,000 feet across the water to connect Manhattan and Brooklyn.

This towering Gothic Revival structure has a fascinating legacy and surpri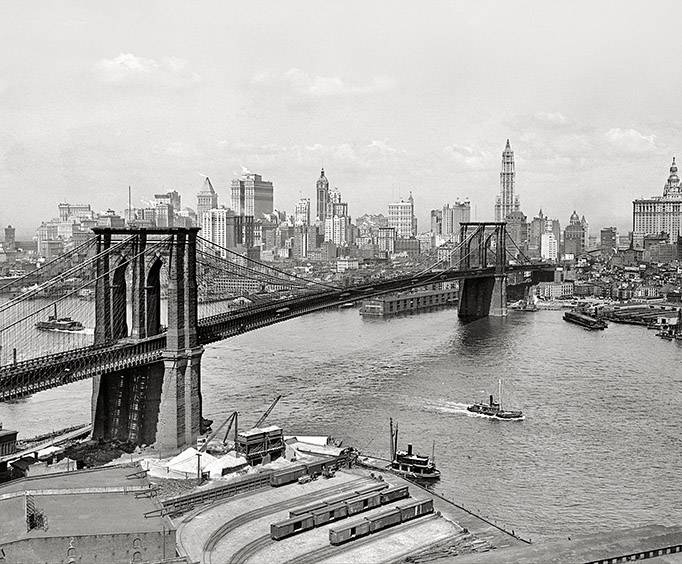 singly tragic history in addition to being a marvel of civil engineering. When it was built, the bridge was the longest built at the time—more than 50 percent longer than the nearest competitor, in fact. It was also the first steel cable bridge ever built, and at 278 feet above the water, the tallest structure in the Western Hemisphere for nearly twenty years. Of course, two of those records have been broken by modern structures, but the engineering prowess of this National Historic Landmark cannot be denied.

The Brooklyn Bridge construction, which began in 1869, was extremely controversial. Many people deemed the design of the bridge, which had never been used anywhere else before, unsafe. To make matters worse, rumors of corruption and political payoffs to fund the bridge abounded—many of them true. Boss Tweed, a corrupt politician in New York, was personally involved with the project, and later admitted that he gave bribes to ensure the bridge was funded an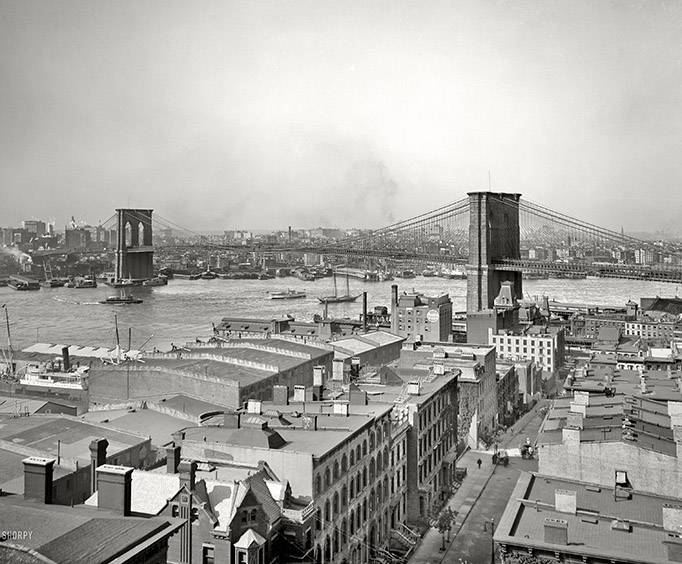 d had the intent to skim money from the fund, as he had with many other public projects.

Regardless, the project did eventually get the funding it needed, and renowned bridge builder John Roebling, who had built several other successful suspension bridges, headed the project with a unique steel cable-truss suspension design. Perhaps in response to all the criticism, Roebling designed the bridge to be six times as strong as was necessary for the expected use, which ended up being a saving grace. The Brooklyn Bridge, in addition to being a hybrid between a suspension and cable bridge, featured multiple stabilizing structures like a diagonal stay system. The idea was that if one structure failed, the bridge would remain standing. About the design, Roebling famously said, "The bridge may sag, but it will not fall."

The building of the Brooklyn Bridge took a total of 13 years, and the construction crews faced more than a few setbacks and injuries. Jo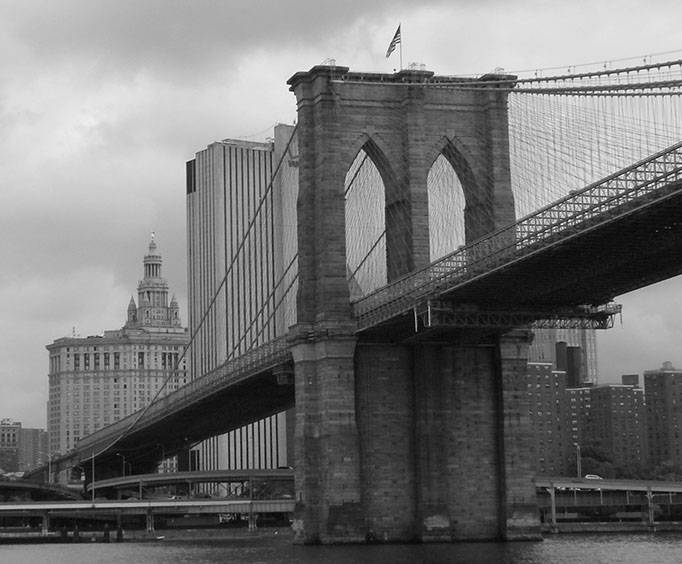 hn Roebling himself never even saw the work begin, as he was fatally injured while taking a few final compass readings of the river and died of tetanus a few weeks later. His son, Washington Roebling, took over the project and became its chief engineer. However, a few years into the construction, he was also injured on the construction site and remained paralyzed and bed-ridden for most of the work. His wife Emily stepped up to help relay his instructions to the workers and take part in overseeing the construction, technicalities, and legalities.

Roebling wasn't the only casualty during construction, though. In fact, the construction of the Brooklyn Bridge was as dangerous as it was lengthy. In order to set the foundations for the heavy stone towers that supported the roadway, enormous wooden boxes called caissons had to be sunk to the river bottom and pumped with compressed air. Workers, nicknamed "sand hogs," would enter the caissons and dig down to the st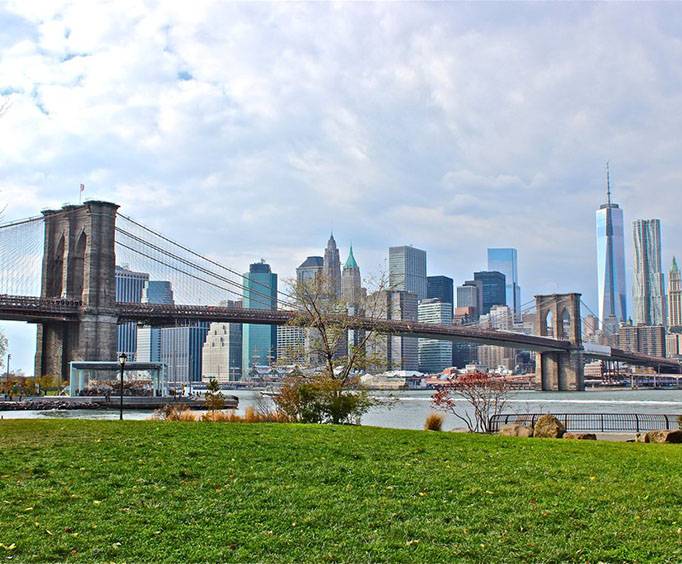 one river bottom, removing rock and sediment as they went. However, due to the lack of knowledge on how pressure affects the body, many workers suffered from what was dubbed "caisson disease" or the "bends." This ailment often resulted in excruciating joint pain, numbness, speech impediments, convulsions, paralysis, and even death. More than 100 workers suffered from the disease, now called decompression sickness, and an estimated 20-30 people died during construction.

It was discovered several years later that many of these issues were the direct result of sandhogs being depressurized too quickly and were completely avoidable.

Then, once the caissons reached the optimum depth—78 feet on the Manhattan side and 48 feet on the Brooklyn side—the caissons were filled with Rosendale cement and the construction of the actual support towers began. Once the impressive support towers were finished, the wire ropes to support the brid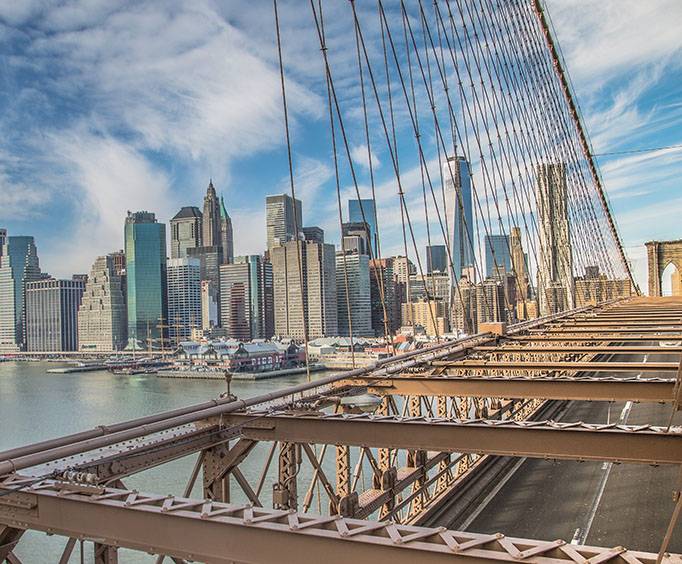 ge were attached. It was at this step where yet another setback occurred. A shady contractor named J. Lloyd Haigh scammed the bridge company and swapped out the requested steel cables with inferior, and defective wire. The swap wasn't recognized until nearly 221 tons of the defective cables were already in place and could not be removed without damaging the bridge and setting construction back considerably. Roebling instead added additional wires for security to ensure the integrity of the bridge.

The Brooklyn Bridge was completed in May 1883 and cost a whopping $15 million—more than twice was Roebling had originally estimated for the project. For the first time ever, the two separate cities of Manhattan and Brooklyn were connected with an easy and reliable crossing. Of course, it might seem a little unfair that a bridge that connects two separate cities is only named after one of them, but what many people might not know is that it wasn't always called the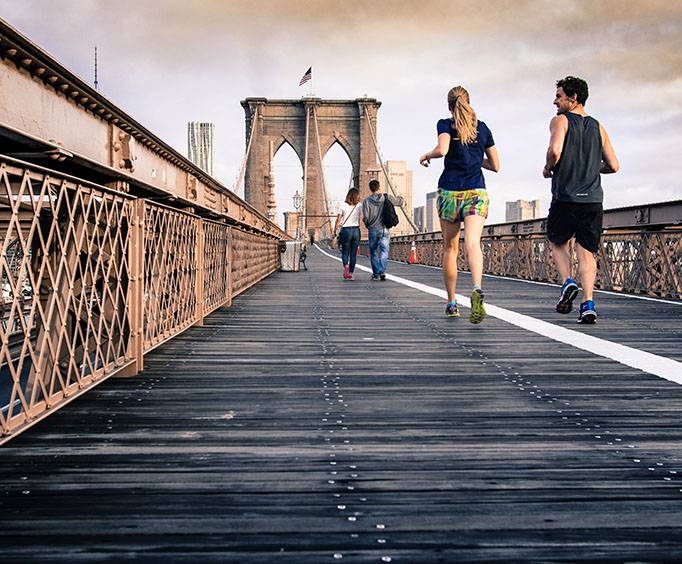 Brooklyn Bridge. In fact, the iconic structure went by several different names since its dedication, including the East River Bridge (the original name), the New York and Brooklyn Bridge, and then in 1915, more than 30 years after its completion, it settled on the moniker by which it is still known: the Brooklyn Bridge.

Currently, the Brooklyn Bridge is traversed by more than 100,000 people per day. On the Manhattan side, the bridge connects to FDR Drive, which runs the length of the river, and runs all the way to the Brooklyn Bridge - City Hall subway station. On the Brooklyn side, the road runs straight into downtown Brooklyn, with several artsy and affluent communities and parks bordering the river on either side.

Reports indicate that the first person to cross the Brooklyn Bridge was Emily Roebling, Washington Roebling's wife. Prior to the dedication ceremony, she rode a carriage across the bridge with a rooster on her lap for good luck. As it tur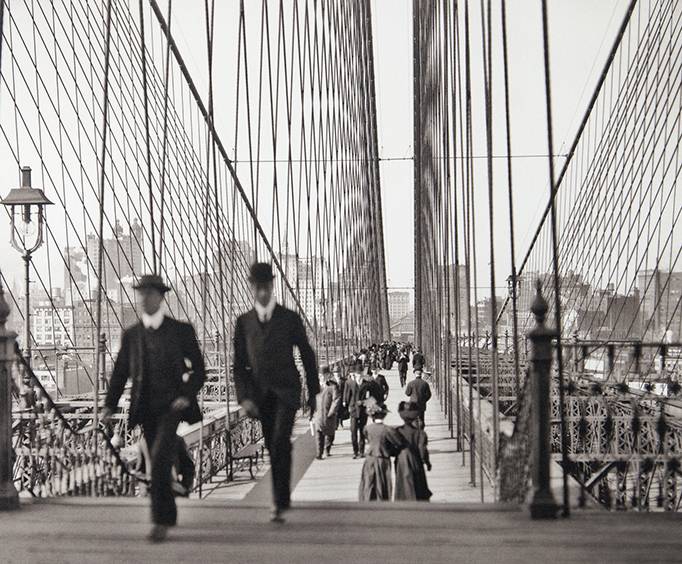 ned out, the good luck was unnecessary, and the bridge dedication, a week later, was reported by the New York Times to be one of the most festive occasions the city had seen. Crowds gathered, speeches were given, hands shaken, and President Chester A. Arthur led the public across the pedestrian portion of the bridge. That evening, a firework display lit up the sky, and the city celebrated the marvelous construction and ingenuity it represented.

However, the good feelings didn't last too long. On Memorial day, barely a week after the bridge opened, a rumor began to circulate among the pedestrians walking across the bridge that the bridge was about to collapse. A panic ensued, and the mob of around 20,000 terrified people began a stampede to get off the bridge, trampling and killing twelve people in the process. The bridge, of course, did not collapse. However, talk of how unsafe and unstable the bridge was continued long enough that in 1884, legislators hired fame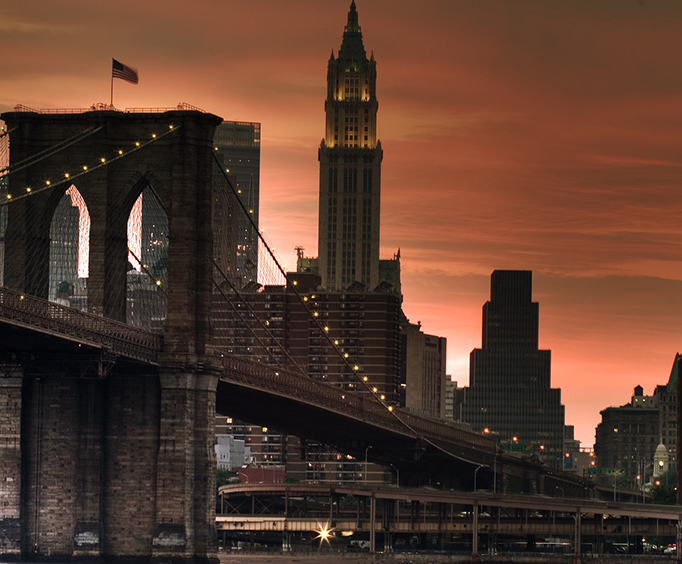 d entertainer P.T. Barnum to march 21 elephants across the bridge to show its strength. Worries of the structural integrity of the bridge were mostly quashed after the publicity stunt.

While it was one of the first publicity events, Barnum's elephants were definitely not the last. Over the years, the Brooklyn Bridge has been the site of many other notable stunts. Robert E. Odlum, a swimming instructor, leaped from its heights in 1885 in an effort to prove that people did not die by falling through the air. Odlum was trying to convince people that jumping from a burning building to a net was safe. However, the stunt failed and Odlum was killed by the impact on the water. Other divers and daredevils have attempted Odlum's stunt, and several of them survived.

Jumping off the bridge wasn't the only stunt on the Brooklyn Bridge. Stuntmen have flown planes under the bridge, climbed its towers, and bungee jumped from its heights as well. In 2014, two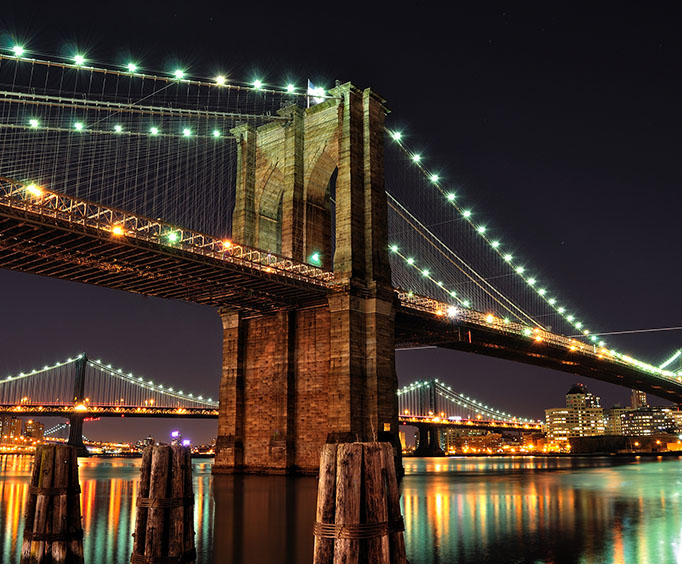 German artists replaced the American flags flying at the top of each stone tower with white flags to symbolize the creativity and opportunity that German-born Roebling enjoyed in America. The act was, however, misunderstood by an America still struggling with fears of terrorism, and after some police investigations, the artists returned the original flags with an apology and explanation about their intentions.

The German artists were not the first or only people this magnificent bridge has inspired, though. Some have argued that the sight of Brooklyn Bridge with the stunning Manhattan skyline behind it has inspired more artists than most other more notable monuments. From wall murals to poetry, hundreds of artists from all disciplines have been painting, drawing, writing, and filming in and around the bridge. Notable artists to feature it in their works include poets Walt Whitman and Jack Kerouac, painters Andy Warhol and Georgia O'Keeffe, and thousands of photograph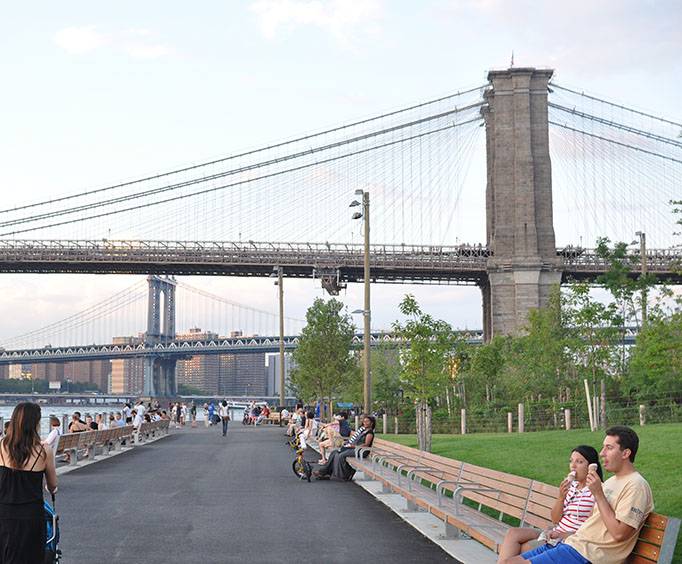 ers and filmmakers. The bridge has also made cameos in dozens of films including "Godzilla", "Spiderman", "The Docks of New York", "It Happened in Brooklyn", and "Kate & Leopold", to name a few. There are also numerous art galleries and showings in and around both the bridge and the Dumbo neighborhood, which is located on the Brooklyn side.

Also on the Brooklyn side is the Brooklyn Bridge Park, a reclaimed waterfront park just north of Brooklyn Heights. Filled with shops, grassy areas, dog runs, and historic buildings, this location is a popular destination for both tourists and locals. Originally a warehouse and industrial waterfront where ferries transported goods, the construction of the Brooklyn Bridge disrupted the ferries the area relied on, and eventually it was abandoned. In 1984, the waterfront wa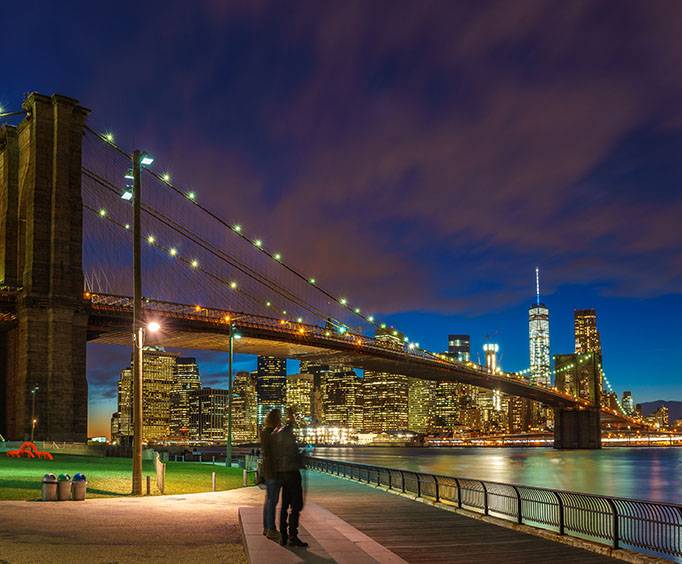 s opened for commercial purposes and the Brooklyn Bridge Park and the conservancy that runs it was created. Here, residents and visitors can relax and enjoy the fresh air and the gorgeous view of the historic bridge.

In order to preserve the more than 130-year-old landmark for all to use and enjoy, in 2010 the Brooklyn Bridge was scheduled to undergo five years of extensive renovations to improve the structural integrity. Construction was expected to cost around $500 million and would fix aging and rusted steel, fraying cables, and fissures. However, as the workers began to scrape the paint off of the bridge, civil engineers overseeing the work discovered thousands of additional structural "red flags" which threatened the bridge's strength more than originally thought. In 2014, the restoration and renovation project, which was already more than $100 million past budget, was expanded for several additional years to address the newfound problems. Renovations are expected to continue until around 2020, although a specific date has not been set. Prior to the 2010 renovations, the bridge was last repaired in 1958.

The Brooklyn Bridge is, without a doubt, one of the most iconic and impressive structures in the city. With a far-reaching history and future, this historic bridge looming over the surging East River is a striking symbol of the engineering ingenuity of the 19th century. Combined with the gorgeous addition to the New York skyline, no trip to the area is complete without taking a moment to admire the view and walk across this modern marvel.