Pedibus Pub Crawl in Fort Lauderdale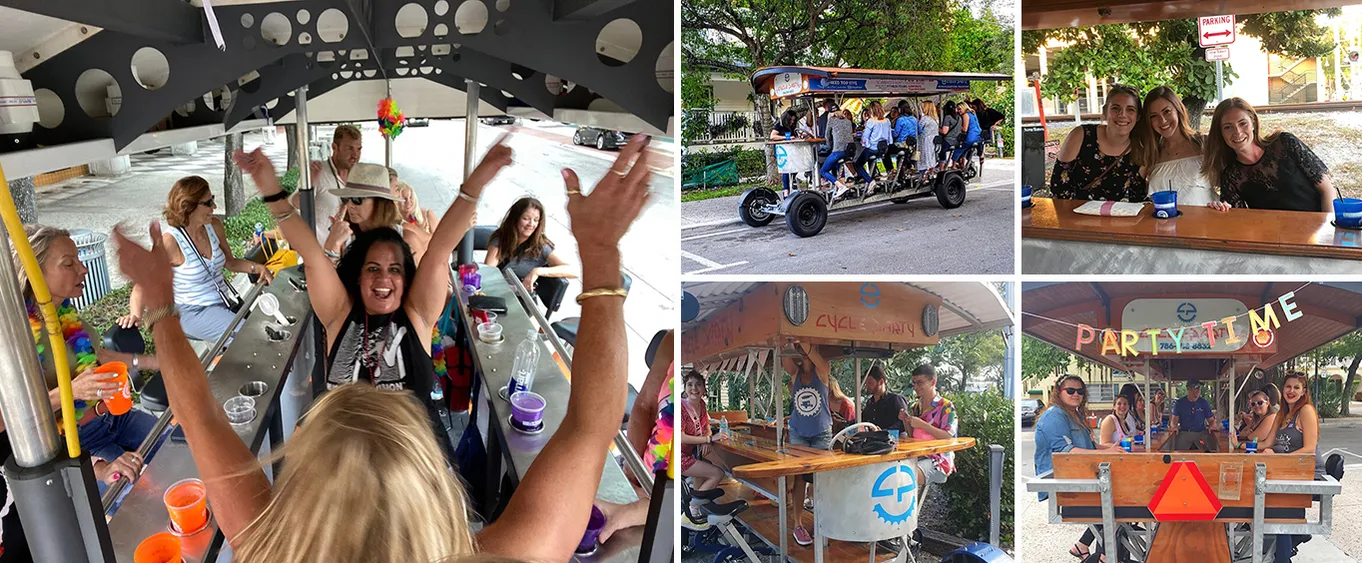 Discover the beautiful landscape of historic downtown Fort Lauderdale while you embark on an exciting new Pedibus Pub Crawl. The experience of a lifetime awaits at the unique Pedibus Pub Crawl, which provides partying and sightseeing in one of the most popular cities in South Florida. Take in the beauty of Fort Lauderdale's iconic waterfront landscape while hopping on and off a 20-person self-propelled pedal pub.
Your tour will begin at the embarkation point, where you will meet your friendly guide and will be given an overview of the tour and the safety measures that will be taken throughout the pedibus ride. As you pedal through the city, you will have the chance to enjoy the sights and sounds of Fort Lauderdale. Notable landmarks including the Hugh Taylor Birch State Park, Saint Johns Park, and Pier 67 can be seen from your pedibus, as well as monuments, historical sites, and modern structures.
Your pedibus will stop at some of the best bars and pubs Fort Lauderdale has to offer, where you will get the chance to enjoy delicious craft beer. With the bars located right along the route, you don't have to worry about missing out on any of the fun or sightseeing activities. As you make your way through the vibrant cityscape of Fort Lauderdale, you can enjoy an exciting night on the town while taking in the spectacular views of the downtown area.
Pedibus Pub Crawl brings its unique brand of fun and adventure to Fort Lauderdale. Make your way through town while taking in the sights, sounds, and culturally rich atmosphere that the city has to offer. The Pedibus Pub Crawl experience in Fort Lauderdale is perfect for those who are looking for a night of fun, music, and exciting activities.
So experience something new, fun, and different in Fort Lauderdale with the Pedibus Pub Crawl. Meet up with your guide and your friends and hop onto the riding seat of the pedibus, and explore Fort Lauderdale's most popular bars and pubs while taking in the vibrant beauty of the city. The Pedibus Pub Crawl in Fort Lauderdale has something for everyone, and it's an experience you won't soon forget. So if you're looking for a night of bar-hopping and sightseeing, the Pedibus Pub Crawl in Fort Lauderdale is just the activity for you!
Book Now!