Walking Culinary Tour in Fort Lauderdale, FL

Take a stroll around Fort Lauderdale in Florida to learn all about its history and foodie scene with a walking culinary food tour.
Fort Lauderdale Walking Culinary Tours
There are walking culinary tours that are ready for you to enjoy with the best tourists in the South Beach area with the greatest chefs that will cook food that you will ever enjoy with your spouse that will love to dine with you.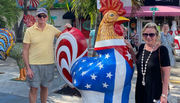 There are walking culinary tours that you will enjoy in certain areas in Miami, Florida which is the place that will be the most exciting for the adventurists who loves to see the beach and the sand while relaxing with their fiancée.
<
Feb 03
11:30 AM
12:00 PM
12:30 PM
3:30 PM
Feb 04
11:00 AM
11:30 AM
12:00 PM
12:30 PM
3:00 PM
3:30 PM
Feb 05
11:30 AM
12:00 PM
12:30 PM
3:30 PM
Feb 06
11:30 AM
12:00 PM
12:30 PM
3:30 PM
Feb 07
11:30 AM
12:00 PM
12:30 PM
3:30 PM
Feb 08
11:30 AM
12:00 PM
12:30 PM
3:30 PM
Feb 09
11:30 AM
12:00 PM
12:30 PM
3:30 PM
Feb 10
11:30 AM
12:00 PM
12:30 PM
3:30 PM
Feb 11
11:00 AM
11:30 AM
12:00 PM
3:00 PM
3:30 PM
Feb 12
11:00 AM
11:30 AM
12:00 PM
12:30 PM
3:00 PM
3:30 PM
Feb 13
11:30 AM
12:00 PM
12:30 PM
3:30 PM
Feb 14
11:30 AM
12:00 PM
12:30 PM
3:30 PM
Feb 15
11:30 AM
12:00 PM
12:30 PM
3:30 PM
Feb 16
11:30 AM
12:00 PM
12:30 PM
3:30 PM
Feb 17
11:30 AM
12:00 PM
12:30 PM
3:30 PM
Feb 18
11:00 AM
11:30 AM
12:00 PM
12:30 PM
3:00 PM
3:30 PM
Feb 19
N/A
Feb 20
11:00 AM
11:30 AM
12:00 PM
12:30 PM
3:00 PM
3:30 PM
Feb 21
11:30 AM
12:00 PM
12:30 PM
3:30 PM
Feb 22
11:00 AM
11:30 AM
12:00 PM
12:30 PM
3:00 PM
3:30 PM
>