Fort Lauderdale, FL Segway Tours
See some of the best sights in Fort Lauderdale in a hot new way; on a segway! Maneuver through the city streets on a segway tour that will bring unique fun to your Fort Lauderdale getaway. Add a hotel to your adventure! Combine it all with an awesome hotel!
Fort Lauderdale Segway Tours
Segway tours are a superb way to spend a tour, so prepare for this fantastic "Miami Segway Tour" event-offering while staying all around luxurious Florida's Miami to bring this vacation getaway to a better level.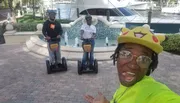 Segway Tours on this Comedy Music Edition is a fun and unique way to explore Fort Lauderdale. You'll ride along the scenic beach and listen to your guide's hilarious jokes and humorous tales. On top of that, you'll have wireless headsets to dance and sing with a great playlist of music of all genres as you glide through the town. This tour promises to be comical, entertaining, and memorable - a must-do for anyone looking for a great comedy and music-filled Segway adventure.
Have lots of fun and experience Miami on a whole new light while participating in a segway Tour of the area and enjoy all the beautiful sights and sounds that are to offer here.
Hop on a self-balancing Segway and follow along with your small tour group and guide that will show off all the hottest tourist locations throughout the area, you may even get to visit some of the man-made islands formed in Biscayne Bay.
Segway Tours can be an unforgettable way to discover Miami's Millionaires Row. With the wind in your hair, you'll glide on a high-tech Segway past the lavish waterfront mansions of the rich and famous. During the tour, your knowledgeable guide will share fascinating details about each of these opulent homes and the celebrities who reside in them. Along with the beautiful scenery, you'll also take in magnificent views of Biscayne Bay and downtown Miami. Don't miss out on this fun and exhilarating adventure!
Segway Tours are an exciting way to explore Miami Beach's Art Deco highlights. During the tour, guests will enjoy the beauty of the city's architecture, including the famous Ocean Drive and Lincoln Road. As they glide through the city on their Segways, they will travel through Art Deco Historic District, see iconic landmarks like Versace Mansion, and hear fascinating stories about the city's history from their knowledgeable guide. The tour lasts around two and a half hours, providing plenty of time to take in the sights of this vibrant city.
Segway Tours at South Beach during sunset is a must-try activity in Fort Lauderdale, Florida. Glide along the beachfront and take in the breathtaking views of the Atlantic Ocean while experiencing the cool evening sea breeze. Explore Ocean Drive and Art Deco Historic District, which is home to the largest collection of Art Deco architecture in the world. A knowledgeable guide provides a delightful narrative on the history and key landmarks of this charming and colorful neighborhood.
Segway Tours is the ultimate way to explore Fort Lauderdale's famous Ocean Drive. This two-hour guided tour is the perfect way to cover more ground and see more sights than you would on foot. Glide along the beach, check out stunning mansions, and soak in the city's vibrant atmosphere. The tour includes a safety briefing and training session, so even beginners can enjoy riding the Segway. Don't miss this unique opportunity to experience Fort Lauderdale in a whole new way.
Segway Tours offers a unique perspective of Hollywood Beach's Broadwalk. Glide along the ocean on a personal guided adventure that is both thrilling and informative. Take a break from the beach to explore the vibrant local culture on this personalized private tour that adjusts to your interests. Marvel at the historic Art Deco architecture while enjoying the vibrant music and events that are always available along this beachside paradise.
<
Jun 07
8:30 AM
10:00 AM
11:30 AM
Jun 08
8:30 AM
10:00 AM
11:30 AM
Jun 09
8:30 AM
10:00 AM
11:30 AM
Jun 10
8:30 AM
10:00 AM
11:30 AM
Jun 11
8:30 AM
10:00 AM
11:30 AM
Jun 12
8:30 AM
10:00 AM
11:30 AM
Jun 13
8:30 AM
10:00 AM
11:30 AM
Jun 14
8:30 AM
10:00 AM
11:30 AM
Jun 15
8:30 AM
10:00 AM
11:30 AM
Jun 16
8:30 AM
10:00 AM
11:30 AM
Jun 17
8:30 AM
10:00 AM
11:30 AM
Jun 18
8:30 AM
10:00 AM
11:30 AM
Jun 19
8:30 AM
10:00 AM
11:30 AM
Jun 20
8:30 AM
10:00 AM
11:30 AM
Jun 21
8:30 AM
10:00 AM
11:30 AM
Jun 22
8:30 AM
10:00 AM
11:30 AM
Jun 23
8:30 AM
10:00 AM
11:30 AM
Jun 24
8:30 AM
10:00 AM
11:30 AM
Jun 25
8:30 AM
10:00 AM
11:30 AM
Jun 26
8:30 AM
10:00 AM
11:30 AM
>