Music City Trolley Hop
108 1st Avenue South Nashville, TN 37201 |
1-800-987-9852
Hop aboard a charming trolley for a narrated tour through the streets of downtown Nashville as you see sites including the Ryman Auditorium, the Country Music Hall of Fame, and the Parthenon, where you can hop off and explore at your leisure.
Details
Guided Tour Takes Approximately 1 Hour, and Hop-On Hop-Off Pass Lasts 24 Hours
Buses Run from 10 AM to Approximately 4 PM
Appropriate for All Ages
Handicap Accessible
Both Cameras and Video Cameras are Permitted
View Schedule
Description
You'll get acquainted with the area as you see great landmarks, while having the option to hop off and take a closer look or to take the tour at once in its entirety. Whether you take the tour to get familiar with the area or to enjoy the unique experience of riding a Nashville trolley, the Music City Trolley Hop is one of the most quaint sightseeing excursions available in Music City, and this 24-hour pass allows you to enjoy access to all the sights within a 24 hour period. Throughout the tour, you will visit sights like the Ryman Auditorium, Bicentennial State Park, Marathon Village, the Parthenon, the Frist Center for the Visual Arts, and the Country Music Hall of Fame and Museum.
Detailed Tour Itinerary
STOP 1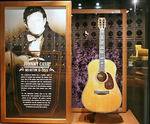 Hop-On Hop-Off at
Johnny Cash Museum
This awesome museum features the largest and most comprehensive collection of Johnny Cash artifacts and memorabilia in the world. Officially authorized by the Estate of Johnny Cash, this museum has state-of-the-art exhibits, a gift store, and special events to make this the number one Cash venue to visit!
STOP 2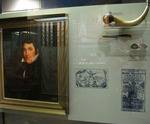 Hop-On Hop-Off at
Tennessee State Museum
Check out the Tennessee State Museum for special displays of Tennessee-made furniture, silver, weapons, quilts, and paintings, as well as a life-size water wheel and reproductions of an 18th century print shop, pioneer cabin, Antebellum parlor, and Victorian painting gallery. While you're at this tour stop, you can also check out the Arcade, a covered shopping arcade built in 1902 when it was Nashville's first shopping center. This is a perfect place for all your shopping desires, and it also has a wide array of eateries available.
STOP 3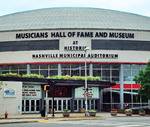 Hop-On Hop-Off at
Musicians Hall of Fame and Museum
Open Monday through Saturday from 10 a.m. to 5 p.m. on the first floor of the historic Nashville Municipal Auditorium, the Musicians Hall of Fame and Museum honors all musicians regardless of genre or instrument. On this tour stop, also check out the Tennessee State Capitol, the home of Tennessee legislature and the governor's office and a National Historic Landmark.
STOP 4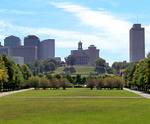 Hop-On Hop-Off at
Bicentennial Capitol Mall State Park
Located in the heart of downtown Nashville, the park preserves the last remaining view of Nashville's Capitol building along with commemorating Tennessee's 200th birthday with its concept of a mall similar to the one in DC. The scenery and atmosphere give visitors a taste of the history and natural wonder of the area, and adjacent to the park is the Farmer's Market, open every day except holidays.
STOP 5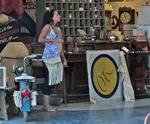 Hop-On Hop-Off at
Antique Archaeology
Serving as a model of adaptive reuse of historic structures, Marathon Village is one of Nashville's most creative communities, with more than 45 tenants representing fine, commercial, and performing arts. At Mike Wolfe's Antique Archaeology, you can find beautiful antique treasures pulled out of the trash!
STOP 6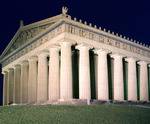 Hop-On Hop-Off at
The Parthenon
As a full-scale replica of the Parthenon in Athens, this Nashville Parthenon functions as an art museum and stands as the centerpiece of Centennial Park, a large public park west of downtown Nashville. This version serves as a monument to what is considered the pinnacle of classical architecture.
Stops may change due to traffic, weather, maintenance, etc.
You'll get views that aren't possible from the seats on an enclosed bus as you enjoy the trolley ride, so be sure to bring your camera along in case you catch a glimpse of your favorite country music star heading to the recording studios along Music Row, and be ready to capture fantastic photos of the incredible Country Music Hall of Fame, which expands out across an entire city block!
Still Have Questions?
Really enjoyed it and saw places we wouldn't have found on our own. After the tour we drove to some of those places and really got to see them. It is a good way to learn your way around a city.
-- Lorraine Wilson - Jacksonville, FL

Tennesse is so beautiful! A topless bus really allows you to really enjoy the beautiful weather and scenery that nashville has to offer!
-- Cjp - Indianapolis, IN

The best tour i have taken anywhere. Very informative, saw everything you could imagine. Gave us lots of ideas for places to go back to. I highly recommend this tour.
-- Cindy Estrella - Chatsworth, CA

MOST POPULAR THINGS TO DO
IN NASHVILLE TENNESSEE