Wisconsin Dells Hotels with an Indoor Pool
View all 20 Hotels with Indoor Pool
After a day of adventure in Wisconsin Dells, come back to your hotel and enjoy a refreshing swim in your hotel's indoor pool. An indoor pool is perfect for your visit because it gives you something to enjoy no matter what time of year it is! Hotels with indoor pools are a great lodging selection.

Wisconsin Dells Hotels with an Indoor Pool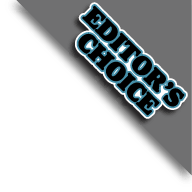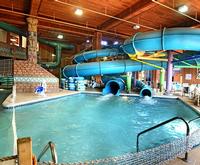 Rating:





Stay at a hotel that not only provides excellent amenities but a heart-pounding thrilling experience for the whole family. That is what awaits at the Polynesian Water Park Resort, because not only is it close to some notable attractions around Wisconsin Dells, but it as the name says it actually provides a fun-filled waterpark right on its own property. But this is only one of the things that await guests who stay there, the hotel also provides an indoor pool and an outdoor pool, along with a game center for kids. If that's not enough each room comes with its own kitchenette, a hairdryer, WiFi and cable TV.
Indoor heated pool is open from 9 AM to 10 PM daily. There is also a lifeguard on duty.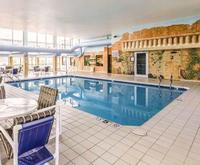 Rating:





Customer Rating:





Located next to interstate 90/94, the Clarion Hotel and Suites Wisconsin Dell has indoor and outdoor waterparks for your whole family to enjoy, as well as on-location restaurant and lounge. It is also located close to a theme park, off-site restaurants, and several fine shopping opportunities. The hotel offers many meeting rooms for your whatever group needs your party may have, from as small as 10 people, all the way up to large enough to accommodate a group of up to 500.
Indoor heated pool and hot tub

Rating:





Here at the Quality Inn and Suites, which is located on Prospect Drive in Lodi Wisconsin, you will get treated with first class service right from the very moment you arrive. The staff here at this hotel are friendly and helpful and will cater to your needs. As a guest here you will get to enjoy free Wi-Fi, complimentary hot breakfast, free parking, an indoor heated pool that is open all year round and there are microwaves and refrigerators in all of the rooms. Feel free to bring along your dogs because this hotel is pet friendly.
Indoor heated pool and hot tub is open from 6 AM to 11 PM daily.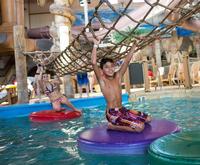 Play where you stay at Chula Vista Resort and Indoor & Outdoor Waterparks. While at this all-in-one resort and water park, you don't have to worry about going off-site to have a good time. Guests of all ages are sure to love the two water parks and the on-site arcade. Those who are looking to relax can hit the spa, and there is even a golf course. On the property, you will find a variety of different restaurants and bars for every taste and budget. Plus, rooms are relaxing, comfortable and spacious for when you want to hit the hay after a long day of fun.
Indoor heated pool and hot tub is open from 9 AM to 11 PM daily.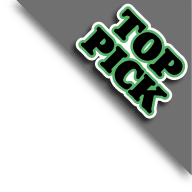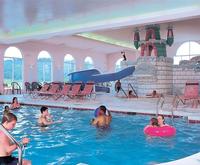 We here at the Clarion Hotel and Suites Wisconsin make sure that the visit of our guests is very enjoyable. We provide an indoor pool for our guests so they can enjoy a nice time with their friends and family and can also enjoy the privacy. We regularly clean the pool water so they are safe for our guests. We try to make sure that our guests have an enjoyable time when they are staying at our hotel. For those who can't swim we provide a life jacket also. We have our safety team watching over our guests in case there is any trouble.
Indoor heated pool and hot tub with a separate kids pool available for small children is open from 9 AM to 10 PM daily. There is also a lifeguard on duty.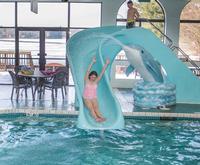 Rating:





Baker's Sunset Bay Resort is the perfect destination when looking for a hotel with an indoor hotel. The indoor pool at the resort has two waterslides and a spraying dolphin to add to the fun. Other amenities include private beach access, whirlpool, large outdoor pool, an arcade, and large meeting spaces. The guest rooms feature a microwave, refrigerator, cable television, coffeemaker, and hairdryer. Spend the evening with the family enjoying the onsite bonfires making smores, swapping spooky stories, and making memories.
Indoor pool and hot tub is open from 8 AM to 10 PM daily.
View all 20 Hotels with Indoor Pool