Williamsburg, VA Hotels with an Outdoor Pool
View all 18 Hotels with Outdoor Pool
An outdoor pool at your hotel can give you a chance to enjoy nice weather as much as possible during your trip to Williamsburg, VA. These hotels in the Williamsburg area offer an outdoor pool for their guests to use. Take a look at them and decide which one will be best for your trip. Order online today while you check out local activities.

Williamsburg, VA Hotels with an Outdoor Pool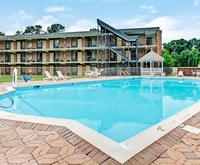 The Travelodge Inn & Suites by Wyndham Historic Area is the perfect hotel for you and your family to stay in because it is very close by to the colonial Williamsburg museum which is a very educational learning experience for you and your family. This hotel is great for you and your family to stay in because it has a pool where you can get to relax by after a long day exploring the city. Your children will be able to look forward to get to play in the pool and have a great time. The Travelodge hotel has many great amenities for your family!
Outdoor pool is open from 10 AM to 10 PM daily.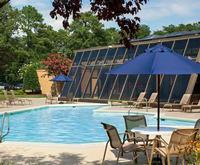 Looking for the ideal accommodations near Williamsburg, VA? Look no further than the Doubletree by Hilton. Some of the many amenities offered by this hotel include free wi-fi internet, a luxury bar, a fully equipped gym, an arcade and gaming room, as well as laundry facilities on site. Offering guests not one, but two pools - the first pool is located outdoors - the perfect choice for a swim after a long day. The other pool is located indoors and heated, ideal for relaxing when the weather is cooler.
Outdoor pool is open from 7 AM to 11 PM daily.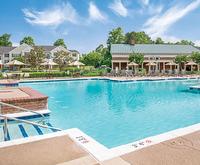 Rating:





Greensprings Vacation Resort has a heated indoor swimming pool and hot tub. In the warmer weather swim in the outdoor swimming pool and let the kids play in the outdoor children's pool. Work out in the fitness center, play shuffleboard, tennis, or basketball to keep fit. Each suite has all appliances to brew coffee or make a meal. About 3 miles from the resort is HoneyButter's Kitchen, Five Fork's Cafe, and Opus 9 Steakhouse. There is plenty of parking and nearby is Colonial Williamburg, and historic Jamestown.
Outdoor heated pool and hot tub is open from 8 AM to 10 PM daily.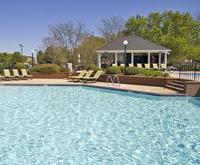 Rating:





Customer Rating:





My family and I took a mini vacation to Williamsburg to visit Bush Garden. We rented a two bedroom condo at the resort. The staff was very friendly and the rooms were very clean. I would stay here again.
Loretta Hart
ridgeville, sc
Choosing your getaway hotel couldn't get any better than The Historic Powhatan Resort in Williamsburg Virginia. If you're looking for an outdoor pool for some fun in the sun, then this will be a convenient spot because everything is nearby which is an indoor pool, sauna, fitness center, hot tub, and on-site restaurant. You can also choose from a variety of rooms to stay in which is equipped with a full kitchen, air conditioning, coffee maker, iron with ironing boards, telephones, and refrigerators. The resort grounds are safe because of the 24-hour security team that's on-site.
Indoor pool is open from 10 AM to 10 PM daily.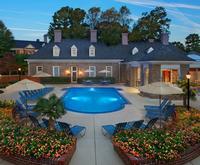 The Marriott's Manor Club at Ford's Colony is a hotel located in Williamsburg, Virginia that features many amenities with families in mind. As you step foot on the property, you'll be greeted with many different choices of entertainment such as the golf courses located at the Ford's Colony Country Club or the pool when you want to get a few laps in. You'll be comfortable as well once you get back to your room since you'll have many different amenities such as an HDTV, in-room safe, and a large bathroom to get ready for your days in.
Outdoor heated pool with a separate kids pool available for small children is open from 7 AM to 11 PM daily.

Rating:





Hotels with Outdoor Pool - Parkside Williamsburg Resort The Parkside Williamsburg resort is located in Williamsburg Virginia and it is the perfect hotel for you and your family to stay in for your vacation. It is very close to water country USA and it has a large outdoor resort pool with many different suppliers that will make your children have a blast. This hotel has other amenities such as a fully equipped fitness center as well as a game room and a children's playground! Your children will definitely enjoy this.
Outdoor pool
View all 18 Hotels with Outdoor Pool