Williamsburg, VA Hotels with an Indoor Pool
View all 21 Hotels with Indoor Pool
Williamsburg, VA Hotels with an Indoor Pool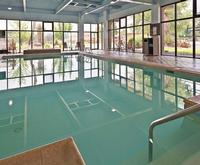 Rating:





Customer Rating:





The hotel is up to date. Staff is very helpful. Breakfast was good, but the telephone in the room didn't work. I didn't get my 2 queen size beds that i paid for I got 2 double beds instead. Room was clean
Mary Ann Uhouse
Le Raysville, PA
This Best Western Plus Historic Area Inn can be found in Williamsburg. It comes with some great bonus features that guests can enjoy during their stay in order to make their stay the best possible one. Some of these great bonuses that the inn offers are access to free Wi-FI, access to free parking, a complimentary continental breakfast, access to an indoor pool, access to a hot tub, an in-room refrigerator, an in-room microwave, access to cable TV, and use of a fitness center.
Indoor heated pool is open from 9 AM to 10 PM daily.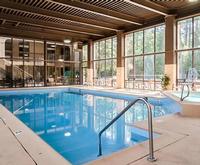 Rating:





Customer Rating:





My nine year old and I enjoyed Bush Garddes,Jamestown l,and Williamsburg! Our Quality Inn stay was super convenient for us! We managed to also putt putt golf and hit the outlet mall as we covered our ghost tour, Bush Gardens, and Jamestown!!
Jennifer Mateus
Smithfield , VA
One of the most important things to consider when planning a vacation is lodging. After taking tours or going to the beach people want a place they can rest in comfortably. The Quality Inn Historic East gives people that place to unwind. They have a hot tub and indoor heated pool which families love. The great thing is they also have a complimentary breakfast so people can fill up before heading out. The Quality Inn is also close to great attractions like Busch Gardens and Virginia Beach. All in all this is a great place to stay for vacation.
Indoor heated pool with a separate kids pool available for small children is open from 10 AM to 11 PM daily.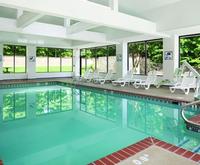 Nestled in the heart of Colonial Williamsburg, the Homewood Suites by Hilton is a must-stay location with all the amenities a guest could hope for. Whether you're a traveling business person looking for some relaxation on your downtime or planning a family vacation to the historic district, you can enjoy the wonderful heated indoor pool at any time of the year. With the addition of a twenty-four-hour convenience shop and fitness center and luxurious suites equipped with full-size refrigerators, the Homewood Suites in Williamsburg, Virginia makes for an unforgettable stay within a stone's throw of several historical sites and points of interest.
Indoor pool is open from 9 AM to 11 PM daily.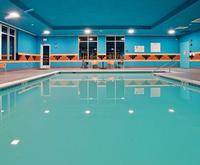 Planning to visit a historic area in the United States like Colonial Williamsburg means that you're going to have to find somewhere to stay when you want to rest your feet. Holiday Inn Hotel & Suites Williamsburg-Historic Gateway is a hotel located in Williamsburg that features comfortable rooms that have high-speed internet access, coffee maker, ironing boards and more. You can also enjoy other amenities such as the heated pool when you want to relax or the fitness center to keep up with your workouts.
Indoor heated pool and hot tub is open from 7 AM to 11 PM daily.

Rating:





Customer Rating:





Staff were very friendly and helpful.
Linda Mealey
Buckhannon, WV
When guests stay at the Howard Johnson by Wyndham in Williamsburg, they are treated like they are still at home. Rooms have been renovated with bright colors and new furnishings. An indoor pool is open all year for guests to enjoy since it's heated. A covered area over the pool allows light to filter through, making guests feel like they are outside. A fitness center has been updated with bright colors on the walls and new equipment. Breakfast is served each morning along with a free newspaper.
Indoor heated pool and hot tub is open from 6 AM to 10 PM daily.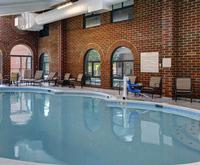 Rating:





Customer Rating:





The staff was very friendly and accommodating. Great Happy Hour. Rooms were better than average. The pool needs to be outdoors.
Randall Weyrich
Moundsville, WV
Come enjoy the many amenities that Embassy Suites hotel has to offer. Wake up with a complimentary continental breakfast, work out in the fitness center before taking a dip in the indoor pool. Head over to the Atrium café and lounge and sit and read a free newspaper, or plan out your visit to the many nearby attractions, including Ripley's Believe it or not, Williamsburg Ghost tours, and Jamestown Settlement. After seeing the sites Williamsburg has to offer, take a break in your peaceful room provided with coffee, fridge, and microwave.
Indoor heated pool is open from 9 AM to 10 PM daily.
View all 21 Hotels with Indoor Pool