Williamsburg, VA Hotels with Hot Tubs or Whirlpools
View all 10 Hotels with Hot Tub / Whirlpool


Williamsburg, VA Hotels with Hot Tubs or Whirlpools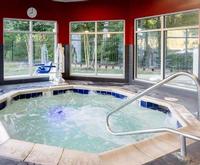 Rating:





Customer Rating:





This Comfort Suites can be found in, small drive away from Colonial Williamsburg and other great things to enjoy. One of these great things for guests to enjoy that is close by is the Ripley's Believe It or Not. While staying at this establishment, guests can enjoy free Wi-Fi, complimentary hot breakfast, free parking, hot tub, indoor heated pool, in-room microwave, in-room refrigerator, game room, business center, cable TV, complimentary newspaper, fitness center, gift shop, hairdryers, in-room coffee maker, iron, ironing board, and laundry service.
Indoor Hot Tub is open from 9 AM to 10 PM daily.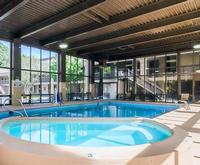 Rating:





Customer Rating:





The Quality Inn Historic East - Busch Gardens Area- Williamsburg, Va, is a great choice when looking for a hotel that has a hot tub. The indoor hot tub is large in size making it easy to stretch out and relax after a day of traveling or seeing the sights around Williamsburg. Other hotel amenities include an indoor heated pool with a separate kiddie pool, a complimentary breakfast, and internet access throughout the hotel. Guest rooms include cable television, microwave, coffee maker, refrigerator, hairdryer, and an iron and ironing board.
Indoor Hot Tub is open from 8 AM to 10 PM daily.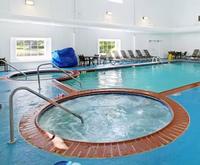 Rating:





Customer Rating:





Really nice accommodations & family friendly. Roomy & perfect for a sizeable family!
John Sacca
Delran, NJ
The Historic Powhatan Resort has a outdoor pool, heated indoor pool, hot tub, and sauna. Work out in the fitness center or play mini golf year round. Rooms come with kitchens and laundry services. Dine at the Powhatan Bar and Grille for breakfast or dinner. There is free parking and smoking and non-smoking rooms. Play racquetball, shuffleboard, table tennis courts or volleyball. Nearby are golf courses, Busch Gardens, Water Country USA and bike trails. The resort offers special Bed and Breakfast packages.
Indoor Hot Tub is open from 8 AM to midnight daily.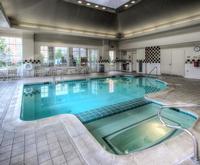 Rating:





My great vacation here at the Hilton Garden Inn in Williamsburg has been a relaxing one so far. I love the rooms and all the lush services that are available like being able to order room service. I had a great breakfast this morning and then went down to the fitness center to work out. The lush indoor pool is really nice to hang out in and I am taking full advantage of the fabulous hot tub here as well.
Indoor Hot Tub is open 24 hours daily.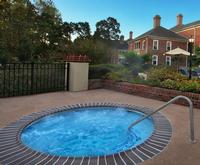 Marriott's Manor Club is the perfect spot for your visit to Williamsburg Va. Choosing this hotel will give you the convenience of a whirlpool because it's right in the hotel and you don't have to go anywhere else to relax. On the property, there's the Colony Country Club where you can play golf, arcade for the children, bike trails, outdoor tennis, and more activities. Your room provides you with an in-room safe, HDTV, refrigerator, coffee maker, a full kitchen with dishwasher, and many other features. It's even more exciting that you're minutes away from Bush Gardens, Water Country, and more.
Indoor Hot Tub is open from 6 AM to 10 PM daily.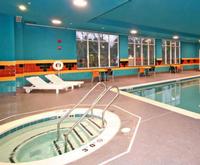 Hotels with Hot Tub / Whirlpool - Holiday Inn Hotel & Suites Williamsburg-Historic Gateway When it comes to finding the perfect hotel for a family vacation, it is important that you do the necessary research to ensure that your stay will be enjoyable one. The holiday inn hotel and suites Williamsburg is the perfect hotel to stay in because it has a hot tub and a whirl pool. This will make your stay much more enjoyable because you will be able to relax after a long day in the hot tub, and your children will be able to swim in the night. Your stay at the holiday inn hotel and suites Williamsburg is guaranteed to be enjoyable and very accommodating for both you and your family members.
Indoor Hot Tub is open from 7 AM to 10 PM daily.
View all 10 Hotels with Hot Tub / Whirlpool