Virginia Beach, VA Hotels with an Indoor Pool
View all 17 Hotels with Indoor Pool
Book your hotel stay online today and enjoy a hotel with a wonderful indoor pool. Adults and children alike can enjoy a refreshing dip in this fantastic and fun attraction. Book your unique stay in Virginia Beach today.

Virginia Beach, VA Hotels with an Indoor Pool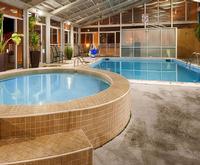 The Best Western Plus Sandcastle Beachfront Hotel is located on Atlantic Avenue in Virginia Beach Virginia. If you are looking for a hotel that offers first class service, has an indoor pool and is located directly on the beach then this is the perfect place for you and your family to stay on your next vacation. As a guest here you will also get to enjoy free Wi-Fi, commentary hot breakfast, free parking and hot tub. There is also a state of the art fitness center and lounge on site for you to use. This hotel is also handicap accessible for all of your special needs guest.
Indoor heated pool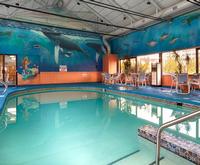 The Best Western Oceanfront Virginia Beach offers stunning views of the beach area while guests are swimming in the indoor pool or relaxing in the hot tub. Aquatic details can be seen on the walls of the indoor pool area along with shades of blue on the walls and on the floor. Most rooms have a balcony so that guests can enjoy viewing the ocean and the shoreline. The hotel offers breakfast each morning before guests enjoy some of the amenities in the hotel including free cable television, free Wi-Fi, or the fitness center.
Outdoor pool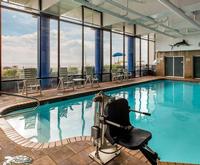 Rating:





The Comfort Inn & Suites Oceanfront is a perfect hotel for guests who would like to have access to an indoor heated pool. The pool is large enough for swimming laps for exercise and plenty of seating for relaxing. Other amenities that this hotel features include a complimentary hot breakfast, 24-hour fitness center, and complimentary high-speed internet. The comfortable guest rooms are equipped with coffee makers, refrigerators, microwaves, internet access, cable televisions, and private balconies. The hotel is within walking distance to the Virginia Beach boardwalk, restaurants, and shopping.
Indoor heated pool and hot tub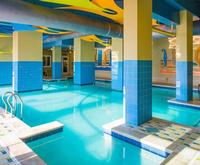 Rating:





The Ocean Beach Club is located on Atlantic Avenue in Virginia Beach Virginia. This hotel has rooms that come with a separate seating area so you won't feel cramped while you are here. It also offer a kitchenette in it's room so it will give you a feel as if you were at home. It has a resort style pool and splash pad that is perfect for children. This hotel is located right on the boardwalk which is just steps away from some of the major local attractions. As a guest here you will get to enjoy free Wi-Fi and a complimentary breakfast.
Indoor heated pool is open from 9 AM to 10 PM daily.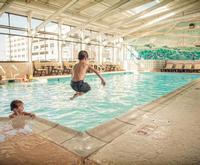 Rating:





Stay only a mile from the Virginia Museum of Contemporary Art as well as have access to a wonderful view that is one of the most spectacular you have ever witnessed in the entire world. You also get to have a comfortable indoor pool that is always the right temperature for you to dive in and have a good time which means relaxing and enjoying yourself forgetting about the stresses of the world around you. After this is over, come to your room and enjoy a delicious meal and go to sleep on one of the most comfortable beds you have ever witnessed.
Indoor pool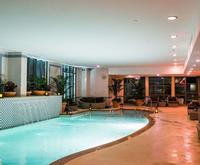 The Hilton Virginia Beach Oceanfront-Atlantic Avenue is situated along the boardwalk so it's only a few steps from feeling sand under your feet and a waterfront breeze. After a day at the beach, cool off in the amazing outdoor infinity pool on the rooftop of the hotel or if you've had enough of the sun, soak in the relaxing indoor pool. The Hilton's indoor pool is great for those unexpected rainy days, staying out of the sun, or if visiting Virginia Beach in cooler weather. Rain or shine, come enjoy all the amenities at the Hilton Virginia Beach Oceanfront-Atlantic Avenue.
Indoor heated pool and hot tub is open from 7 AM to 11 PM daily.
View all 17 Hotels with Indoor Pool